SCOOP-15-M: $215 NLHE [Sunday Million SE], $1M Gtd
Dias: 1
SCOOP-15-M: $215 NLHE [Sunday Million SE], $1M Gtd
Dia 1 Começado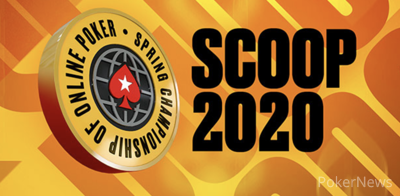 At 1 p.m. Eastern Time, the PokerStars 2020 SCOOP-15-M: $215 NLHE [Sunday Million SE] kicks off which features a guarantee of $1,000,000. The 15th event of this year's SCOOP is one that is on the schedule for most regular players every Sunday but it's a bit of a different feast when this time of the year comes around. With all tournaments having surpassed their guarantees and some of them even more than doubled, the expectations for this one are high.
With many impressive players already claiming a SCOOP and/or Sunday Million title, who knows who will take this down tomorrow as it's a 2-day event with Day 2 starting at the same time as today until a winner has been found. Day 1 will end after 8 hours and 30 minutes of play. The first 16 minutes of the day will last 15 minutes each and then the level duration will be increased to 20 minutes each. A 5-minute break will take place every hour at 55 minutes past the hour and the late registration period will remain open for the first 3 hours and 30 minutes of the tournament.
With familiar names like Jorryt 'TheCleaner11" van Hoof, "rickv17", Manu "manuverd0n" Bardon, and Benny "RunGodlike" Glaser claiming SCOOP titles and players like Rui "RuiNF" Ferreira, Mateusz "KeyserMM" Moolhuizen, Leo "LeoFernandez" Fernandez running deep, maybe they will aim to win their second 2020 SCOOP title in the Sunday Million.
To read more about yesterday's results, check out the daily recaps we provide. Or go to the 2020 SCOOP Hub for all the information related to this year's SCOOP.
PokerNews will be there from the first second until the final hand has been dealt so keep following along with the live updates right here.
Nível: 1
Blinds: 125/250
Ante: 30

Nível 1 : 125/250, 30 ante
The tournament has just started with over 3,000 players in the field already.
Nível: 2
Blinds: 150/300
Ante: 40

Nível 2 : 150/300, 40 ante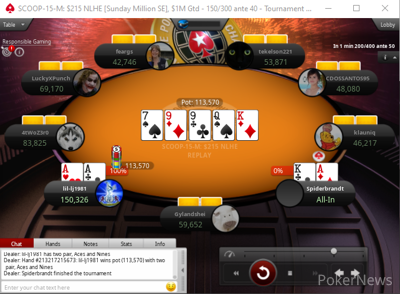 "lil-lj1981" raised to 630 from under the gun and was called by "LuckyXPunch" in the middle position. "feargs" three-bet to 3,060 from the late position and they were called by "Spiderbrandt" in the small blind. "lil-lj1981" responded with a four-bet to 13,200 for "LuckyXPunch" to fold to but for "feargs" to make the call. However, "Spiderbrandt" decided to five-bet shove for 49,540 in total for "lil-lj1981" to shove for more and "feargs" to give up on this hand.
"Spiderbrandt":

"lil-lj1981":
The board ran out
for "lil-lj1981" to hold with the rockets to eliminate "Spiderbrandt".
Jogador
Fichas
Progresso

lil-lj1981

113,570

Spiderbrandt

Eliminado
Nível: 3
Blinds: 200/400
Ante: 50

Nível 3 : 200/400, 50 ante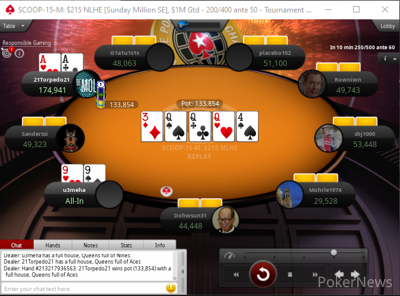 "21Torpedo21" raised to 1,000 from under the gun and was called by "Mohrle1974" in the cutoff. "u3meha" three-bet to 5,000 from the small blind for the big blind to fold. "21Torpedo21" responded with a four-bet to 14,400 to which "Mohrle1974" folded but "u3meha" called.
The flop came
, "u3meha" check-shoved for 51,602 when "21Torpedo21" continued with a bet of 20,433 and was called.
"u3meha":

"21Torpedo21":
The rest of the board was completed with the
on the turn and the
on the river for "21Torpedo21" to hold with the rockets to eliminate his opponent.
Nível: 4
Blinds: 250/500
Ante: 60

Nível 4 : 250/500, 60 ante
"curlysnake2" raised to 1,500 from the early position and "mantilaro" three-bet to 4,577 from the middle position. Action folded to "seam7d" in the big blind who made the call and so did "curlysnake2".
The flop came
, it was checked to "mantilaro" who continued with a bet of 6,555 which was called by both of his opponents.
The turn was the
for "curlysnake2" to shove for 35,598 which only "seam7d" called with
while "curlysnake2" held
. Only a seven would split the pot but the river completed the board with the
for "seam7d" to score an elimination to his name.
Jogador
Fichas
Progresso

seam7d

159,923

curlysnake2

Eliminado