Strebkov Leads Final Five in WCOOP-52-H: $10,300 8-Game High Roller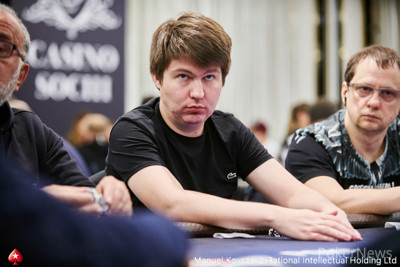 Only five players remain in contention for the next title of the PokerStars World Championship of Online Poker 2021 and Russia's Denis "aDrENalin710" Strebkov chases an unprecedented tenth victory. Event WCOOP-52-H: $10,300 8-Game High Roller drew a field of 44 entries and came up short of meeting the $500,000 guarantee, providing additional value to the mixed game aficionados.
Once the bubble had burst with the elimination of Austrian player "donthnrmepls", it was nine-time WCOOP winner Strebkov who led the survivors with a stack of nearly 1.5 million. He spent most of the day near the top of the leaderboard and but still has a tough battle ahead if he wishes to extend his lead on the all-time ranking of the annual flagship series on PokerStars.
Defending champion "RaulGonzalez" is close behind in second place with a stack of more than 1.3 million while Ari "BodogAri" Engel turned a max-late entry into another shot at a maiden WCOOP title. Furthermore, the five-time WCOOP champions Yuri "theNERDguy" Dzivielevski and Joao "Naza114" Vieira also made the cut as well.
Line-Up for the Final Day in WCOOP-52-H: $10,300 8-Game High Roller
| Position | Player | Country | Chip Count | Big Bets |
| --- | --- | --- | --- | --- |
| 1 | Denis "aDrENalin710" Strebkov | Russia | 1,457,296 | 24 |
| 2 | RaulGonzalez | Germany | 1,305,654 | 22 |
| 3 | Ari "BodogAri" Engel | Canada | 804,236 | 13 |
| 4 | Yuri "theNERDguy" Dzivielevski | Brazil | 454,174 | 8 |
| 5 | Joao "Naza114" Vieira | Portugal | 378,640 | 6 |
The final five players will return on Saturday, September 4 at 2.15 pm EST to determine a champion. Action resumes with blinds of 6,250 / 12,500 and around seven minutes remaining in Pot-Limit Omaha. All finalists have $36,091 locked up for their efforts and the eventual winner can look forward to the title, trophy and top prize of $196,176.
The Action of the Day
Six players were signed up at the start and the field soon extended to two tables. Talal "raidalot" Shakerchi, who had won his second WCOOP title earlier during this festival, eventually became the first casualty after he got the last of it in against fellow Brit Benny "RunGodlike" Glaser. Both needed a second bullet to enter the fray once more as the limits moved up but fell short of the money spots.
Parker "tonkaaaa" Talbot, Alexander "joiso" Kostritsyn, Jussi "calvin7v" Nevanlinna, and Christopher "Apotheosis92" Kruk were also among those to enter more than once and suffered the same fate. Besides Talbot, the red spade was also represented by Mason "Pye_Face21" Pye and Lex "L. Veldhuis" Veldhuis. Mixed game specialist Pye was in the mix from the get-go and flirted with the lead in the early and middle stages. However, there was no happy end for the Brit and he fell on the final four tables, as did Veldhuis in 17th place.
Jens "Fresh_oO_D" Lakemeier was sent to the rail by Yuri "theNERDguy" Dzivielevski when his flopped full house was no good in Pot-Limit Omaha, as Dzivielevski turned a superior full house. From there on, several notables such as Patrick "pads1161" Leonard, Ola "Odd_Oddsen" Amundsgard, Luke "lb6121" Schwartz, and Konstantin "Krakukra" Maslak all departed in quick succession. Dzmitry "Colisea" Urbanovich narrowly missed the seven-handed final table, on which Glaser then became short and exited next.
Ultimately, the bubble then burst in the great game of PLO once more when "donthnrmepls" got it in with the top two pair and nut flush draw. Defending champion "RaulGonzalez" prevailed with bottom set and gained an excellent spot to defend the title.
The five remaining players now have the Friday off, and will come back refreshed on September 4 to determine a champion. Stay tuned who adds the elusive WCOOP title to their resume as the PokerNews team will be back then from start to finish.