Main Event
Dia 1b Começado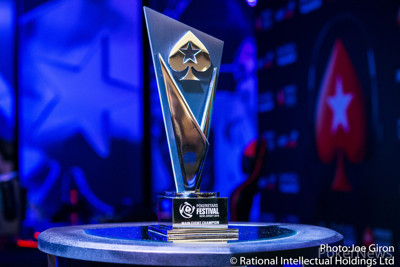 Welcome to PokerNews' Day 1b coverage of the PokerStars Festival New Jersey Main Event.
Yesterday's Day 1a drew 81 players and after 10 levels of play, just 25 players bagged and tagged. Today, a new batch of players will take to the felt and look to navigate their way to Day 2. The Main Event is an $1,100 entry freezeout with one-hour levels and a 25,000 starting stack. Blinds begin at 50/100 and will end after the 600/1,200/200 level. There will be 20-minute breaks after Levels 2, 4, and 8, and an 80-minute dinner break after Level 6.
Among those expected to be in the field today include PokerStars MindSports Ambassador Jennifer Shahade, PokerStars Team Online's Randy Lew, Jaime Staples and Kevin Martin, as well as Ari Engel and Michael Gagliano.
The cards will be in the air at 11 a.m., so keep it here throughout the day for live updates on all of the action.
Nível: 1
Blinds: 50/100
Ante: 0
Nível 1 : 50/100, 0 ante
Thus far, there are 36 Day 1b entries.
Nível 1 : 50/100, 0 ante
A player opened to 250 in middle position, and Ari Engel made it 800 to go in the cutoff. Daniel Sewnig called on the button, and the opener came along. Everyone checked the
flop, and action checked to the button on the
turn. Sewnig bet 1,350 and only Engel called. Engel checked the
river, and Sewnig bet 3,800. Engel thought a long time before sliding his cards to the muck.
Nível 1 : 50/100, 0 ante
Following a flop of
, the player in the big blind checked to Kevin Struble who bet 500 from under the gun. Two players folded before before Eli Ross, who finished runner up in Event 2, raised to 1,200. The big blind folded and Struble called.
The turn was the
and action was checked to Ross who bet 1,500. Struble called.
The river was the
and both players checked.
Struble tabled
for a set of kings and Ross mucked.
Jogador
Fichas
Progresso

Kevin Struble

29,000

Eli Ross

20,000

-5,000
Nível 1 : 50/100, 0 ante
We found Travis Glynn getting it all in with a set of sixes against an opponent with an ace-high flush draw on a
flop. The turn and river kept the set best and he doubled up, though he's still under the starting stack.
Jogador
Fichas
Progresso

Travis Glynn

18,300
Nível: 2
Blinds: 75/150
Ante: 0
Nível 2 : 75/150, 0 ante
James D'Agostino fired out 1,000 on a
flop from the small blind, and Matthew Aymerich made it 3,200 to go from early position. A third player cold-called, and D'Agostino made it 8,000. Aymerich immediately jammed, and the squeezed player mucked.
"I'm behind, but I have a redraw," D'Agostino said with a sigh.
After about 30 seconds, he called with
and saw he needed a
against the
of Aymerich. The turn and river were both eights though, and Aymerich doubled up.
Jogador
Fichas
Progresso

Mathieu Aymerich

48,000

James D'Agostino

10,350
Nível 2 : 75/150, 0 ante
Following a flop of
, Bartley Downling was all in for 4,500 from under the gun with
against Agenor Souza's
in middle position.
The
turn locked up the pot for Downling with an ace-high flush, rendering the
river moot.
Jogador
Fichas
Progresso

Agenor Souza

30,000

Bartley Downling

14,000