$2,000 NL Hold'em - 6 Handed
Dias: 1
$2,000 NL Hold'em - 6 Handed
Dia 1 Terminado
Nível 14 : 1,500-3,000, 500 ante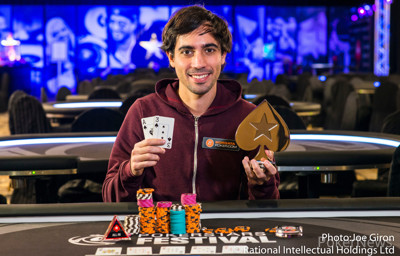 The PokerStars Festival kicked off today with several events, including a $2,000 Six-Max No-Limit Hold'em. The event drew nine players and after five hours of poker, Michael Gagliano was the last man standing, outlasting the field for a first-place prize of $11,350.
Gagliano found himself on the lower end of the leaderboard early on when he flopped bottom two pair and ran into top set. However, his climb to the top began shortly thereafter. A short-stacked Darren Elias raised all in from the small blind with
and Gagliano woke up with
in the big blind. His hand held up and from there, Gagliano found two more crucial double ups to take the chip lead.
Facing a raise and a call before him, Gagliano three-bet shoved with
. Jason Rivkin looked him up with
and Gagliano's hand held up once again.
With four players remaining, Gagliano was the smallest stack of the bunch, but won a crucial race against Jonathan Little to seize the chip lead which he would never relinquish. Facing a raise and an all-in reraise in front of him, Gagliano called all in for 31 big blinds with
, racing with Little's
. Gagliano paired his queen on the flop and further improved to a flush to score the double. He eliminated Little a few hands later, and David Vamplew shortly after that.
The king-queen hand gave Gagliano pause, as he admitted in the immediate aftermath of the hand that he wasn't sure about his play. He reiterated that when speaking with PokerNews as he headed to collect his payout.
"I still don't know if it was the right call," he said. "I'll have to do a bunch of math later and try to figure it out. I know he shoves wide in those spots. It's probably the worst hand I'd put in there."
A key factor was the bubble. The next two players out would receive nothing, but if Gagliano was able to chip up in that high-leverage spot, he would be in great shape to cash. As he was the shortest stack, he felt compelled to gamble a little bit.
"With two paying, the jump from third to second is bigger than the jump from second to to first," he explained. "But, I was still the shortest so I figured I'd go with it. I'm gonna be shown a lot of small pairs and ace-ten, ace-five type of hands and I'll be ahead against a lot of other hands, too. I think it's a call but I think it's close."
The spot ended up working out for Gagliano, and he wound up with about a 2-1 chip lead over Eli Ross going into heads-up play, Gagliano took it down a few minutes later when his
bested Ross'
.
Gagliano won a bracelet this summer for the first time, taking down the $2,500 No-Limit Hold'em event for a career-best $448,463. Despite his recent success in the live arena, he's perhaps best known for being one of the premier online tournament players in the regulated New Jersey market, where he can be found regularly at final tables playing as "Gags30".
It should come as no surprise, then, that Gagliano qualified for the $1,100 Main Event here via an online satellite. In addition to firing that, he plans on checking out the games in the StarsFun Skills Zone and firing a number of the smaller turbos and side events, plus the high rollers if the fields are looking good to him.
The return of PokerStars to U.S. soil is a welcome development in New Jersey for Gagliano, who hasn't played a European Poker Tour since 2012, if his memory serves.
"It's good for them to be back," he said. "Hopefully, the rest of the series will be good. They've got a nice room set up, and I'm looking forward to seeing what PokerStars has to offer New Jersey."
Nível 14 : 1,500-3,000, 500 ante
Michael Gagliano raised all in from the button and after about 20 seconds mulling it over, Eli Ross called all in for about 56,000 from the big blind.
Gagliano:

Ross:
The flop came down
, no help to Ross with his inferior flush draw. The
turn locked it up for Gagliano with the nut flush, rendering the
river moot.
Ross collected $6,110 for his runner-up finish.
Jogador
Fichas
Progresso

Eli Ross

Eliminado
Nível: 14
Blinds: 1,500/3,000
Ante: 500
Nível 13 : 1,200-2,400, 400 ante
Nível 13 : 1,200-2,400, 400 ante
David Vamplew raised all in from the small blind for about 34,000 and Michael Gagliano called from the big blind.
Vamplew:

Gagliano:
The board came down
, no help to Vamplew, locking up the pot for Gagliano.
Nível 13 : 1,200-2,400, 400 ante
Michael Gagliano raised to 5,500 from the button and Eli Ross called from the small blind.
They checked to the river of a
board where Gagliano bet 7,000. Ross check-called.
Gagliano tabled
for tens and nines, but was beat by Ross'
for a ten-high straight.
Nível: 13
Blinds: 1,200/2,400
Ante: 400
Nível 12 : 1,000-2,000, 300 ante
The players are in the midst of a five-minute break.
Nível 12 : 1,000-2,000, 300 ante
Michael Gagliano raised from under the gun and Jonathan Little (who had just been all in with Ace-Eight and chopped with Eli Ross' Ace-Eight) called from the big blind.
The flop fell
and Little bet his remaning 900. Gagliano called with
, leading Little's
.
The
turn and
river completed the board, no help to Little, securing the pot for Gagliano.