High Roller
Dia 3 Terminado
Nível 29 : 50,000-100,000, 10,000 ante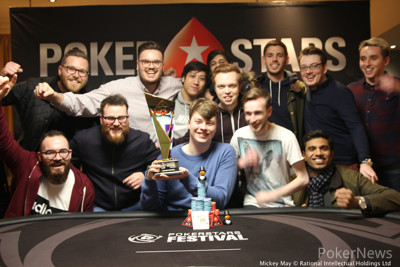 After an excellent turnout in the 2017 PokerStars Festival London £2,200 High Roller, an extra day had to be scheduled to determine a winner. Local player Joe Johnson led the five survivors out of a 178-entry strong field back into Day 3 and lifted the trophy after just under six hours at the iconic Hippodrome Casino, along with a payday of £59,912.
Johnson was labelled as "Magic Johnson" by fourth-place finisher Yuriy Boyko and the victory is made even sweeter after the Brit basically freerolled the tournament after winning the latest PokerStars LIVE at The Hippodrome Casino Loyalty Race, which saw him take the top prize of £4,000 in buy-ins. After an intense heads-up battle, Johnson cut a deal with Enzo Del Piero when both got even-stacked and the duo left £3,000 as well as the trophy aside.
Final result of the £2,200 High Roller
| Place | Winner | Country | Prize (GBP) | Prize (USD) |
| --- | --- | --- | --- | --- |
| 1 | Joe Johnson | UK | 59,912 | 75,489 |
| 2 | Enzo Del Piero | UK | 56,678 | 71,414 |
| 3 | Harry Lodge | UK | 36,150 | 45,549 |
| 4 | Yuriy Boyko | Ireland | 26,500 | 33,390 |
| 5 | Nicolas Beker | Switzerland | 19,410 | 24,456 |
| 6 | Nicolas Cardyn | France | 14,240 | 17,942 |
| 7 | Jonathan Clark | UK | 10,440 | 13,154 |
| 8 | Nathan Manuel | USA | 7,650 | 9,639 |
The last five players bagged up at around 2 a.m. the previous night and returned at 1.30 p.m. local time. After more than two and a half hours and several double ups, it was Nicolas Beker who bowed out in 5th place. The Swiss was second in chips at the time and three-bet against chip leader Johnson before the latter four-bet shoved. Beker snap-called with pocket eights and found himself up against pocket queens. The board ran out ten-high and Beker was gone.
Boyko led the event after Day 1 and was the shortest stack coming back for Day 3 before doubling up right away. The Irishman eventually fell short again and called the shove of Johnson blind-on-blind with ace-four off suit. Johnson only had nine-six suited but flopped an unbeatable flush.
This left three Brits to battle for the title and Harry Lodge was the short stack, but managed to spin it up and get everyone almost even before falling back to the bottom of the counts. Lodge then shoved the small blind for his last nine big blinds with king-three off suit. Del Piero called in the big blind with queen-ten suited and flopped middle pair as well as the flush draw. The river was the king of spades and that gave Del Piero the flush.
In heads-up, Johnson started with a two-to-one lead and quickly doubled that. Del Piero struck back and doubled twice before the deal was cut, the levels were also shortened to half an hour. Del Piero doubled again before getting short again. In the last hand, he raised and called the three-bet shove of Johnson for 18 big blinds with ace-nine. Johnson had ace-jack and the superior kicker held up to crown the champion.
With the High Roller now done and dusted, the full focus for the remainder of the festival switches over to the £990 Main Event. With 169 and 164 entries respectively on the first two starting days, the flagship tournament is set to eclipse the £400,000 guarantee and the PokerNews live reporting team will provide updates until the winner is crowned on Sunday January 29th.
Nível 29 : 50,000-100,000, 10,000 ante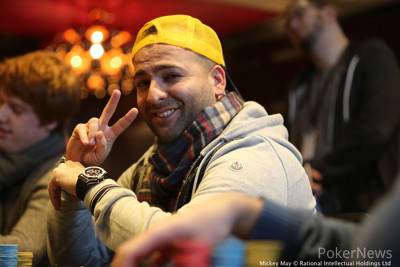 A few minutes into the new level saw Enzo Del Piero drop to around 1,800,000 and he opened to 250,000. Joe Johnson moved all in and Del Piero called, the crowd jumped up to get closer to the table.
Enzo Del Piero:

Joe Johnson:
"This is it," the rail started cheering and the flop fell
. After the
turn, Del Piero picked up some outs and Johnson's rail fell silent for a second after a loud "ohhh." However, the
on the river was a blank and that eliminated Del Piero in second place. He receives £56,678 according to the deal and Johnson is crowned champion.
A recap of today's action will be available shortly.
Nível: 29
Blinds: 50,000/100,000
Ante: 10,000
Nível 28 : 40,000-80,000, 10,000 ante
In the last hand of the level, Joe Johnson shoved into Enzo Del Piero and the latter called with an ace.
Enzo Del Piero:

Joe Johnson:
"Oh, this could be it," Johnson's rail said until they spotted both hands. The flop of
made things extremely spicy, but the
turn and
river were both blanks.
Nível 28 : 40,000-80,000, 10,000 ante
After a series of very fast hands, the stack of Enzo Del Piero has melted by one million after Joe Johnson got the best of him in two middle-sized pot. One included a third pair versus bottom pair and then a pair of sevens with the slightly better kicker.
Then, Del Piero called a raise to 160,000 preflop and check-called a continuation bet on the
flop. The
turn brought no action before Del Piero check-folded the
river to a bet of 350,000. Same happened two hands later to see Del Piero fall back at a serious disadvantage.
Nível 28 : 40,000-80,000, 10,000 ante
Enzo Del Piero ran a successful bluff and showed
for seven-high before a min-raised pot then headed to the
flop. Del Piero checked, as did initial raiser Joe Johnson. On the
turn, Del Piero bet 100,000 and was called before doing so again for 180,000 on the
river.
"Ace high," Del Piero announced and Johnson showed
to claim the pot.
Nível 28 : 40,000-80,000, 10,000 ante
Joe Johnson raised to 160,000 and Enzo Del Piero call. The flop fell
and Del Piero check-called a bet worth 150,000 before the
turn and
river went check, check. Del Piero announced king-high and Johnson asked "chop?" then showed his
. Del Piero had
and the kicker played.
Nível 28 : 40,000-80,000, 10,000 ante
Both traded a couple pots without any significant change to the counts and Enzo Del Piero won a few limped pots against Joe Johnson before losing a raised pot. The duo also agreed to reduce the clock per level to half an hour as well to speed up the process of crowning a champion.