$10,300 High Roller
Dias: 1
Nível: 7
Blinds: 400/800
Ante: 100
Nível 6 : 300-600, 100 ante
Players are on dinner break for 80 minutes.
Jogador
Fichas
Progresso

Sam Greenwood

195,000

-5,000

Kamal Abdel Bittar

175,000

50,000

Julian Stuer

130,000

80,000

Troy Quenneville

122,000

2,000

Aleks Dimitrov

115,000

65,000

Qualifier

Felipe Ramos

108,000

28,000

Team Pro

Sergio Aido

107,000

-17,400

Adrian Mateos

95,000

47,000

Patrick Serda

86,000

23,000

Paul Hoefer

49,600

49,600

Davidi Kitai

46,300

30,300

Mike Watson

43,000

-7,000

Marc-Andre Ladouceur

42,500

42,500

David Peters

37,000

-34,000

Anthony Zinno

35,000

1,000

Isaac Haxton

19,250

-17,100

Dylan Linde

15,550

-24,450
Nível 6 : 300-600, 100 ante
Sam Greenwood and Francisco Benitez built a massive pot of around 100,000 on a board of
. Greenwood checked from under the gun, and Benitez tanked awhile in the next seat before moving all in. Greenwood immediately called it off. Benitez shook his head and turned over
, and Greenwood tabled
for top two.
Benitez moved to exit but then realized he had Greenwood covered. He sent 51,075 to his right, leaving himself with a handful of big blinds.
Nível 6 : 300-600, 100 ante
Andrew Chen raised to 1,400 from under the gun and Oliver Weis three-bet to 4,000. Chen called.
The flop came
and Chen checked to Weis who bet 4,000. Chen called.
The turn was the
. Chen checked again, and Weis bet 12,000 this time. Chen called for a second time.
The river was the
. Chen thought for a moment and checked for a third time. Weis went into the tank and then fired out a bet of 28,500. Chen thought for about three minutes and eventually folded.
Nível 6 : 300-600, 100 ante
We came upon a big hand between Jason Koon and Daniel Dvoress in a battle of the blinds. Dvoress had shoved all in on a completed board of
, and Koon was thinking things over from the big blind. It looked to be 16,650 about half the pot. After a couple of minutes of thought, Koon released his cards.
Nível 6 : 300-600, 100 ante
There was about 5,000 in the pot, on a board reading
.
Roman Korenev was in the big blind and checked. Christian Christner was on the button and bet 3,500. Korenev called.
The turn was the
and Korenev checked again. Christner bet 6,200, getting a call from Korenev once again.
The river was the
. Korenev checked for a third time and Christner moved all in for 27,825. Korenev thought for a moment and eventually called.
Christner tabled
for two pair, tens and nines and Korenever flashed
for a worse two pair, before launching them into the muck.
Nível 6 : 300-600, 100 ante
Sergio Aido opened under the gun and got a couple of callers, and
flopped. Action checked to Martin Jacobson, who bet 3,000 on the button. The big blind folded, and Aido called. On the
turn, Aido check-called 6,000, and both players checked the
.
Jacobson couldn't beat
shown down by the Spaniard.

Nível 6 : 300-600, 100 ante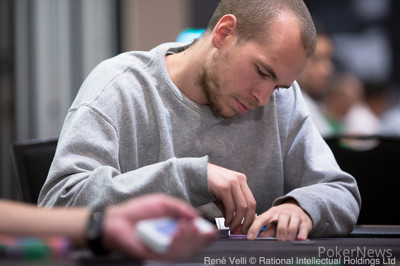 Sergio Aido was the one first in the pot, raising to 1,500 from the cutoff. Both small blind Martin Finger and big blind Dylan Linde called.
The two blinds checked to the initial raiser on
. Aido answered with a bet of 2,500 and was soon facing a check-raise to 8,000 by Finger. Linde got out of the way, tossing his cards into the muck just about instantly. Aido called.
As the
hit the turn, Finger cut out 12,000 from his stack and moved them to the middle. Aido thought about it for just a bit before he called.
The
completed the board and Finger bet 25,000. Aido raised to put Finger all in and the action was back on the German. Finger didn't seem to have too big a decision and folded right away, complementing Aido on the hand afterwards.
Nível: 6
Blinds: 300/600
Ante: 100

Nível 5 : 250-500, 75 ante
We caught the action from the flop on in what looked like must have been a three-bet pot. From the big blind, Francisco Benitez bet 4,500 on
. His opponent, Francois Billard in the cutoff, raised to 11,600. Benitez wasn't folding just yet, he called.
The two checked the
on the turn and
on the river and Billard mucked after Benitez showed him
.