Nível 8 : 500-1,000, 100 ante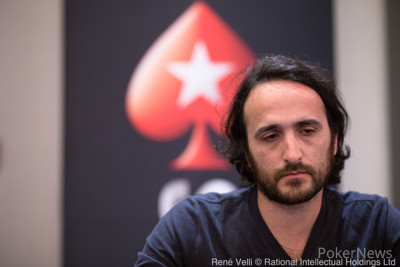 There was about 10,000 in the pot on a board reading
.
Kamal Abdel Bittar was in the small blind and Davidi Kitai was in the big blind. Bittar checked his option on the river, and Kitai bet 14,200.
Bittar thought for a moment and check-raised to 35,000. Kitai went into the tank and looked very uncomfortable. Eventually, another player at the table called the clock.
With about seven seconds left to act, Kitai called. Bittar had a disappointed look on his face as he tabled
for two pair, jacks and tens.
Kitai excitedly showed
for aces up and scooped the pot.
Jogador
Fichas
Progresso

Davidi Kitai

125,000

50,000

Kamal Abdel Bittar

40,000

-45,000