Nível 19 : 5,000/10,000, 1,000 ante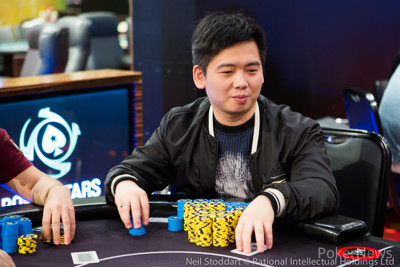 They're halfway there! Day 3 of this six-day PokerStars Championship Macau Main Event has come to a close with Xuan Tan leading the surviving 37-player strong field with 1,380,000 chips. There's still a long way to go to find the winner of the HK$3,130,00 first-place prize.
Some of the other players to finish with top stacks tonight included Yan Li (1,000,200), Dong Guo (880,000), David Peters (875,000), and Thibaut Blondel (870,000).
Play resumed at noon in the PokerStars LIVE Macau poker room at City of Dreams with 151 players reclaiming their chip stacks and seats. A couple of hours later, the money bubble burst as Xiao Luo opened to 9,000 and Daniel McAulay bumped up the price to 28,000, setting the scene for what followed.
When Luo called, the dealer delivered a flop of
and Luo checked. McAulay bet 25,000 and Luo called again. The turn was the
and Luo checked. McAulay pushed all in and Luo called. McAulay had
while Luo held
and needed to hit a card to survive. However, the river was the
and Luo met his tournament demise in 104th place, securing a prize for all remaining 103 players.
Starting the day with the chip lead was Pakinai Lisawad who was the only one to bag more than 300,000 chips the night before. He will be back for another day as he finished Day 3 with 151,000 chips.
The chip lead was claimed by Albert Paik early in the day when he called off Ryan Yu's bluff on a
board. As soon as Paik called, Yu mucked his hand, knowing he was beat. Paik picked up the huge pot without even having to show his hand and took the chip lead. Paik carried those chips to 66th place where he was eliminated for HK$79,300.
One of the most impressive hands of the day was witnessed when Fabrice Soulier bet 89,000 into a pot of about 200,000 with
on the table. Soulier had to call the clock on his tanking opponent, Zinan Xu. After about 30 seconds, Xu found the courage to call. Soulier turned over
and Xu slapped down
for bottom pair and the winning hand.
There were a lot of talented players who were eliminated from play today as the field narrows. Some of the notable players to collect a payout included Michel Abecassis (100th — HK$62,500), Manig Loeser (87th — HK$62,500), and Bryan Huang (57th — HK$79,300).
Play will resume at noon on Friday with the 37 surviving players returning to play down to the final 16 when play will pause again. The PokerNews live reporting team will be back on the tournament floor reporting all of the action, so check back for all of your updates. Until then, have a great night!
Main Event Day 4 Seat Draw
| Table | Seat | Name | Country | Chips |
| --- | --- | --- | --- | --- |
| 1 | 1 | Zinan Xu | China | 378,000 |
| 1 | 2 | Joachim Bold | Germany | 342,000 |
| 1 | 3 | Wei Lik Graeme Siow | Singapore | 194,000 |
| 1 | 4 | David Peters | USA | 875,000 |
| 1 | 5 | Petar Kalev | Bulgaria | 558,000 |
| 1 | 6 | Dong Guo | Canada | 880,000 |
| 1 | 7 | Xuan Tan | China | 1,380,000 |
| 1 | 8 | Ro Woong Park | Hong Kong | 177,000 |
| | | | | |
| 2 | 2 | Renjun Yang | China | 261,000 |
| 2 | 3 | Nerijus Luksa | Norway | 173,000 |
| 2 | 4 | Jianbo Jiang | China | 368,000 |
| 2 | 5 | Zedao Ma | China | 182,000 |
| 2 | 6 | Niall Murray | UK | 133,000 |
| 2 | 7 | Jun Zhou | China | 212,000 |
| 2 | 8 | Yen Chen | Taiwan | 211,000 |
| | | | | |
| 3 | 1 | Thibaut Blondel | France | 870,000 |
| 3 | 2 | Kiryl Radzivonau | Belarus | 371,000 |
| 3 | 3 | Fabrice Soulier | France | 272,000 |
| 3 | 4 | Yan Li | China | 1,002,000 |
| 3 | 5 | Liwei Sun | Italy | 277,000 |
| 3 | 6 | Julius Malzanini | UK | 621,000 |
| 3 | 7 | Elliot Smith | Canada | 258,000 |
| 3 | 8 | Artem Metalidi | Ukraine | 765,000 |
| | | | | |
| 4 | 1 | Dzmitry Rabotkin | Belarus | 679,000 |
| 4 | 2 | Daniel Laidlaw | Australia | 441,000 |
| 4 | 3 | Yasuyuki Tsuji | Japan | 194,000 |
| 4 | 5 | Vitaly Tevis | Russia | 210,000 |
| 4 | 6 | Avraham Oziel | Canada | 410,000 |
| 4 | 7 | Pakinai Lisawad | Thailand | 131,000 |
| 4 | 8 | Tommy Hjerting Bech | Denmark | 250,000 |
| | | | | |
| 5 | 1 | Shyngis Satubayev | Kazakhstan | 190,000 |
| 5 | 2 | Tianyuan Tang | China | 622,000 |
| 5 | 3 | Aymon Hata | UK | 359,000 |
| 5 | 4 | Wenlong Jin | China | 758,000 |
| 5 | 5 | Feng Wen Chen | Taiwan | 336,000 |
| 5 | 7 | Soichiro Kojiya | Japan | 391,000 |
| 5 | 8 | Winfred Yu | Hong Kong | 378,000 |