Nível 12 : 1,000/2,000, 300 ante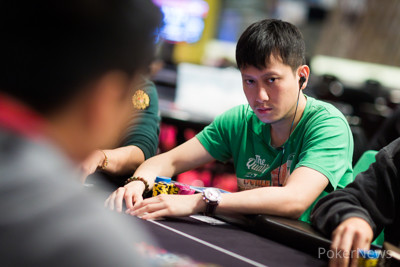 Day 2 of the PokerStars Championship Macau saw 26 new entrants anteing up the HK$42,400 buy-in before late registration closed at 4:30pm to bring the total number of players up to 536 for the Championship's Asian debut.
After six levels of Day 2 play, just 151 remain in contention to battle it out for the massive HK$ 20,796,000 (~US$ 2,676,731) prize pool.
With a staggering HK$3,130,000 (~US$402,874) on offer for first place, in addition to the trophy and the title, the competition for the hallowed money spots will be fierce as just 103 of the remaining field will get paid, with a min-cash good for HK$ 62,500 (~US$ 8,044).
When you consider the fact PSC Macau is nearly double the buy-in of the May 2016 APPT 10 Macau Main Event – which attracted 533 runners and the Championship replaced – this is an impressive feat.
It is still far too early to tell who will be joining US professionals Christian Harder and Kenneth Smaron on the Pokerstars Championship Main Event throne, though the man best positioned to do so is Thailand's Pakani Lisawad who bagged up 301,200 in chips at the close of play.
Lisawad began the day as one of the shorter stacks with 47,600 in chips but pulled out all the stops to power into pole position as play progressed, flopping two pairs early on to send 2015 APPT Champion Tony Cheng to the rail.
Sitting just behind Lisawad with a stack of 275,700 is France's Ivan Deyra who finished the day with a very respectable with 275,700. Hong Kong's Chuanshu Chen (272,700), Belarus' Kiryl Radzivonau (243,200) and France's Fabrice Soulier (243,000) round out the top five.
Notables who failed to make the cut included Team PokerStars Pro Aditya Agarwal and Team Online's Randy 'nanonoko' Lew who both departed early on in proceedings.
Other big names who failed to go the distance were HK$400,000 Super High Roller Champion Steve O'Dwyer and the UK's Jack Salter, who was unable to recreate the run of form that saw him go deep in the HK$206,000 Single Re-Entry Shot Clock. Salter departed alongside brother Louis, with Canada's Daniel Dvoress, Australia's Kelvin Beattie and US pro Isaac Haxton also failing to make the cut.
With action concluded for the day, players are headed to Pacha at Studio City for the PSC Macau Player Party – either to drown their sorrows or to celebrate making Day 3. Regardless of which, this promises to be a fun time for all though some may regret any excess come Thursday 6 April.
Day 3 of the PokerStars Championship Macau begins at 12pm local time (GMT+7) and PokerNews will be on the floor to bring you all the action as it happens from the PokerStars LIVE Macau poker room at the City of Dreams complex so join us then as we see who has got what it takes to triumph.
Day 3 Table Draw 2017 PokerStars Championship Macau
| Table | Seat | Name | Country | Chip Count |
| --- | --- | --- | --- | --- |
| 1 | 1 | Hau Minh Nguyen | Australia | 109,400 |
| 1 | 2 | Jun Zhou | China | 76,200 |
| 1 | 3 | Michael Egan | Australia | 110,900 |
| 1 | 4 | Sergey Lebedev | Russia | 21,000 |
| 1 | 5 | Sergio Aido | Spain | 197,200 |
| 1 | 6 | En Ning Chen | China | 20,500 |
| 1 | 7 | Daniel McAulay | UK | 136,800 |
| 1 | 8 | Xiao Kuo Huang | China | 132,600 |
| | | | | |
| 2 | 1 | Aymon Hata | UK | 61,800 |
| 2 | 2 | Kahle Burns | Australia | 119,300 |
| 2 | 3 | Corey Hochman | USA | 92,500 |
| 2 | 4 | Tsuyoshi Ishibashi | Japan | 71,300 |
| 2 | 5 | Siarhei Chudapal | Belarus | 116,100 |
| 2 | 6 | Tokuhu Yoshinaga | Japan | 53,500 |
| 2 | 7 | Kwok Chun Lai | Hong Kong | 117,400 |
| 2 | 8 | Jung Chou Lee | China | 38,600 |
| | | | | |
| 3 | 1 | Niall Murray | UK | 35,500 |
| 3 | 2 | Stevan Chew | Australia | 70,000 |
| 3 | 3 | Yasuyuki Tsuji | Japan | 66,000 |
| 3 | 4 | Roman Korenev | Russia | 60,400 |
| 3 | 5 | Tao Fan | China | 55,100 |
| 3 | 6 | Vinay Agarwal | Singapore | 96,200 |
| 3 | 7 | Viktor Ivanov | Russia | 157,900 |
| 3 | 8 | Thibaut Blondel | France | 214,500 |
| | | | | |
| 4 | 1 | Bernard Vu | France | 119,600 |
| 4 | 2 | Manig Loeser | Germany | 93,200 |
| 4 | 3 | Dong Guo | Canada | 176,600 |
| 4 | 4 | Chen-An Lin | Taiwan | 120,900 |
| 4 | 5 | Aslan Esenkulov | Russia | 72,300 |
| 4 | 6 | Antoine Hasbani | Lebanon | 49,600 |
| 4 | 7 | Ro Woong Park | Hong Kong | 35,900 |
| 4 | 8 | Liang Xu | China | 122,500 |
| | | | | |
| 5 | 1 | Chun Long Ronaid Yu | Hong Kong | 73,100 |
| 5 | 2 | Winfred Yu | China | 210,200 |
| 5 | 3 | Xin Liu | China | 83,600 |
| 5 | 4 | Chun Ho Edward Yam | China | 104,700 |
| 5 | 5 | Alexander Freund | Austria | 49,300 |
| 5 | 6 | Nino Franz | Germany | 81,400 |
| 5 | 7 | Zhaojun Ruan | China | 45,600 |
| 5 | 8 | Hyoseob Shin | South Korea | 236,200 |
| | | | | |
| 6 | 1 | Yunsong Lai | China | 108,400 |
| 6 | 2 | Panagiotis Makridis | Australia | 62,200 |
| 6 | 3 | Chuanshu Chen | Hong Kong | 272,700 |
| 6 | 4 | Tommy Hjerting Bech | Denmark | 60,000 |
| 6 | 5 | Wei Ming Tseng | Taiwan | 82,500 |
| 6 | 6 | Ilia Poliakov | Russia | 124,200 |
| 6 | 7 | Elliot Smith | Canada | 84,000 |
| 6 | 8 | Emanuel Vincent Paul Cj Seal | Australia | 94,300 |
| | | | | |
| 7 | 1 | Pakinai Lisawad | Thailand | 301,200 |
| 7 | 2 | Weihang Chen | China | 63,800 |
| 7 | 3 | Joachim Bold | Germany | 107,700 |
| 7 | 4 | Xuan Tan | China | 174,600 |
| 7 | 5 | Michel Abecassis | France | 77,700 |
| 7 | 6 | Matthew Wakeman | Australia | 119,200 |
| 7 | 7 | Xiang Pan | China | 44,000 |
| 7 | 8 | Alex Ward | UK | 52,000 |
| | | | | |
| 8 | 1 | Guofeng Wang | China | 49,000 |
| 8 | 2 | Mikita Badziakouski | Belarus | 22,500 |
| 8 | 3 | Tyron Krost | Australia | 56,700 |
| 8 | 5 | Julius Malzanini | UK | 100,000 |
| 8 | 6 | James Rann | UK | 66,700 |
| 8 | 7 | Feng Wen Chen | Taiwan | 92,500 |
| 8 | 8 | Han Yu | China | 115,100 |
| | | | | |
| 9 | 1 | Artem Metalidi | Ukraine | 105,700 |
| 9 | 2 | Jingxuan Zhu | China | 186,800 |
| 9 | 3 | Petar Kalev | Bulgaria | 127,800 |
| 9 | 4 | Kristijonas Andrulis | Lithuania | 195,400 |
| 9 | 5 | Stig Billgren | Vietnam | 92,900 |
| 9 | 6 | James Tian | USA | 90,300 |
| 9 | 7 | Daniel Bourdon | Canada | 126,000 |
| 9 | 8 | Soo Jo Kim | South Korea | 105,800 |
| | | | | |
| 10 | 1 | Junzhong Loo | Malaysia | 48,200 |
| 10 | 2 | Andrew Hinrichsen | Australia | 114,400 |
| 10 | 3 | Jun Liu | China | 152,500 |
| 10 | 4 | Vitaly Tevis | Russia | 159,500 |
| 10 | 5 | Linh Tran | Canada | 78,500 |
| 10 | 6 | Albert Paik | USA | 202,200 |
| 10 | 7 | Alexandre Moreau | France | 132,200 |
| 10 | 8 | Shyngis Satubayev | Kazakhstan | 87,000 |
| | | | | |
| 11 | 1 | Alex Difelice | Canada | 53,000 |
| 11 | 2 | Sai Wu | China | 137,000 |
| 11 | 3 | Levan Karamanishvili | Ukraine | 117,900 |
| 11 | 4 | Liwei Sun | Italy | 175,800 |
| 11 | 5 | Nerijus Luksa | Norway | 66,400 |
| 11 | 6 | Carsten Jeppesen | Denmark | 29,600 |
| 11 | 7 | Yuening Chen | China | 71,400 |
| 11 | 8 | Yan Li | China | 241,700 |
| | | | | |
| 12 | 1 | Tim Shun Timpson Luk | Hong Kong | 56,700 |
| 12 | 2 | Yohwan Lim | South Korea | 192,600 |
| 12 | 3 | Lee Hon Cheong | Hong Kong | 37,300 |
| 12 | 4 | Avraham Oziel | Canada | 209,400 |
| 12 | 5 | Wen Chen | China | 40,600 |
| 12 | 6 | Nan Tu | China | 96,600 |
| 12 | 7 | Hiroyuki Noda | Japan | 119,300 |
| 12 | 8 | Hao Su | China | 132,500 |
| | | | | |
| 13 | 1 | Maxime Adam | France | 53,200 |
| 13 | 2 | Fulong Chen | China | 83,600 |
| 13 | 3 | Roman Papacek | Czech Republic | 58,800 |
| 13 | 4 | Sofia Lovgren | Sweden | 132,900 |
| 13 | 5 | Renjun Yang | China | 204,900 |
| 13 | 6 | Ihar Pliashko | Belarus | 30,900 |
| 13 | 7 | Soichiro Kojiya | Japan | 42,600 |
| 13 | 8 | Zinan Xu | China | 190,700 |
| | | | | |
| 14 | 1 | Ping San Chan | Canada | 189,200 |
| 14 | 2 | Xiaoyang Luo | China | 107,800 |
| 14 | 3 | Yang Hau | China | 104,200 |
| 14 | 4 | Bryan Huang | Singapore | 121,300 |
| 14 | 5 | John Gallagher | Ireland | 52,400 |
| 14 | 6 | Wu Huihan | China | 109,000 |
| 14 | 7 | Ivan Deyra | France | 278,700 |
| 14 | 8 | Geoffrey Waterlot | Belgium | 83,600 |
| | | | | |
| 15 | 1 | Satrya Wijaya Teja | Indonesia | 81,000 |
| 15 | 2 | Yuki Ko | South Korea | 216,400 |
| 15 | 3 | Yen Chen | Taiwan | 77,000 |
| 15 | 4 | Tou Ta-Wei | Taiwan | 131,200 |
| 15 | 5 | Qifeng Duan | China | 84,400 |
| 15 | 6 | Beh Kok Weng | Malaysia | 93,400 |
| 15 | 7 | Levan Kolbaia | Russia | 120,000 |
| 15 | 8 | Tianyuan Tang | China | 73,700 |
| | | | | |
| 16 | 1 | Angelina Rich | Australia | 22,000 |
| 16 | 2 | Chenxiang Miao | China | 41,000 |
| 16 | 3 | Zedao Ma | China | 57,600 |
| 16 | 4 | Louis Lam | Canada | 54,600 |
| 16 | 5 | Jianbo Jiang | China | 162,400 |
| 16 | 6 | Dzmitry Rabotkin | Belarus | 58,800 |
| 16 | 7 | Paul Vehvilainen | Finland | 195,600 |
| 16 | 8 | Carlos Garcia Sarmiento | Colombia | 86,800 |
| | | | | |
| 17 | 1 | Dan Smith | USA | 76,900 |
| 17 | 2 | Lachezar Petkov | Bulgaria | 66,900 |
| 17 | 3 | Morten Mortensen | Denmark | 91,200 |
| 17 | 4 | Zigao Yu | China | 161,100 |
| 17 | 5 | Alex Lee Lin Hwaa | Malaysia | 102,900 |
| 17 | 6 | Peter Jaksland | Denmark | 91,100 |
| 17 | 7 | Wenlong Jin | China | 192,100 |
| 17 | 8 | David Peters | USA | 35,900 |
| | | | | |
| 18 | 1 | Wei Lik Graeme Siow | Singapore | 183,600 |
| 18 | 2 | Zihan Cong | China | 77,600 |
| 18 | 3 | Zhi Min Pun | China | 88,900 |
| 18 | 4 | Yao Meng | China | 75,800 |
| 18 | 5 | Xiang Zhu | China | 190,700 |
| 18 | 6 | Erich Stadler | New Zealand | 36,300 |
| 18 | 7 | Fabrice Soulier | France | 243,000 |
| 18 | 8 | Georgios Zisimopoulos | Greece | 42,300 |
| | | | | |
| 19 | 1 | Tamara Bremner | Canada | 44,300 |
| 19 | 2 | Daniel Laidlaw | Australia | 97,300 |
| 19 | 3 | Dilijiang A | China | 92,600 |
| 19 | 4 | Dawei Zeng | China | 44,500 |
| 19 | 5 | Egor Bulychev | Russia | 189,000 |
| 19 | 6 | Kiryl Radzivonau | Belarus | 243,200 |
| 19 | 7 | Van Sang Nguyen | Vietnam | 129,500 |
| 19 | 8 | Ryan Yu | Canada | 128,300 |