$5,000 Main Event
Dias: 2
$5,000 Main Event
Dia 2 Começado

| Table | Seat | Player | Country | Chip Count |
| --- | --- | --- | --- | --- |
| 1 | 2 | Robert Kostesky | Canada | 25,100 |
| 1 | 3 | Paul Fisher | United States | 45,800 |
| 1 | 4 | Jonathan Borenstein | United States | 27,100 |
| 1 | 5 | Sean Posner | United States | 4,800 |
| 1 | 6 | Anthony Newman | United States | 14,400 |
| 1 | 7 | Bradley Snider | United States | 90,900 |
| 1 | 8 | Rex Clinkscales | United States | 87,000 |
| | | | | |
| 2 | 1 | Patrick Stacey | Cayman Islands | 46,700 |
| 2 | 2 | Tom Lutz | United States | 64,300 |
| 2 | 4 | Stefan Peukert | Germany | 91,300 |
| 2 | 5 | Tom Janssens | Belgium | 38,100 |
| 2 | 6 | Shawn Buchanan | Canada | 21,300 |
| 2 | 7 | Brian England | United States | 91,000 |
| 2 | 8 | Noah Boeken | Netherlands | 97,100 |
| | | | | |
| 3 | 1 | Jacques Der Megreditchian | France | 57,600 |
| 3 | 2 | Keven Stammen | United States | 19,300 |
| 3 | 3 | Mamed Mamedov | Russia | 41,900 |
| 3 | 5 | Milcho Angelov | Bulgaria | 52,700 |
| 3 | 6 | Ryan Riess | United States | 15,600 |
| 3 | 7 | Robert Mizrachi | United States | 88,000 |
| 3 | 8 | Damien Steel | Canada | 102,900 |
| | | | | |
| 4 | 1 | Maxim Lykov | Russia | 137,300 |
| 4 | 2 | Rafael Da Silva Moraes | Brazil | 25,500 |
| 4 | 3 | Ramin Hajiyev | Azerbaijan | 60,700 |
| 4 | 4 | Marcin Kapkowski | Poland | 139,000 |
| 4 | 5 | Nicholas Palma | United States | 25,000 |
| 4 | 6 | Michael Vela | United States | 65,100 |
| 4 | 8 | Joao Alberto Barreto | Brazil | 71,700 |
| | | | | |
| 5 | 1 | Victor Figueroa | United States | 84,900 |
| 5 | 3 | Dmitry Ponomarev | Russia | 37,500 |
| 5 | 4 | Joseph Van Pinxteren | Canada | 16,200 |
| 5 | 5 | Harrison Gimbel | United States | 21,400 |
| 5 | 6 | Peter Jaksland | Denmark | 87,000 |
| 5 | 7 | William Foxen | United States | 54,700 |
| 5 | 8 | Mario Koen | Germany | 25,000 |
| | | | | |
| 6 | 1 | Nadal Santiago | Spain | 86,200 |
| 6 | 2 | John Theofilopoulos | Canada | 37,100 |
| 6 | 3 | James Juvancic | United States | 271,800 |
| 6 | 4 | Adrian Gruber | United Kingdom | 55,400 |
| 6 | 5 | John Gulino | United States | 52,700 |
| 6 | 6 | Chun Tat Lee | Hong Kong | 31,100 |
| 6 | 8 | Czeslaw Szerszen | United States | 82,000 |
| | | | | |
| 7 | 1 | Jaanus Telvar | Estonia | 17,500 |
| 7 | 2 | Milaim Tafaj | Norway | 26,500 |
| 7 | 3 | Kou Vang | United States | 57,100 |
| 7 | 4 | Fabio SoUnited States | Brazil | 13,300 |
| 7 | 5 | Adriano Thiago | Brazil | 32,200 |
| 7 | 6 | Sacheen Ramchandani | India | 38,800 |
| 7 | 7 | Adam Grigor | Czech Republic | 35,200 |
| | | | | |
| 8 | 1 | Igor Kurganov | Russia | 121,000 |
| 8 | 3 | Frederic Steffens | Germany | 20,600 |
| 8 | 4 | Jorge De Oliveira Lopez | Portugal | 16,700 |
| 8 | 5 | Garrett Greer | United States | 18,600 |
| 8 | 6 | Mukul Pahuja | United States | 107,500 |
| 8 | 7 | Nicholas Chiappetta | United States | 65,700 |
| 8 | 8 | Jessica Dawley | United States | 32,200 |
| | | | | |
| 9 | 1 | Flavio Gonzalo | Peru | 44,500 |
| 9 | 2 | Barry Greenstein | United States | 60,400 |
| 9 | 3 | Sergi Escote | Spain | 51,400 |
| 9 | 4 | Raul Martinez | Spain | 58,400 |
| 9 | 5 | Erling Voje | Norway | 140,800 |
| 9 | 6 | Michael Nugent | Canada | 27,300 |
| 9 | 8 | Benjamin Zamani | United States | 117,500 |
| | | | | |
| 10 | 2 | Derek Scheinman | Canada | 36,600 |
| 10 | 3 | Pratyush Buddiga | United States | 50,100 |
| 10 | 4 | Ema Zajmovic | Canada | 31,800 |
| 10 | 5 | David Olshan | United States | 42,000 |
| 10 | 6 | Michael Rocco | United States | 9,500 |
| 10 | 7 | Kerry Shears | Canada | 22,400 |
| 10 | 8 | Joaquin Walter | Uruguay | 82,500 |
| | | | | |
| 11 | 1 | Joshua Waters | United States | 99,800 |
| 11 | 3 | Pedro Da Cunha Cavalieri Doro | Brazil | 121,300 |
| 11 | 4 | Laurie Tournier | Brazil | 23,100 |
| 11 | 5 | Maurice Hawkins | United States | 81,400 |
| 11 | 6 | James Martyn | Canada | 197,400 |
| 11 | 7 | Fernando Halac | United States | 57,100 |
| 11 | 8 | Aleksei Opalikhin | Russia | 88,400 |
| | | | | |
| 12 | 1 | Agustin Williams Heresi | Peru | 34,500 |
| 12 | 2 | Angel Penalver | Spain | 32,700 |
| 12 | 3 | Christoph Vogelsang | Germany | 100,300 |
| 12 | 4 | Aaron Paul | United States | 74,700 |
| 12 | 6 | Jan Jacobs | Belgium | 56,400 |
| 12 | 7 | Scott Baumstein | United States | 22,000 |
| 12 | 8 | Collee Fabian | Belgium | 24,900 |
| | | | | |
| 13 | 2 | Marco Caza | Canada | 26,600 |
| 13 | 3 | Corey Hochman | United States | 68,400 |
| 13 | 4 | Stanislav Miroshkin | Russia | 84,600 |
| 13 | 5 | Serge Cantin | Canada | 131,000 |
| 13 | 6 | Eric Semel | United States | 24,500 |
| 13 | 7 | Luke Haward | United Kingdom | 40,800 |
| 13 | 8 | Ryan Yu | Canada | 45,100 |
| | | | | |
| 14 | 1 | Marc-Andre Ladouceur | Canada | 38,900 |
| 14 | 2 | Mikko Turtiainen | Finland | 155,100 |
| 14 | 3 | Dave Desanghere | Canada | 22,300 |
| 14 | 4 | Nenad Medic | Canada | 68,200 |
| 14 | 5 | Michael Scarborough | United States | 52,000 |
| 14 | 6 | Fabio Freitas | Brazil | 67,900 |
| 14 | 7 | Ian Modder | Canada | 22,900 |
| 14 | 8 | Vitaly Tevis | Russia | 79,500 |
| | | | | |
| 15 | 1 | Thomas Gabriel | United States | 66,400 |
| 15 | 2 | Feizal Satchu | Canada | 21,900 |
| 15 | 4 | Robby Westrom | United States | 75,700 |
| 15 | 5 | John Dibella | United States | 64,300 |
| 15 | 6 | Pierre Neuville | Belgium | 33,600 |
| 15 | 7 | Patrick Vos | Netherlands | 30,700 |
| 15 | 8 | Erick Brenes Cuadra | Costa Rica | 75,000 |
| | | | | |
| 16 | 1 | Bradley Marsh | Canada | 173,200 |
| 16 | 2 | Florian Haiduc | Romania | 113,200 |
| 16 | 3 | Antonio Della Sciucca | Canada | 120,000 |
| 16 | 4 | Mitchell Towner | United States | 54,200 |
| 16 | 5 | Carsten Dall Jeppesen | Denmark | 55,100 |
| 16 | 6 | Francisco Benitez | Uruguay | 50,100 |
| 16 | 7 | Jan Rusnak | Slovakia | 21,500 |
| 16 | 8 | Stein Vegar Rødseth | Norway | 45,700 |
| | | | | |
| 17 | 1 | Gregory Roberts | United States | 61,100 |
| 17 | 2 | Jonathan Dimmig | United States | 34,500 |
| 17 | 3 | Bodo Sides | Canada | 76,600 |
| 17 | 4 | Jorge Ribeiro | Brazil | 21,500 |
| 17 | 5 | Justin Liberto | United States | 37,500 |
| 17 | 7 | Alejandro Betschart Deck | Uruguay | 18,200 |
| 17 | 8 | Pedro Baptista Martinho Cabeca | Portugal | 129,200 |
| | | | | |
| 18 | 1 | Denis Sisanbaev | Russia | 22,700 |
| 18 | 3 | Eddy Sabat | United States | 12,700 |
| 18 | 4 | Steven Kerr | Canada | 147,800 |
| 18 | 5 | David Guay | Canada | 11,000 |
| 18 | 6 | Tyler Hancock | United States | 10,900 |
| 18 | 7 | Davidi Kitai | Belgium | 35,700 |
| 18 | 8 | Fatima Moreira de Melo | Netherlands | 44,400 |
| | | | | |
| 19 | 1 | Mihail Tudor | Romania | 31,900 |
| 19 | 2 | Fabio Carlos Pereira | United States | 61,000 |
| 19 | 3 | Ayan Kuchukov | Kazakhstan | 5,900 |
| 19 | 4 | Diego Gomez | Spain | 50,100 |
| 19 | 5 | Todd Peterson | United States | 105,100 |
| 19 | 6 | Taha Maruf | United States | 27,100 |
| 19 | 8 | Predrag Bukovec | Croatia | 75,500 |
| | | | | |
| 20 | 1 | David Friendship | United Kingdom | 18,700 |
| 20 | 2 | Mark Dietrich | Canada | 21,700 |
| 20 | 3 | Tony Tran | United States | 34,000 |
| 20 | 4 | Jhon Rua Monroy | Colombia | 20,700 |
| 20 | 5 | John Engledow | United Kingdom | 60,000 |
| 20 | 6 | Robert Edelstein | United States | 29,000 |
| 20 | 7 | Arnaud Mattern | France | 41,000 |
| | | | | |
| 21 | 2 | Sameer Aljanedi | United States | 70,000 |
| 21 | 3 | Jeffrey Smith | United States | 30,300 |
| 21 | 4 | Rodrigo Cordoba | Argentina | 156,400 |
| 21 | 5 | Matthew Wantman | United States | 67,000 |
| 21 | 6 | Dirk Van Luijk | Belgium | 72,000 |
| 21 | 7 | Nico Schwarz | Germany | 19,700 |
| 21 | 8 | Nathan Hall | Canada | 15,200 |
| | | | | |
| 22 | 1 | Mustapha Kanit | Italy | 84,600 |
| 22 | 2 | Walter Treccarichi | Italy | 43,000 |
| 22 | 3 | Sergiu Prodan | Romania | 93,300 |
| 22 | 4 | Kliment Tarmakov | Canada | 46,100 |
| 22 | 5 | Brian Cunningham | United States | 74,300 |
| 22 | 6 | Urban Nilsson | Sweden | 36,900 |
| 22 | 7 | Mike McDonald | Canada | 54,600 |
| 22 | 8 | Mariano Martiradonna | Italy | 151,800 |
| | | | | |
| 23 | 1 | Jonathan Eger | Canada | 31,100 |
| 23 | 2 | Hendrik Latz | Germany | 44,100 |
| 23 | 4 | William Kassouf | United Kingdom | 10,400 |
| 23 | 5 | Jorma Nuutinen | Finland | 56,300 |
| 23 | 6 | Michael Bills | United States | 58,700 |
| 23 | 7 | Igor Gamayunov | Canada | 19,100 |
| 23 | 8 | Luke Blindert | United States | 11,400 |
| | | | | |
| 24 | 1 | Gautam Lillaney | Jamaica | 97,400 |
| 24 | 2 | Andre Akkari | Brazil | 23,700 |
| 24 | 3 | Ricardo Ramos | Brazil | 22,800 |
| 24 | 4 | Christopher George | United States | 64,200 |
| 24 | 5 | Dominique Mosley | United States | 55,000 |
| 24 | 6 | Allen Kessler | United States | 30,100 |
| 24 | 7 | Chun Wong | China | 43,100 |
| 24 | 8 | Chance Kornuth | United States | 62,300 |
| | | | | |
| 25 | 1 | Ramiro Petrone | Argentina | 42,000 |
| 25 | 2 | Lucas Citron | United Kingdom | 18,600 |
| 25 | 3 | Isaac Haxton | United States | 43,600 |
| 25 | 4 | Raffi Nahabedian | Canada | 31,100 |
| 25 | 5 | Benoit Galland | Canada | 125,400 |
| 25 | 7 | Matthew Dietrich | Canada | 18,300 |
| 25 | 8 | Tom Thomas | United States | 31,200 |
| | | | | |
| 26 | 1 | Konstantinos Nanos | Greece | 20,500 |
| 26 | 2 | Thomas Muehlemann | Switzerland | 31,400 |
| 26 | 4 | James Tian | United States | 23,000 |
| 26 | 5 | Nick Maimone | United States | 37,100 |
| 26 | 6 | Vincent Moscati | United States | 77,000 |
| 26 | 7 | David Bokor | Canada | 108,900 |
| 26 | 8 | Valentin Messina | France | 139,900 |
| | | | | |
| 27 | 1 | Dorian Rios Pavon | Venezuela | 46,000 |
| 27 | 2 | Felipe Ramos | Brazil | 156,800 |
| 27 | 3 | Justin Bonomo | United States | 74,500 |
| 27 | 4 | Sam Chartier | Canada | 107,200 |
| 27 | 5 | Bulat Bikmetov | Russia | 82,000 |
| 27 | 6 | Victor Ramdin | United States | 13,500 |
| 27 | 8 | Daniel Weinman | United States | 28,900 |
| | | | | |
| 28 | 1 | Eugene Katchalov | Ukraine | 111,200 |
| 28 | 2 | Jake Cody | United Kingdom | 19,700 |
| 28 | 3 | Teodoro Asfura Kuncar | Chile | 79,200 |
| 28 | 4 | Upeshka DeSilva | United States | 51,500 |
| 28 | 5 | Alan Schein | United States | 140,100 |
| 28 | 6 | Jacob Snider | United States | 20,600 |
| 28 | 7 | Roman Shugaylo | Russia | 33,100 |
| 28 | 8 | Lucas Greenwood | Canada | 74,900 |
| | | | | |
| 29 | 1 | Jason Mercier | United States | 92,700 |
| 29 | 3 | Blair Hinkle | United States | 103,600 |
| 29 | 4 | Mattias Priolo | Sweden | 160,800 |
| 29 | 5 | Nadezhda Magnus | United States | 79,000 |
| 29 | 6 | Charles Carpenter | United States | 27,900 |
| 29 | 7 | Pablo Fernandez | Spain | 81,400 |
| 29 | 8 | Donys Ivan Agnelli Rojas | Venezuela | 44,200 |
| | | | | |
| 30 | 1 | Jean Montury | France | 124,000 |
| 30 | 2 | Esther Taylor | United States | 85,300 |
| 30 | 3 | Maria Ho | United States | 71,100 |
| 30 | 4 | Raymond Dehkharghani | United States | 55,900 |
| 30 | 5 | David MacNeil | Canada | 58,200 |
| 30 | 6 | Marius Moczygemba | Germany | 59,400 |
| 30 | 7 | Ihor Klymenko | Ukraine | 104,900 |
| 30 | 8 | Theo Da Cruz Lima | Brazil | 36,100 |
| | | | | |
| 31 | 1 | Vojtech Horut | Czech Republic | 89,800 |
| 31 | 2 | Dan Høidahl | Norway | 53,300 |
| 31 | 3 | Morris Dadoun | Canada | 112,800 |
| 31 | 4 | Michael Dietrich | Canada | 30,400 |
| 31 | 5 | Michael Zuckerman | United States | 55,700 |
| 31 | 6 | Cliff Josephy | United States | 81,100 |
| 31 | 7 | David Peters | United States | 29,300 |
| 31 | 8 | Martin Plsek | Czech Republic | 19,300 |
| | | | | |
| 32 | 2 | Justin Ouimette | Canada | 110,000 |
| 32 | 3 | Likith Govindaiah | United States | 19,400 |
| 32 | 4 | Houman Baiany | United States | 32,700 |
| 32 | 5 | Jason Koon | United States | 22,400 |
| 32 | 6 | Harry Ratchford | United States | 91,400 |
| 32 | 7 | Sasa Stancic | Canada | 62,800 |
| 32 | 8 | Elio Fox | United States | 40,800 |
| | | | | |
| 33 | 1 | Andrew Ryan | United States | 224,300 |
| 33 | 2 | Lawrence Greenberg | United States | 44,200 |
| 33 | 3 | Jeremey Grayson | Canada | 37,600 |
| 33 | 4 | Andrew Barton | Canada | 5,500 |
| 33 | 5 | Bernard Lee | United States | 59,900 |
| 33 | 6 | Alex DiFelice | Canada | 19,500 |
| 33 | 7 | Remon Beukema | Netherlands | 24,500 |
| 33 | 8 | Michael Bartholomew | Canada | 86,700 |
| | | | | |
| 34 | 1 | Andy Philachack | United States | 35,000 |
| 34 | 2 | Richard Seymour | United States | 28,000 |
| 34 | 3 | Lucian Voigt | Germany | 58,100 |
| 34 | 4 | Benjamin Wittams-Smith | United Kingdom | 48,100 |
| 34 | 5 | James Hughes | United States | 31,500 |
| 34 | 6 | Thomas Lefort | Canada | 87,200 |
| 34 | 7 | Daniel Koop | Germany | 29,700 |
| | | | | |
| 35 | 1 | Vanessa Selbst | United States | 88,000 |
| 35 | 2 | James Frangoulidis | United States | 14,700 |
| 35 | 3 | Stephen Chidwick | United Kingdom | 53,800 |
| 35 | 4 | Fabian Alvarez Torres | Colombia | 36,700 |
| 35 | 5 | Alexis Gavin | United States | 65,300 |
| 35 | 6 | Rafael Golka | Germany | 83,600 |
| 35 | 7 | Scott Stewart | United States | 53,200 |
| 35 | 8 | Brian Cohen | United States | 62,000 |
| | | | | |
| 36 | 1 | Angel Lopez | United States | 15,200 |
| 36 | 3 | Will Failla | United States | 41,700 |
| 36 | 4 | Sean Jazayeri | United States | 25,400 |
| 36 | 5 | Chris Moneymaker | United States | 65,100 |
| 36 | 6 | Niels Dekker | Netherlands | 25,000 |
| 36 | 7 | Ami Alibay | Canada | 88,800 |
| 36 | 8 | Mohsin Charania | United States | 134,600 |
| | | | | |
| 37 | 1 | Allen Farris | United States | 64,300 |
| 37 | 2 | Michael Gentili | Canada | 40,200 |
| 37 | 3 | Paul Ephremsen | United Kingdom | 98,200 |
| 37 | 4 | Gaelle Baumann | France | 119,200 |
| 37 | 5 | Pascal Lefrancois | Canada | 103,200 |
| 37 | 6 | Thomas Hueber | Austria | 33,000 |
| 37 | 7 | Rasmus Glæsel | Norway | 88,000 |
| 37 | 8 | Smit Trivedi | United Kingdom | 39,200 |
| | | | | |
| 38 | 1 | Adrian Mateos | Spain | 120,900 |
| 38 | 2 | Gabriel Attiave | Canada | 50,500 |
| 38 | 3 | Fabrizio Gonzalez | Uruguay | 94,700 |
| 38 | 4 | Lauren Monosson | United States | 46,200 |
| 38 | 5 | Pawel Zielony | Poland | 16,100 |
| 38 | 7 | Byron Kaverman | United States | 82,800 |
| 38 | 8 | Marcin Kreft | Poland | 26,200 |
| | | | | |
| 39 | 1 | Philip Laak | United States | 55,300 |
| 39 | 2 | David Eldridge | United States | 44,100 |
| 39 | 3 | Paul Knebel | Germany | 69,400 |
| 39 | 4 | Hugo Boucenna | France | 121,600 |
| 39 | 5 | Rory Chinn | Jamaica | 92,800 |
| 39 | 6 | Stephen Thirlwell | United Kingdom | 43,900 |
| 39 | 7 | Felix Bleiker | Switzerland | 30,000 |
| 39 | 8 | Aslan Tcechoev | Russia | 93,200 |
| | | | | |
| 40 | 1 | Martin Raus | Canada | 25,700 |
| 40 | 2 | Tobias Hausen | Germany | 13,300 |
| 40 | 3 | Pablo Mariz | Canada | 60,600 |
| 40 | 4 | Axat Tulsidas Mawji | United Kingdom | 93,300 |
| 40 | 6 | Edward Holyoke | United States | 32,000 |
| 40 | 7 | Myung Shin | United States | 59,600 |
| 40 | 8 | Cristian-Andrei Folescu | Romania | 107,600 |
| | | | | |
| 41 | 1 | Jan Kralik | Czech Republic | 164,900 |
| 41 | 3 | Christopher Brody | United States | 84,300 |
| 41 | 4 | Morten Halvorsen | Norway | 55,400 |
| 41 | 5 | Gleb Tremzin | Russia | 59,900 |
| 41 | 6 | Hrair Janian | Canada | 83,500 |
| 41 | 7 | Matthew Aquino | Canada | 69,600 |
| 41 | 8 | Nabih Zaczac | Brazil | 69,800 |
| | | | | |
| 42 | 1 | Robert Zipf | Germany | 100,400 |
| 42 | 2 | Aliaksei Boika | Belarus | 23,400 |
| 42 | 3 | Benjamin Philipps | United Kingdom | 54,900 |
| 42 | 4 | Richard Proudfoot | Canada | 27,700 |
| 42 | 5 | Dan Colman | United States | 136,100 |
| 42 | 7 | Nick Petrangelo | United States | 104,000 |
| 42 | 8 | Kyle Zechner | Canada | 110,800 |
| | | | | |
| 43 | 1 | Jackduyph Duong | United States | 24,200 |
| 43 | 2 | Thomas Bo Markussen | Denmark | 133,100 |
| 43 | 3 | Paul Kenny | Canada | 16,400 |
| 43 | 4 | Eric Brenes | Costa Rica | 87,400 |
| 43 | 5 | Charles La Boissonniere | Canada | 67,700 |
| 43 | 6 | Kevin Martin | Canada | 78,400 |
| 43 | 7 | Jaime Staples | Canada | 30,900 |
| 43 | 8 | Allon Allison | Canada | 63,300 |
| | | | | |
| 44 | 1 | Lars Pettersson | Sweden | 36,700 |
| 44 | 2 | Mike Leah | Canada | 12,300 |
| 44 | 3 | Steve O'Dwyer | Ireland | 18,700 |
| 44 | 4 | Koray Aldemir | Germany | 70,900 |
| 44 | 6 | Yakov Onuchin | Russia | 66,800 |
| 44 | 7 | Marius Cazacu | Romania | 107,100 |
| 44 | 8 | Sebastian Huppertz | Germany | 42,600 |
| | | | | |
| 45 | 1 | Iurii Boiko | Russia | 26,900 |
| 45 | 2 | Willliam Batista Arruda | Brazil | 41,000 |
| 45 | 3 | Benny Chen | Canada | 162,500 |
| 45 | 4 | Vanessa Furey | Canada | 61,400 |
| 45 | 5 | Javier Gomez | Spain | 41,100 |
| 45 | 6 | Marco Lang | Canada | 38,000 |
| 45 | 7 | Sylvain Loosli | France | 17,100 |
| 45 | 8 | Ronan Gorey | Ireland | 54,100 |
| | | | | |
| 46 | 1 | Christopher Bolek | United States | 40,100 |
| 46 | 2 | Patrick Serda | Canada | 22,700 |
| 46 | 3 | Edward Mandel | United States | 69,500 |
| 46 | 4 | Kevin Andriamahefa | Canada | 68,900 |
| 46 | 5 | David Ward | United States | 70,000 |
| 46 | 7 | Nacho Barbero | Argentina | 86,600 |
| 46 | 8 | Murad Akhundov | Azerbaijan | 110,300 |
| | | | | |
| 47 | 1 | Massimo De Mario | Germany | 102,400 |
| 47 | 2 | Farhod Turakulov | Russia | 20,400 |
| 47 | 3 | Francois Billard | Canada | 81,500 |
| 47 | 4 | Andrey Zaichenko | Russia | 27,300 |
| 47 | 5 | Shawn Labrecque | United States | 49,500 |
| 47 | 6 | Christian Harder | United States | 46,000 |
| 47 | 7 | Pavel Machac | Czech Republic | 10,500 |
| 47 | 8 | Stig Moen | Norway | 59,600 |
| | | | | |
| 48 | 1 | Nick Mossa | Canada | 18,900 |
| 48 | 2 | Andre Crooks | United States | 160,400 |
| 48 | 3 | Govert Metaal | Netherlands | 33,400 |
| 48 | 4 | Andjelko Andrejevic | United States | 80,900 |
| 48 | 6 | Erik Lemarquand | Canada | 58,900 |
| 48 | 7 | Daniel Negreanu | Canada | 58,200 |
| 48 | 8 | Andreas Frohn | Switzerland | 30,400 |

Jogador
Fichas
Progresso

James Juvancic

271,800

Andrew Ryan

224,300

James Martyn

197,400

Bradley Marsh

173,200

173,200

Jan Kralik

164,900

Benny Chen

162,500

162,500

Mattias Priolo

160,800

Andre Crooks

160,400

Felipe Ramos

156,800

Team Pro

Rodrigo Cordoba

156,400

Mikko Turtiainen

155,100

Mariano Martiradonna

151,800

Steven Kerr

147,800

147,800

Erling Voje

140,800

Alan Schein

140,100

Valentin Messina

139,900

Marcin Kapkowski

139,000

139,000

Maxim Lykov

137,300

137,300

Dan Colman

136,100

136,100

Mohsin Charania

134,600

Thomas Bo Markussen

133,100

133,100

Serge Cantin

131,000

Pedro Baptista Martinho Cabeca

129,200

129,200

Benoit Galland

125,400

125,400

Jean Montury

124,000

-1,000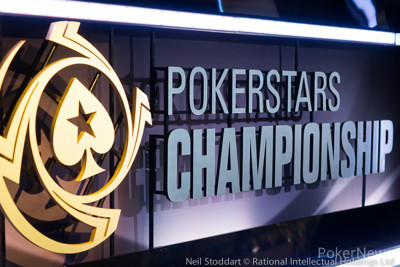 After two starting flights, the 2017 PokerStars Championship Bahamas has attracted 699 players. That number could go up slightly as registration is open until the start of Day 2, which will kick off at Noon local time.
For the first time in the Main Event, all players will be battling it out in the same room as the 350 returning Day 1a and 1b survivors combine for six more 75-minute levels.
James Juvancic, the Day 1b chip leader, will begin the day as the big stack with 271,800 in chips, while Andrew Ryan (224,300) is the only other player over the 200k mark. Day 1a leader James Martyn (197,400), Jan Kralik (164,900), Mattias Priolo (160,800), and PokerStars Team Pro Felipe Ramos (156,800) will also begin with big stacks.
Other returning to action include Hollywood actor Aaron Paul (74,700), 2012 PCA champ John Dibella (64,300), Mike "Timex" McDonald (54,600), Team PokerStars Pros Barry Greenstein (50,400), Fatima Moreira de Melo (44,400), Andre Akkari (23,700), Victor Ramdin (13,500), Jake Cody (19,700), Jason Mercier (92,700), Vanessa Selbst (88,000), Chris Moneymaker (65,100), Daniel Negreanu (58,2000, as well as Kevin Martin (78,400) and Jaime Staples (30,900) of Team Online. Two short stacks coming back are 2013 WSOP champ Ryan Riess (15,600) and the polarizing Will Kassouf (10,400).
Cards will be in the air in a couple of hours. We'll have official numbers, including prize pool and payout information, shortly after the start of play. While you wait, check out this video on understanding when and why to check-raise.

Jogador
Fichas
Progresso

Nicola Basile

30,000

Semin Topalovic

30,000

Nicolas Rochette

30,000

David Bernstein

30,000

Ignacio Lopera

30,000

Bill Perkins

30,000

Daniel Dvoress

30,000

Steven Mesrop

30,000

Maciej Seweryn

30,000

Jeffrey Cormier

30,000
Nível: 9
Blinds: 500/1,000
Ante: 100

Nível 9 : 500/1,000, 100 ante
There are six 75-minute levels on the schedule today, with no scheduled dinner break.
Nível 9 : 500/1,000, 100 ante
The eliminations will be flying for the first level or two here as players battle to build a stack to take through the money bubble, and our first player to leave the room after sitting down was the unfortunate Jan Rusnak.
The Slovakian was all-in over the top for around 15 big blinds after Fabio Sousa opened in late position, but while Rusnak turned over
, Sousa flipped
and had a stong hold on the hand.
"That's a good start." Rusnak said with wry sarcasm.
The board of
saw him depart, and with his opponent vanquished, Sousa was happy to accept congratulations uppon his early fortune from his tablemates.
"I'll take it." said Sousa with a grin. He's up to round 27,000 chips, more than double what he started with.
Nível 9 : 500/1,000, 100 ante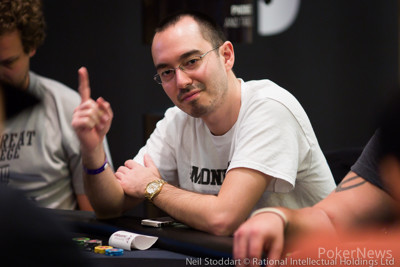 William Kassouf (pictured during what he called "a terrible day" on Day 1b) came into Day 2 of the PokerStars Championship Bahamas Main Event with "ten big blinds and a dream", but that dream is all over after he was eliminated in the first hand he played here in the Bahamas.
Kassouf moved all-in from the hijack position for his remaining 9,500 chips after passing a couple of hands, and he was called in the cut-off by Stefan Peukert, who, once the other players had folded, turned over
.
"How can you have a pair there?" asked Kassouf, declaring "eight-high like a boss!" and turning over
. He needed a lot of help, but didn't get a thing across the board of
. Kassouf wished his brief Day 2 opponents the best of luck and slipped away.
Nível 9 : 500/1,000, 100 ante
Both Tyler Hancock and David Guay got their short stacks of 10,700 and 11,100 respectively all in preflop against Steve Kerr.
Kerr:

Hancock:

Guay:
The
flop paired both the shorties, but Hancock was best thanks to his kicker. Unfortunately for him, the dealer burned and turned the
to pair Guay.
"There you go," said a resigned Hancock. The
river was of no consequence, and Guay nearly tripled on the hand while Hancock hit the rail.