Patrocinado por:

$25,750 High Roller
Dia 2 Terminado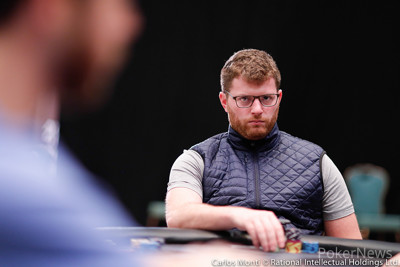 Nick Petrangelo began Day 2 as the chip leader of the $25,000 High Roller at the PokerStars Championship Bahamas, and he finished there as well as the field narrowed from about 80 players to just nine. Those nine have drawn seats for the final table, with Petrangelo piling 1,960,000 into his bag. He'll have to contend with arguably the two hottest players in the tropical Atlantis Resort at the moment.
Byron Kaverman, who finished fifth in the $100,000 Super High Roller and third in the $50,000 Single-Day High Roller for about $450,000 apiece, is third in chips with 1,233,000 and will be seated to Petrangelo's left. Bryn Kenney won that $50K and an impromptu $25,000 High Roller, plus he got seventh in the $100K for over $1.6 million total. He's advanced to yet another final table here but will come in as the shortest stack with only 186,000, just over 10 big blinds.
Michael Rocco (1,533,000), Luc Greenwood (1,170,000), Mark Radoja (651,000), Stephen Chidwick (488,000), Nacho Barbero (411,000), and PokerStars Team Pro Daniel Negreanu (382,000) round out the field.
Petrangelo looked like he was going to sail to top billing again but lost a big pot to Kaverman late that cost him a chance to pull even farther ahead of the pack. He three-bet Kaverman's under-the-gun open holding aces and saw the board run out three-three-ten-five-jack. Unfortunately for Petrangelo, four of those cards were clubs and Kaverman held the queen of clubs to drag a pot worth over 700,000 at 5,000/10,000/1,000.
Still, it wasn't all bad news for Petrangelo as he won big flips to bust Mustapha Kanit and Anton Astapau a little after Igor Kurganov went out on the bubble in 24th.
Rocco also took a tough beat late when he lost kings to eights all in preflop to Greenwood, but a monster pot against another Greenwood rectified things. It was Sam Greenwood seeing a six-ten-ten flop against Rocco and check-raising to 160,000 when Rocco bet 60,000 at Level 20 (8,000/16,000/2,000). Rocco called and then called two more barrels, including a river shove, showing down tens for quads. Sam had flopped the underful with sixes.
Fratricide signaled the day's end when Luc busted Sam and Sergio Aido in a three-way all in with fives against ace-two of clubs and ace-nine, respectively.
Since it was time to draw new seats and just 16 minutes remained in Level 20, the tournament director decided to just bag everyone up. The final nine battle it out for over $900,000 in first-place money starting at noon local time on Saturday.
| Seat | Player | Stack |
| --- | --- | --- |
| 1 | Nick Petrangelo | 1,960,000 |
| 2 | Byron Kaverman | 1,233,000 |
| 3 | Stephen Chidwick | 488,000 |
| 4 | Daniel Negreanu | 382,000 |
| 5 | Michael Rocco | 1,533,000 |
| 6 | Nacho Barbero | 411,000 |
| 7 | Mark Radoja | 651,000 |
| 8 | Luc Greenwood | 1,170,000 |
| 9 | Bryn Kenney | 186,000 |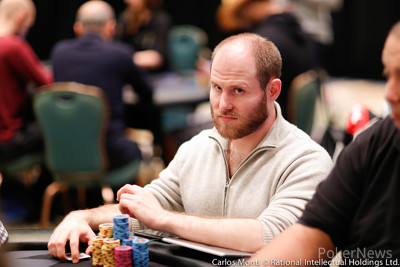 Action folded around to Luc Greenwood who moved all in from the cutoff. Sergio Aido was in the small blind and snap-called for 153,000. Sam Greenwood was in the big blind and asked for a count of Aido's stack. It turned out that Sam had 154,000, having his opponent covered by only 1,000. Eventually, Sam called.
Luc tabled the best hand with
, while Aido showed
and Sam revealed
.
The flop came
, putting Sam in the lead with a pair of aces with a nine kicker.
The turn was the
, but the river was the
and Luc eliminated both Aido and his twin brother, Sam.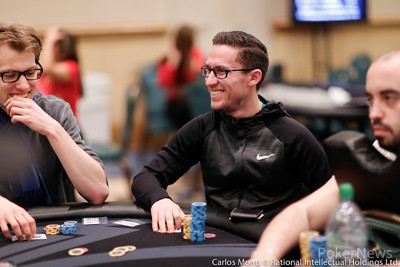 Michael Rocco raised to 35,000 from the hijack. Daniel Dvoress was in the small blind and moved all in for 320,000. Rocco snap-called.
Rocco:

Dvoress:
Before the flop came down Rocco said, "I think I'm gonna win this one. I'm running good." As he said that, the flop came
, giving Rocco trip aces to take a commanding lead.
The turn was the
and the river was the
, sending Dvoress home in 12th place.
Nacho Barbero and Byron Kaverman got in a late-position raising war that ended with Barbero all in for 370,000 and called.
Barbero:

Kaverman:
Queens were again no good for the American, but this time he couldn't turn the tables on a dead jack-high runout.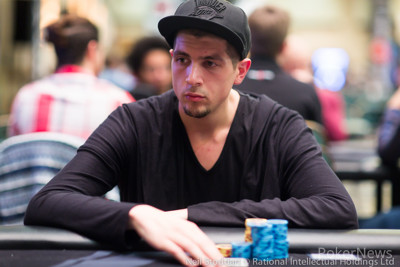 Sam Greenwood checked from under the gun on a
flop, and Michael Rocco bet 60,000. Greenwood made it 160,000, and Rocco called. Greenwood bet 145,000 on the
turn, and Rocco again called. On the
river, Greenwood thought about two or three minutes and then announced all in. Rocco beat him into the pot and tabled the
for quads.
Greenwood showed he'd been coolered:
. He sent Rocco 252,000.
Big blind Byron Kaverman checked and called 27,000 from Mark Radoja on the button on a
flop. Both checked the
and Kaverman came out betting with 57,000 on the
river. Radoja pushed in 205,000. Kaverman wound up folding after some thought.
Nível:

20
Blinds:

8,000/16,000
Ante:

2,000
Sam Greenwood raised in middle position to 30,000. Michael Rocco made it 105,000 on his left. Luc Greenwood shoved from the small blind for 374,000, and Rocco immediately called after Sam folded.
Rocco:

Greenwood:
The flop came
, a welcome sight for Greenwood since he picked up a flush draw. He turned Rocco nearly dead with the
, and the
gave him a flush he didn't even need.
Action folded around to Bryn Kenney in the cutoff and he raised to 27,000. Mark Radoja was in the big blind and he decided to defend.
The fop came
. Radoja checked, and Kenney bet 34,000. Radoja called.
The turn was the
. Radoja checked again. Kenney bet 63,000 this time and Radoja called again.
The river was the
. Radoja checked for a third time. Kenney fired a third barrel for 130,000. Radoja went deep into the tank. After a couple of minutes he went to muck his cards and said, "If that's a bluff it's a terrible one."
Someone also may have offered Kenney some extra incentive to show a bluff but he politely declined.