$1,100 BSOP Bahamas Main Event
Dias: 3
$1,100 BSOP Bahamas Main Event
Dia 3 Terminado

Nível 30 : Blinds 60,000/120,000, 120,000 ante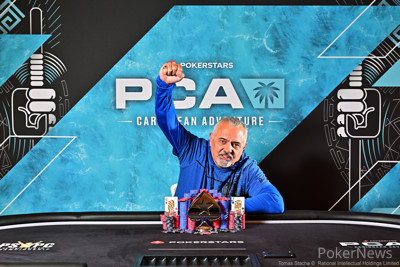 The $1,100 Brazilian Series of Poker(BSOP) Bahamas Main Event at the PokerStars Caribbean Adventure has come to an end and Canada's Allan Barnes is the champion after he defeated Vicente Delgado in heads-up play.
Barnes outlasted 460 entries to take home $86,650 for the victory from a total prize pool of $446,200. Delgado won $54,550 for second, while Christian Rudolph took home $38,950 for the third place finish. Jonathan Little and Brunno Botteon rounded out the top five with $29,950 and $23,050, respectively.
2023 BSOP Bahamas Main Event Final Table Results
| Rank | Player | Country | Prize |
| --- | --- | --- | --- |
| 1 | Allan Barnes | Canada | $86,650 |
| 2 | Vicente Delgado | Spain | $54,550 |
| 3 | Christian Rudolph | Germany | $38,950 |
| 4 | Jonathan Little | United States | $29,950 |
| 5 | Brunno Botteon | Brazil | $23,050 |
| 6 | Steven Fandozzi | United States | $17,750 |
| 7 | Maria Konnikova | United States | $13,650 |
| 8 | Mateusz Moolhuizen | France | $11,200 |
| 9 | Sriharsha Doddapaneni | India | $9,300 |
Winner's Reaction
Barnes is no stranger to The Bahamas, in fact, he had his first recorded cash in the Turbo Edition of the PCA Main Event back in 2015. Since then, he's cashed a total of seven times in the Caribbean, most recently in 2018. This is his biggest score to date.
"First of all, me and my wife absolutely love The Bahamas," Barnes said in his post-win interview with PokerNews. "That's a bonus, and PokerStars does a great job with these tournaments. They're a lot of fun to play. For whatever reason, I have a lot of success down here."
This is the first win for Barnes, and a long time coming after a few deep runs in the shallow seas.
"It feels very, very good. It's a monkey off my back. I've had some cashes down here and I've gone deep in some tournaments where I busted out before it really got exciting. This one here is a nice victory."
The opening event of the 2023 PCA attracted a wide-ranging field of notable poker professionals from all over the world. Barnes, however, was in his element.
"I wasn't intimidated by the professionals. I've played enough poker and I understand the game, so I know that if you're patient enough the cards will come to you, and tonight was the perfect example of that. At one point there I was at 400,000 in chips, and I climbed back to win the thing. It was all about patience and getting the money in at the right time."
Barnes reflected on the turning point of the evening, when he got his dwindling stack in on the flop with two pair against a flush draw, only to see the flush come in on the turn. The river, however, brought a full house and a path to victory.
"When he turned the flush on me, I was sickened. I couldn't believe it, and I knew he was on the draw, so that's the worst part. And then it came in, but the ace came on the river. Obviously, I was ecstatic. It was really exciting to spike the ace for the win."
Familiar Day 3 Faces
Day 3 got underway with the 37 surviving players from Monday's Day 2, and each of the returnees was guaranteed $2,350 for their efforts. Maria Ho was one of many notable players that qualified for Day 3, and she got it in good with Big Slick, but Botteon caught up with a suited ace-jack to make a Broadway straight and eliminate her in 20th place.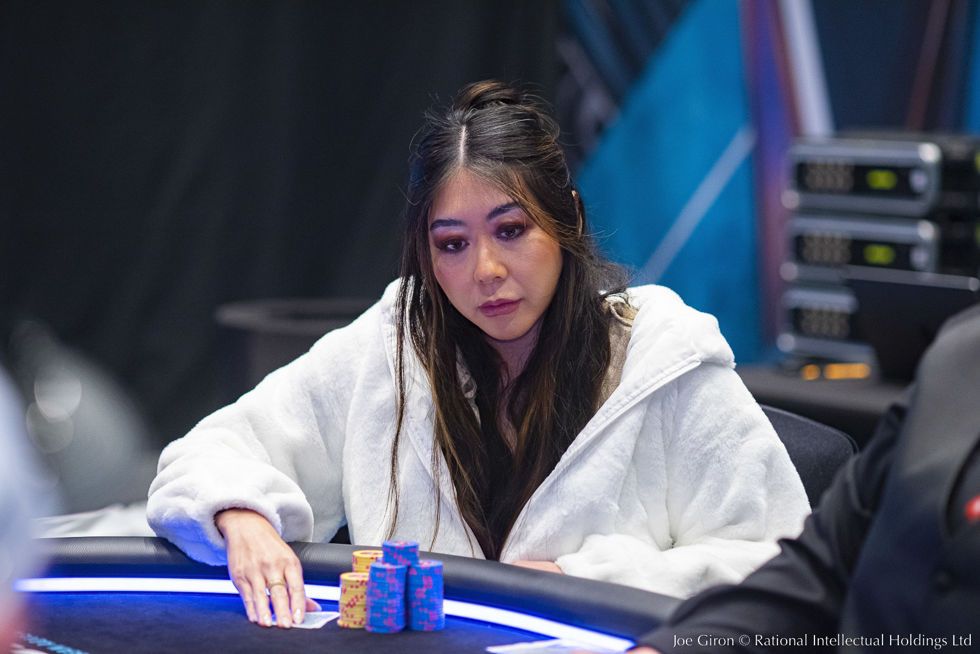 Among the other players that made it to Day 3 and fell short of the final table were Katie Lindsay (22nd, $3,550), Andy Wilson (15th, $5,400), and Paul Dewald (11th, $7,750).
Final Table Action
With ten players remaining, Sebastian Toro got it in with pocket tens and Steven Fandozzi flushed him with the ace of spades on a four-space board to bring the tournament to its final table.
Fandozzi entered the final table with the top stack, and he was trailed by Little and Konnikova in the second and third spots on the leaderboard. Day 2 chip leader was the first to go of the final nine when his jammed with a suited ace-king and ran into the pocket kings of Botteon. Mateusz Moolhuizen soon followed when his ace-king couldn't catch up to Maria Konnikova's pocket fives.
Play stretched out for the final seven players and it was nearly three hours before Konnikova was the next to go in seventh place. Konnikova returned for Day 3 with a big stack and a shot to repeat her win in the 2018 edition of this event, but her run came up short when she tried to bluff a missed straight draw, only to be called by Rudolph and his two pair.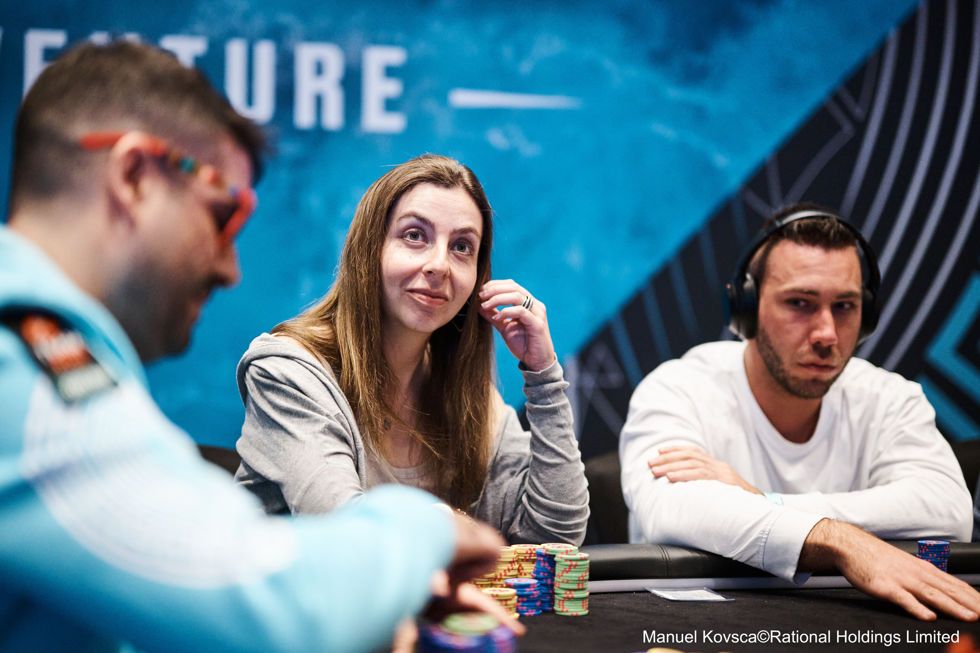 It was more than 90 minutes before the next elimination, and it was Fandozzi who got it in with ace-king and could not improve against the pocket jacks of Delgado. Next to go was Botteon in fifth after he surrendered a double when Little made two pair. Botteon was out a few moments later when Delgado took the last of his small stack with ace-ten.
The game broke open for the final four players, and Little was the next one up for elimination after he found himself in a cooler with Barnes. Little shoved with pocket kings, but Barnes was waiting with pocket aces to send Little home in fourth place. He will return for the PCA Main Event on Wednesday after he registered on dinner break and bagged 30 big blinds before coming back to finish this event.
Soon after, Rudolph took his shot with a suited ace-nine and lost to the king-queen of Barnes. The run gave Barnes the chip lead at the start of heads-up play, but Delgado wasn't too far behind.
Delgado closed the gap early and the two players settled in for the endgame. At one point, Delgado took the lead, but Barnes came storming back. The big moment came when Delgado shoved with a turned pair of aces, only to see that Barnes had flopped queens and jacks. The river was no help for Delgado, and Barnes sealed the victory.
That concludes coverage of the $1,100 BSOP Bahamas Main Event at the PokerStars Caribbean Adventure in at the Baha Mar Resort in The Bahamas. Be sure to keep it with the PokerNews team for live updates from your favorite events all over the world.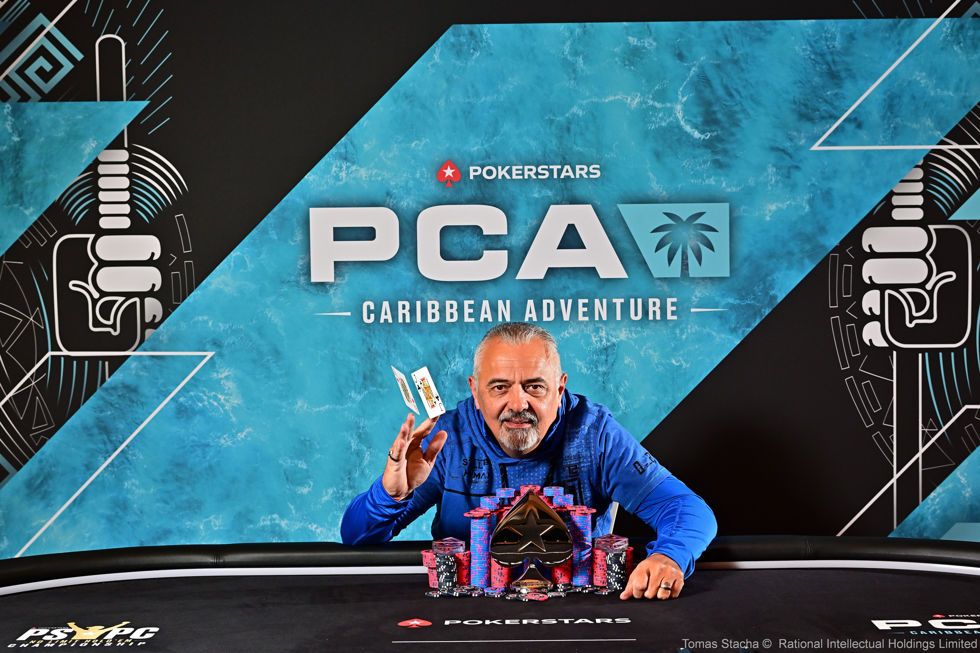 Nível 30 : Blinds 60,000/120,000, 120,000 ante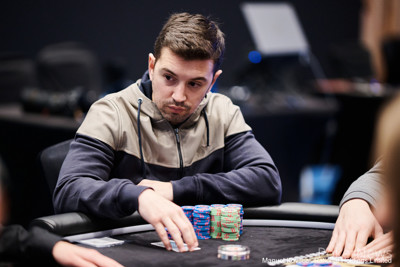 After losing a massive pot the hand before with king-queen against ace-ten all in preflop, Vicente Delgado found himself on a short stack and in need of a double up. In a pot with roughly 600,000 in the middle on a flop showing
, Allan Barnes checked to Delgado who bet out 125,000 and Barnes made the call.
On the
turn Barnes checked again and Delgado fired for 600,000. Barnes took a moment before announcing all in, covering the close to 1,200,000 left for Delgado, who made the call.
Vicente Delgado:

Allan Barnes:
Barnes flopped the world with top two pair and would need to dodge the outs for Delgado to secure the victory. The river peeled off the
to seal the deal for Barnes and Delgado was eliminated in second place.

Nível 30 : Blinds 60,000/120,000, 120,000 ante
With 1,000,000 in the pot and
on the board, Vicente Delgado bet 600,000 and Allan Barnes called. The river was
.
Delgado fired another 600,000 and Barnes tossed out the chips. Barnes turned over
for a set of nines, but Delgado showed the
for a straight to take the pot and the lead.
Nível 30 : Blinds 60,000/120,000, 120,000 ante
Nível: 30
Blinds: 60,000/120,000
Ante: 120,000
Nível 29 : Blinds 50,000/100,000, 100,000 ante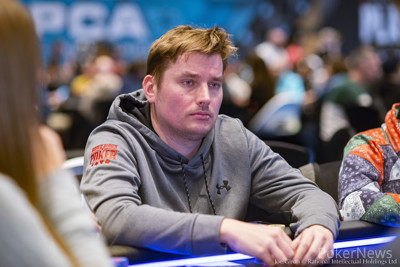 Vicente Delgado opened to 200,000 on the button and Christian Rudolph moved all in for 1,620,000 in the small blind. Allan Barnes asked for a count and after a moment moved all in over the top. Delgado got out of the way and the hands were shown.
Christian Rudolph:

Allan Barnes:
Rudolph was slightly in the lead but would need to dodge the face cards for Barnes. The board ran out
and looked clean until Barnes announced "give me a queen," just before the dealer put the
on the river to send Rudolph out in third place.

Nível 29 : Blinds 50,000/100,000, 100,000 ante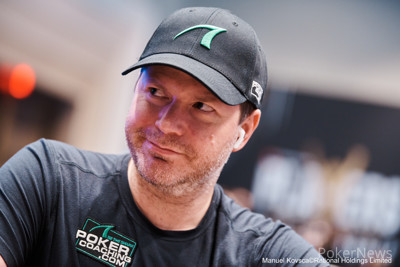 Jonathan Little shoved for just under 2,000,000 and Allan Barnes called quickly from the next seat over. The rest of the table ducked out of the way and action was heads up with Little at risk.
Jonathan Little:

Allan Barnes:
The board ran out
and the aces held to eliminate Little in fourth place for $29,050.
Nível 29 : Blinds 50,000/100,000, 100,000 ante
The action folded to Christian Rudolph in the small blind who limped in and Jonathan Little bumped it up to 325,000 from the big blind. Rudolph announced all in and Little quickly called with the bigger stack.
Christian Rudolph:

Jonathan Little:
Both players found monster hands but the ace-king for Rudolph was well out in front. The board ran out
and the ace-king high held up to score Rudolph another double up.
Jogador
Fichas
Progresso

Vicente Delgado

4,550,000

1,145,000

Christian Rudolph

3,800,000

1,380,000

Allan Barnes

3,700,000

100,000

Jonathan Little

1,400,000

-2,100,000

Nível 29 : Blinds 50,000/100,000, 100,000 ante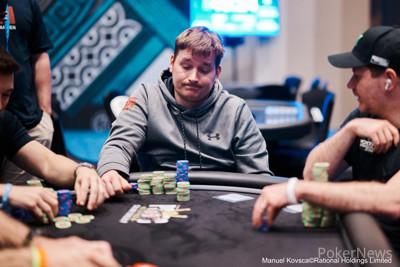 Vicente Delgado shoved with his big stack and Christian Rudolph called for his last 1,200,000 from the next seat over. The others got out of the way and action was heads up with Rudolph at risk.
Christian Rudolph:

Vicente Delgado:
The board ran out
and Rudolph held on with the ace-queen to secure the double.