€1,100 Finale
Dia 2 Terminado

Nível 41 : 5,000,000/10,000,000, 10,000,000 ante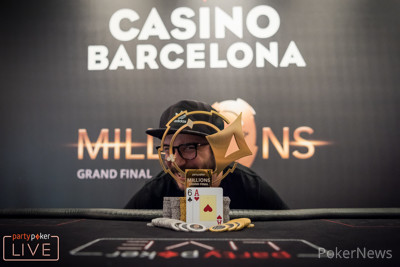 An amazing amount of 1,136 entries were collected in total for the 2018 partypoker LIVE MILLIONS Grand Final Finale and Pedro Cairat was the one that was allowed to lift the trophy in the end. He also picked up the first-place prize of €195,000 after beating Grzegorz Grochulski heads-up.
As the Finale was the last one to play down to a winner, Cairat had some loyal friends who were there all day to support him from the start of the day until he went to the cashier to pick up his cash. The 29-year old poker professional hails from Argentina but has made Barcelona home. It took him four bullets in total to make it this far but in the end, it was all worth it. This is his second highest cash ever, with the first a bit more than six months ago in the same tournament room.
Final Table Results
| Place | Player | Country | Prize (in EUR) | Prize (in USD) |
| --- | --- | --- | --- | --- |
| 1 | Pedro Cairat | Argentina | 195,000 | 240,634 |
| 2 | Grzegorz Grochulski | Poland | 120,000 | 148,082 |
| 3 | Uri Reichenstein | Germany | 80,000 | 98,722 |
| 4 | Asi Moshe | Israel | 52,110 | 64,305 |
| 5 | Jari-Pekke Juhola | Finland | 35,000 | 43,191 |
| 6 | Said El Yousfi | Switzerland | 25,000 | 30,851 |
| 7 | Mark Pedersen | Denmark | 18,000 | 22,212 |
| 8 | Arie Berrebi | France | 13,000 | 16,042 |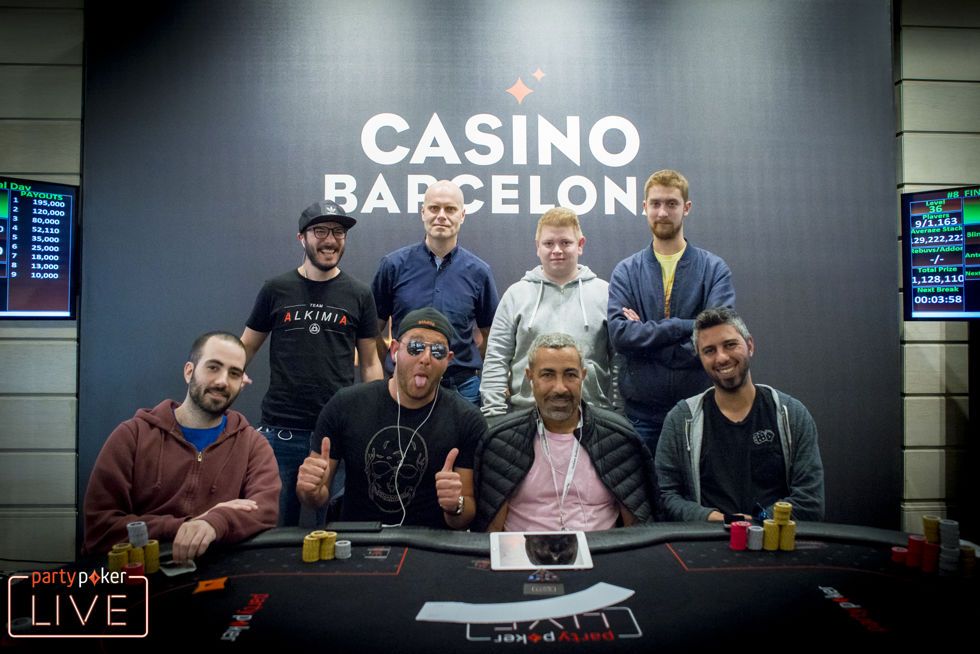 Action of the final day
With 214 players returning after having survived one of the four starting flights over the past two days and only 143 players making it into the money, the action was fast and furious from the start. partypoker Sponsored pro Richard Dubini unfortunately didn't make it past the first two levels of the day. Uri Reichenstein burst the bubble when he eliminated Michal Rudnik with kings against eights just when the first break of the day had started. When the players returned from their break, they were pleasantly surprised to find out that the bubble had burst and hand-for-hand play was over. From then onwards, the bust-outs kept coming in but now the players at least took some money with them for their efforts.
Arie Berrebi eliminated the Day 1b chip leader Muhammad Fahd Ali out of the tournament when Ali ran his jacks into Berrebi's aces. One of the more remarkable hands of the day was played between David Urban and Manuel O'Shea. O'Shea and Asi Moshe had both called a raise of Urban. On an ace-deuce-deuce flop only O'Shea called the Urban bet. A five came on the turn and Urban now check-called the O'Shea bet. The four on the river made Urban check again. O'Shea put in a bet but when Urban shoved, O'Shea grabbed his bet and put it back with his own stack. When he tried to figure out how much extra he would have to pay, he seemed to think that his original bet was already added to the pot instead of him having grabbed it back. This caused some discussion but in the end it all seemed to be resolved and he folded.
Cairat took the chip lead earlier on the day when he eliminated both Bruno Launais and Alessandro Borsa when they both shoved into him on a queen-nine-seven flop. The full house that Cairat hit on the turn was the start of his good run. Mike Leah busted in seventeenth place when he had flopped a pair of fives but Berrebi had him beat with the flopped two pair. Gilse Olsen left the felt when he ran ace-king into the queen-jack of Robert Heidorn who managed to flop a straight immediately. Quickly after that, Antonio Merone was eliminated when he ran his last three blinds into the ace-eight of Said El Yousfi with six-five. Day 1c chip leader, Ben Farrell was forced to leave the tables when he ran his ace-six into the pocket fives of Berrebi.
In thirteenth place was Robert Schiffbauer who held pocket jacks when he shoved into the ace-king of El Yousfi. Heidorn was next in line. His king-trey couldn't beat the ace-trey of Cairat who managed to hit trip aces in the end. Sanchez Diaz was taken down after that by Grochulski. The pocket jacks weren't much luckier for Diaz as Grochulski held ace-ten and hit the ace on the flop. Mauricio Sanchez finished in tenth place with king-ten against the ace-seven of Grochulski.
The unofficial final table was reached just when Pascal Lefrancois won the 2018 partypoker LIVE MILLIONS Grand Final Barcelona €10,300 Main Event for 1,700,000. The redraw took place while Lefrancois' rail was jumping around to celebrate the win. The table got moved into the lobby as the tournament room had to be broken down. The final table bubble ended up being Francisco Oliveira when he ran queen-jack into the ace-jack of Reichenstein. Oliveira also final table bubbled the Warm Up earlier this week so overall, he has had a pretty good week.
After the final table pictures were taken, Berrebi was sent home in eighth place as he ran pocket eights into the ace-king of Reichenstein with the ace waiting till the river to show up. Next to go was Mark Pedersen who shoved ace-seven into the king-jack of Moshe. The king on the turn meant it was time for Pedersen to look where that payout desk was. El Yousfi finished his run about twenty minutes later when he ran ace-four into the ace-queen of Reichenstein. Jari-Pekka Juhola when he called Cairat's shove with pocket aces. Cairat held pocket sevens and hit a runner runner straight to take Juhola out.
Only a few minutes later, it was Moshe's turn to find the rail when he ran his king-ten into the ace-queen of Reichenstein. Reichenstein and Cairat have been responsible for a lot of eliminations over the day and it was no surprise that they kept clashing. First Reichenstein doubled Cairat up with Cairat had rivered two pair. Reichenstein then lost his remaining chips when he ran his king-ten into Cairat's pocket aces.
During heads-up play Cairat first doubled Grochulski up but won all of it back when Cairat had hit a full house. In the final hand, Grochulski shoved after Cairat had raised his initial call on the button. Cairat time banked and called with ace-six. Grochulski held pocket treys and got no help from the board. It took Cairat and his rail a few seconds to realize what had happened, but when they did, they jumped into each other's arms. Pure joy could be read from all of their faces.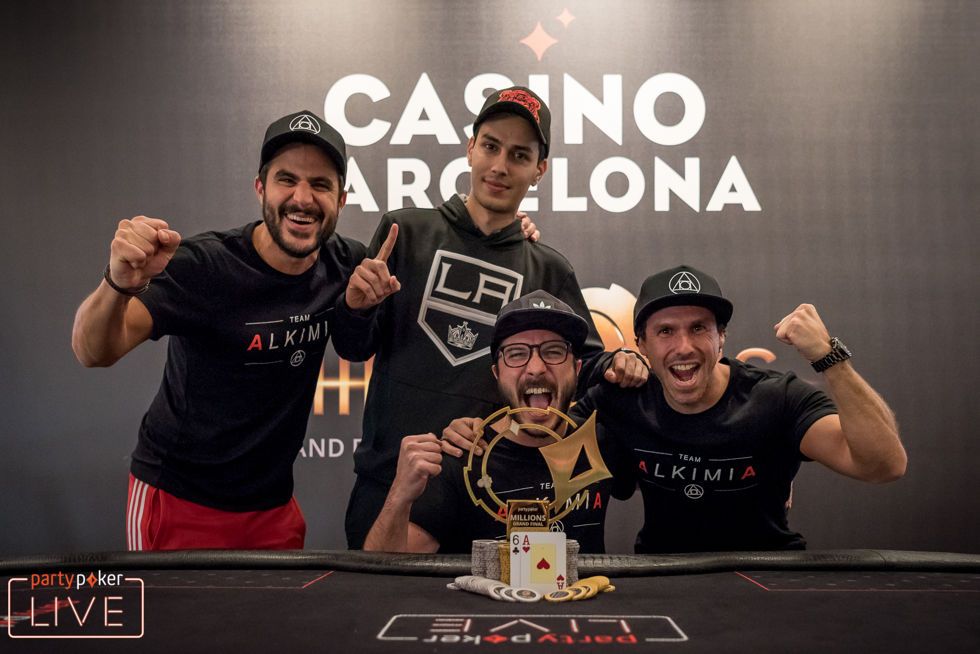 With the final recap of this festival, the PokerNews live reporting team want to thank you all for following our updates. The next event will take place in the Playground Poker Club in Montreal for the first event of Season 2 of the partypoker LIVE MILLIONS Tour. So as usual, keep following us!

Nível 41 : 5,000,000/10,000,000, 10,000,000 ante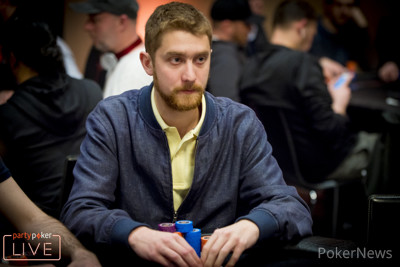 After a few hands back and forth, Grzegorz Grochulski called on the button and Pedro Cairat raised to 30,000,000. Grochulski shoved all in and Cairat asked for a count. The dealer confirmed that the all-in was for 276,000,000 in total. Cairat used his last timebank card and then ended up calling.
Grzegorz Grochulski:

Pedro Cairat:
The board ran out
- on the turn, there was a chance of a straight on the board but the ten on the river meant that the tournament was done and Grochulski was eliminated in 2nd place for €120,000.
Nível: 41
Blinds: 5,000,000/10,000,000
Ante: 10,000,000

Nível 40 : 4,000,000/8,000,000, 8,000,000 ante
Grzegorz Grochulski completed on the button and Pedro Cairat checked.
They both checked through the
on the flop to the
on the turn. Cairat check-called the 10,000,000 bet of Grochulski.
The river completed the board with the
, Cairat checked, Grochulski bet 17,000,000. Cairat raised to 225,000,000. Grochulski tanked using one timebank card and then called. Cairat tabled
for the full house and Grochulski mucked leaving him behind with 185,000,000.

Nível 40 : 4,000,000/8,000,000, 8,000,000 ante
Grzegorz Grochulski called on the button and Pedro Cairat shoved. Grochulski checked his cards again and then called for 170,000,000.
Grzegorz Grochulski:

Pedro Cairat:
The board ran out
to give Grochulski trip aces for the double-up.
Nível: 40
Blinds: 4,000,000/8,000,000
Ante: 8,000,000

Nível 39 : 3,500,000/7,000,000, 7,000,000 ante
After a short break, the players have returned to resume heads-up play. The levels have now been reduced to 15-minutes each. The floor explained that if they wanted to do a deal, this would be allowed but it would be on ICM basis and 10% of the first-place prize needed to be played for. Both players just wanted to continue playing.

Nível 39 : 3,500,000/7,000,000, 7,000,000 ante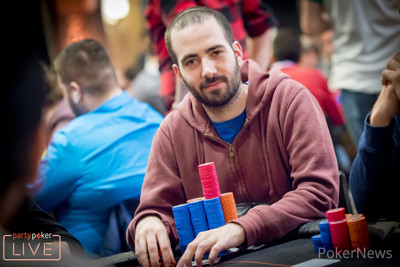 Pedro Cairat raised from the button and Uri Reichenstein shoved for 44,500,000 in the big blind. Cairat called.
Uri Reichenstein:

Pedro Cairat:
The board ran out
- no help for Reichenstein and Cairat ran to his rail to celebrate. Reichenstein got €80,000 for his efforts over the past days.

Nível 39 : 3,500,000/7,000,000, 7,000,000 ante
Uri Reichenstein raised to 23,500,000 from the small blind and Pedro Cairat called in the big blind.
The flop came
, Reichenstein checked, Cairat bet 20,000,000. Reichenstein checked how much Cairat had behind and then decided to raise to 68,000,000.
The turn brought them the
on which they both checked through to the
on the river. Reichenstein tanked using a timebank card and then decided to shove all in for more than Cairat had. Cairat now tanked using a timebank card and then called. Cairat flipped
over for two pair and Reichenstein had to show
. After counting out Cairat's stack he still had 330,500,000 behind. Reichenstein was left with about 48,000,000.