Main Event
Dia 3 Terminado

Nível 30 : 50,000/100,000, 10,000 ante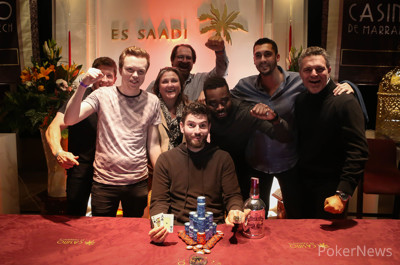 Arron Fletcher has won the 2017 WSOP International Circuit Main Event in Casino de Marrakech! The British player outlasted 510 other players to claim the coveted gold WSOP Circuit Ring. Fletcher took home an astonishing 1,400,000 MAD (€130,755) by winning this record setting event. Runner-up was Spain's Pedro Rodero, who cashed 910,000 MAD (€84,991). Winner of the inaugural Main Event two years ago, Ricardo Manquant, finished in 9th.
| Position | Player | Country | Prize in MAD | Prize in € | Prize in $ |
| --- | --- | --- | --- | --- | --- |
| 1 | Arron Fletcher | United Kingdom | 1,400,000 MAD | €130,755 | $140,224 |
| 2 | Pedro Rodero | Spain | 910,000 MAD | €84,991 | $91,146 |
| 3 | Fernandez | Spain | 635,000 MAD | €59,307 | $63,602 |
| 4 | Hamza NBaba | Morocco | 465,000 MAD | €43,430 | $46,574 |
| 5 | Mika Kakkonen | Finland | 355,000 MAD | €33,156 | $35,557 |
| 6 | Julio Sanchez | Spain | 275,000 MAD | €25,684 | $27,544 |
| 7 | Mohamed El Bakkouri | France | 215,000 MAD | €20,080 | $21,534 |
| 8 | Matthias Widmann | Germany | 176,500 MAD | €16,485 | $17,678 |
| 9 | Ricardo Manquant | France | 153,000 MAD | €14,290 | $15,324 |
23 hopefuls returned at 1 p.m. for the final day and continue their quest to capture WSOP glory. In the first level of the day, action started furiously right off the bat. For [Removed:16], Cheng Li, Thibault Saillard, Thierry Gogniat, Roland Rozal and Thomas Cristobal their hopes of capturing a WSOP ring got crushed in the early stages.
In the second level of the day, one of the most crucial hands of the day took place. Romain Lewis, who started the day second in chips, suddenly went out after losing two hands in a row. In the first hand he lost pocket eights against ace-ten, then Lewis got it in with pocket aces against Fletcher's pocket tens. It was a pot big enough to give either winner the chip lead, but a ten on the flop gave the pot to Fletcher. Needless to say, the monstrous pot was pivotal in Fletcher's eventual success.
Selim Oulmekki, Hakim Hadj, Teresio Ciancanelli, Jaouad Berrada, Tsunamy and Vincent Mansour quickly followed Lewis to the exit. With ten players left, it was Pedro Jimenez who became the final table bubble boy. Jimenez went out in style, as he ran against a true Royal Flush from Mika Kakkonen.
At the final table, Ricardo Manquant would be the first to go after losing queen-ten against pocket jacks. Manquant, who won the first edition of this event back in 2015, saw his second attempt at a Circuit ring come to an end in ninth place. He was soon followed by Matthias Widmann, who couldn't catch up with ace-trey against ace-queen and ended in eight.
It took over two hours before the next player would bust out. It was the last standing Frenchman, Mohamed El Bakkouri, who fell by the wayside. Holding ace-king, El Bakkouri lost against Fletcher's ace-queen when a queen appeared in the window.
After the dinner break, start-of-the-day chipleader Julio Sanchez went out in sixth. Sanchez lost the classic flip of pocket tens against ace-queen when an ace on the turn sent him packing. Mika Kakkonen soon followed him to the rail in fifth place, after losing pocket fives against Rodero's ace-king.
With four players left, the biggest hand of the final table took place. Chipleader Fletcher and second in chips Hamza NBaba clashed in a pot that contained more than half the chips in play. Fletcher held pocket aces and NBaba had the inferior ace-king. All the money went in preflop and NBaba was left drawing dead after the turn. The last hometown player in the tournament received 465,000 MAD for finishing fourth, but will probably not forget the biggest cooler of his poker career any time soon.
Fernandez was the lucky short stack that laddered up due to the big clash. Being short for hours, Fernandez eventually succumbed in 3rd place, netting himself a nice 635,000 MAD payday.
The heads-up started with Fletcher holding more than a 2:1 chip lead over his opponent Rodero. Although Rodero found himself at risk multiple times during the heads-up battle, he proved to be the proverbial cat with nine lives and doubled multiple times. Eventually, Rodero succumbed to the relentless raising and reraising from Fletcher. In the last hand of the tournament, Rodero called an all-in with queen-ten, but Fletcher had ace-jack and held up to win the tournament.
That's all from Casino de Marrakech, located in the beautiful Es Saadi Resort. PokerNews will be back here in March to provide all the updates from the 2017 Marrakech Poker Open. Au revoir et a la prochaine!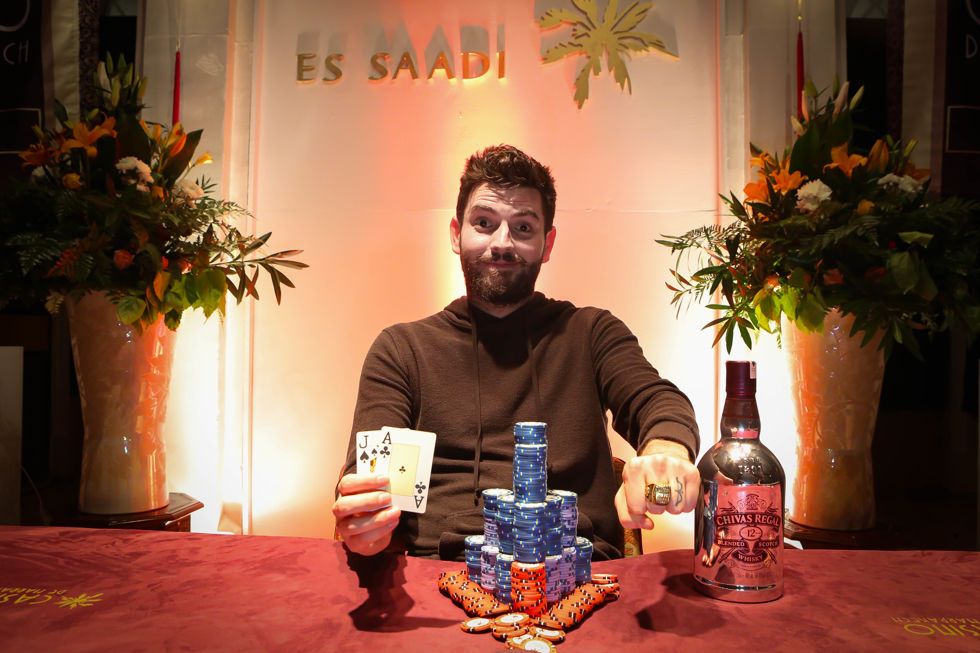 WSOP International Circuit Marrakech Main Event
| Year | Entries | Buy-In | Champion | Country | Prize |
| --- | --- | --- | --- | --- | --- |
| 2017 | 511 | €1,350 | Arron Fletcher | United Kingdom | €130,755 |
| 2016 | 446 | €1,350 | Mathieu Selides | France | €95,479 |
| 2015 | 484 | €1,350 | Ricardo Manquant | France | €122,330 |

Nível 30 : 50,000/100,000, 10,000 ante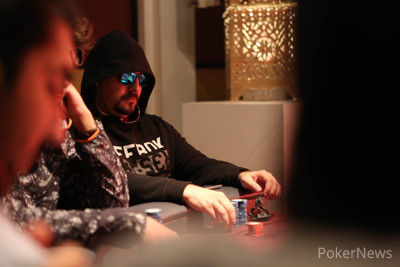 Pablo Rodero limped in on the button and Arron Fletcher raised to 500,000. Rodero reraised to 1,500,000 and called off a shove from Fletcher.
Pablo Rodero:

Arron Fletcher:
Fletcher had Rodero multiple times on the ropes during this heads-up battle and finally delivered the knockout punch:
. Rodero proved to be tough to crack but eventually succumbed to Fletcher's non-stop barrage of pressure.
The Spaniard takes home 910,000 MAD (€84,991) for his incredible accomplishment, by far the biggest score of his poker career.

Nível 30 : 50,000/100,000, 10,000 ante
Pablo Rodero is like the proverbial cat with nine lives. With 2,800,000 left, he opened on the button and called a shove from Arron Fletcher.
Pablo Rodero:

Arron Fletcher:
The best hand held up on
to put Rodero back on another comeback track.

Nível 30 : 50,000/100,000, 10,000 ante
Both heads-up players are playing at a frantic pace. In five minutes time, Fletcher dragged at least 80% of the pots and is back up over ten million.
The biggest pot was a hand in which Rodero tried a limp-raise to 900,000. Fletcher called and picked up the pot on the river on a
board.

Nível 30 : 50,000/100,000, 10,000 ante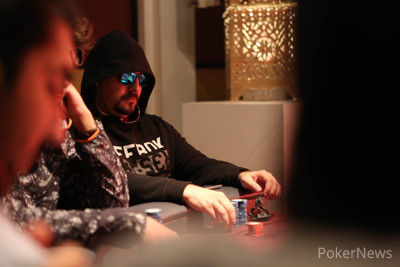 On a
flop, Arron Fletcher and Pablo Rodero quickly got their stacks in the middle.
Arron Fletcher:

Pablo Rodero:
Rodero was at risk, but way ahead with his aces. The
turn and
river proved save for the Spaniard, doubling him to nearly equal stacks with Fletcher.

Nível 30 : 50,000/100,000, 10,000 ante
Arron Fletcher raised to 350,000 and Pablo Rodero called. Fletcher continued 400,000 on the
flop and Rodero check-called. Both players checked the
on the turn. On the
river, Rodero check-folded to a 700,000 bet.

Nível 30 : 50,000/100,000, 10,000 ante
Arron Fletcher won a couple of small pots in a row and is back over 10 million in chips.

Nível 30 : 50,000/100,000, 10,000 ante
On a
board, Arron Fletcher bet 450,000 and Pedro Rodero called. Fletcher mucked his hand and Rodero showed
to win some chips back.
Nível: 30
Blinds: 50,000/100,000
Ante: 10,000