HRW 16: $10,300 NLHE 6-Max High Roller
Dias: 1
HRW 16: $10,300 NLHE 6-Max High Roller
Dia 1 Terminado
Nível 32 : 60,000/120,000, 18,000 ante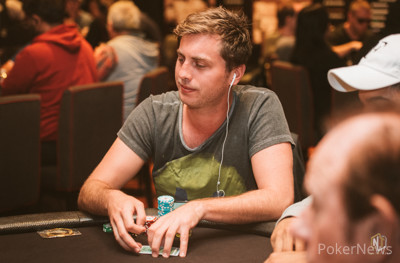 The High Rollers Week series on GGPoker just crowned another champion in the HRW 16: $10,300 NLHE 6-Max High Roller, handing over another title to the red-hot Julian Stuer after he bested a 93 player field to secure a $220,401 payday.
Stuer is hot off a victory just days ago in HRW 07: $10,300 NLHE High Roller, $1.25M GTD where he pocketed a cool $264,636. The Austrian native was a relatively unknown grinder at the time but has made a name for himself here in this series after taking down two High Rollers Week series titles in the last week.
To accomplish this feat, he had to best the one and only GGPoker ambassador Fedor Holz heads-up. Holz is regarded by many as the best to ever play the game, sitting comfortably at eighth on the all-time money list with over $32 million in live cashes.
This victory brings Stuer's winnings over the last week to just under half a million, almost doubling his career online earnings prior to that of $293,000. The young Austrian pro has done more than prove he belongs at this high level of play and can be expected to make more appearances in the highest stakes tournaments the poker scene has tho offer.
Final Table Results
| Place | Player | Country | Prize |
| --- | --- | --- | --- |
| 1 | Julian Stuer | Austria | $220,401 |
| 2 | Fedor Holz | Germany | $166,915 |
| 3 | Joao Vieira | Portugal | $126,409 |
| 4 | Ivan "zufo16" Zufic | Croatia | $95,733 |
| 5 | Artur Martirosian | Russia | $72,501 |
| 6 | Darren Elias | United States | $54,907 |
| 7 | Juan Pardo Dominguez | Spain | $41,583 |
| 8 | Daniel Dvoress | Canada | $31,492 |
| 9 | Viacheslav Buldygin | Russia | $27,059 |
Action of the Day
A heavy crowd showed up to start this six-max event off with a bang, having just over four tables at the beginning of play. The coming levels saw Juan Pardo Dominguez and Daniel Dvoress climb to the top of to totem pole. Each took those early leads to the final table, securing themselves another cash in the High Rollers Week series. Some other players to show up for the early stages of the day but fail to cash include Alexandru Papazian, David Peters, Mikita Badziakouski, and Michael Addamo.
The star-studded field pulled together a total of 93 entry slips, for a total prize pool of $930,000 which demolished the $600,000 guarantee that was set. The top 13 players ended up finding a payday and by the time the bubble had arrived it was none other than Stephen Chidwick taking an exit. Chidwick found himself an optimal spot when he called all in with a pair of dimes and was against the ace-six of Joao Vieira. The board was clean up until the river where Vieira spiked an ace, dubbing Chidwick as the inevitable bubble boy. All players were then guaranteed at least a min-cash of $23,250.
It was just hands before four more players fell to the wayside, those of which were Steve O'Dwyer,Marc "Face-O" Carola, "PinoJ", and Bert Stevens who all pulled in a min-cash. The final table was then set as players partook in nine-handed play for the first time during the tournament and were all guaranteed at a pay jump.
First to hit the rail was Russia's Viacheslav Buldygin when he moved his last chips in with ace-nine of spades and was in a good spot versus the suited ace-five of diamonds that Ivan "zufo16" Zufic held. Buldygin fell on the river he Zufic landed a fifth diamond, flushing his opponent out the door in ninth. The very next hand had Daniel Dvoress take a shot with sevens, only to run into the jacks of Zufic. The board was irrelevant and Zufic sent a second opponent out in just two hands.
Vieira took over for Zufic as the executioner with his pair of jacks, flipping with Juan Pardo Dominguez who held ace-queen. Dominguez failed to find any connection with the board and was eliminated. The sickest beat of the tournament award went to Darren Elias when he moved in with a pair of aces against the ace-queen of Vieira, in what was at the time a chip lead pot. A queen high flop was of minimal risk but a queen river saw Vieira overtake the bullets of Elias with his trip queens, sending Elias out in sixth.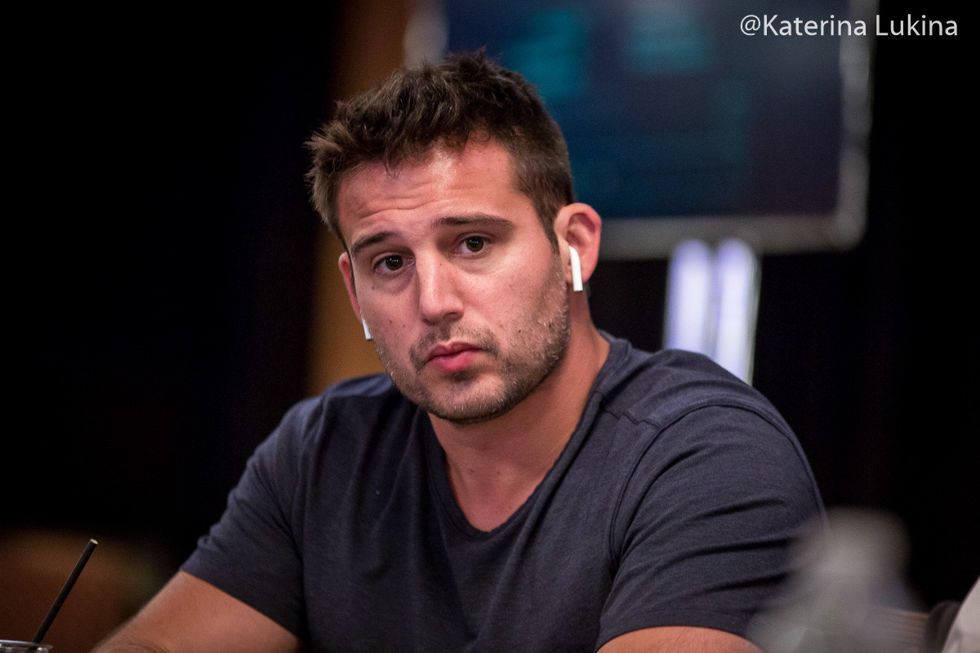 Five-handed play went on for a couple of levels before someone bit the dust and unfortunately for Artur Martirosian it was he that took an exit. Holz opened from the button and Martirosian shoved all in from the small blind with king-queen. Holz called with his ace-queen and the rest is history. Holz continued his heat when Zufic shoved from the cutoff with king-queen and Holz called holding ace-eight. An ace-high board sent another pot to Holz as he sent another player to the rail.
Vieira was next on Holz' radar when the German opened from the button with ace-ten and Vieira moved all in, holding king-ten. Holz called and Vieira failed to to hit a think. The Portugal native was left with just crumbs and moved in the very next hand with five-three. Holz called with nine-seven and landed a seven on the flop. Vieira missed on the river and Holz scooped another pot, eliminating another opponent.
When heads-up play started it was Holz holding about a 2-1 lead and all the momentum in the world. It took just a hand for Stuer to climb on top, flopping top pair against the open-ender of Holz. The two put all the chips in and Stuer held on for a double to take the lead. A few hands after saw Stuer limp the small blind and Holz jack up the price. Stuer shoved with pocket fours and Holz snapped for less with his ace-jack in a classic flip. Holz failed to connect with any part of the board and he was eliminated in second for a respectable $166,910.
That wraps it up for the PokerNews live coverage of this event, but tune in throughout the series for all of the updates as the action unfolds.
Nível 32 : 60,000/120,000, 18,000 ante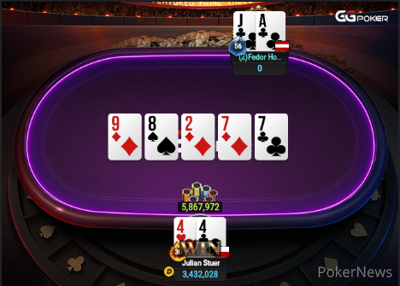 Julian Stuer limped from the small blind and Fedor Holz jacked up the price to 465,000. Stuer elected to shove and Holz snap-called for less, putting in his 2,450,986 in what was the last hand of the tournament.
Fedor Holz:

Julian Stuer:
The classic flip was all that stood between Stuer and another High Rollers Week title. The
flop spread out on the virtual felt and Stuer was still in the lead with his sailboats.
A
turn left Holz with one last chance to cash in for a double but the
river was of no help to Holz as he was eliminated by the two pair of Stuer, taking home $166,915 for his runner-up finish.
Nível 32 : 60,000/120,000, 18,000 ante
Nível 32 : 60,000/120,000, 18,000 ante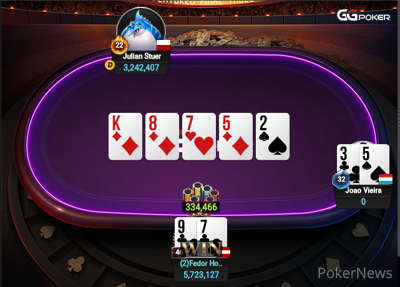 Joao Vieira put his last 140,233 into the pot and Fedor Holz hooked him up with a call.
Joao Vieira:

Fedor Holz:
The flop fell
, hitting Holz with a pair of sevens to extend his lead of the hand. A
gave Vieira some outs to win the pot but a
river was not one of them and he was eliminated in third place.
Nível 32 : 60,000/120,000, 18,000 ante
Fedor Holz opened to 252,000 from the button, Joao Vieira shoved and Holz called for less, putting in his 2,631,680.
Joao Viela:

Fedor Holz:
The board rolled out
and Holz scooped the pot, leaving Vieira with crumbs.
Nível: 32
Blinds: 60,000/120,000
Ante: 18,000
Nível 31 : 50,000/100,000, 15,000 ante
The remaining three players will now be taking a five-minute break.
Nível 31 : 50,000/100,000, 15,000 ante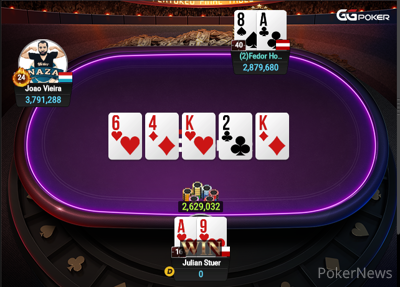 Julian Stuer opened to 700,000 from the button, Fedor Holz raised to 1,450,000 in the big blind and Stuer called for less, putting his 567,016 into the pot.
Julian Stuer:

Fedor Holz:
The board came down
and Stuer's nine-kicker played to scoop the pot for a double.
Jogador
Fichas
Progresso

Joao Vieira

3,791,288

2,866,466

Fedor Holz

2,879,680

-3,970,320

Julian Stuer

2,629,032

1,825,278
Nível 31 : 50,000/100,000, 15,000 ante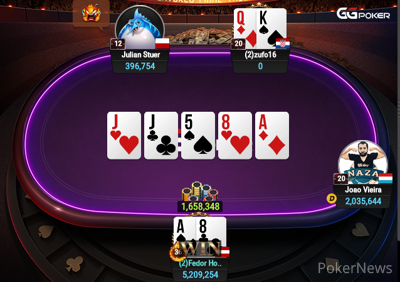 Action fell on Ivan "zufo16" Zufic in the cutoff and he elected to put in his 749,174 stack. Fedor Holz called and the two tabled their hands.
Ivan "zufo16" Zufic:

Fedor Holz:
A
flop landed on the virtual felt and Holz was still good with his ace. The
turn gave a pair to Holz, leaving Zufic in need of some pain on the river.
An
was not what Zufic was looking for and he was eliminated in fourth place, falling to Holz' two pair.
Jogador
Fichas
Progresso

Fedor Holz

6,850,000

540,750

Ivan "zufo16" Zufic

Eliminado