Emotional and Intense, Gyorgyi Takes on Stacked Final Table at EPT Monte Carlo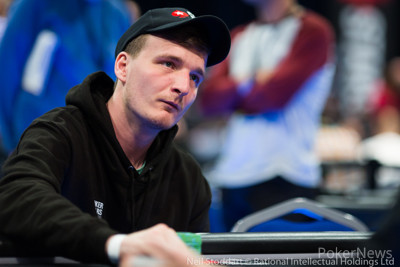 Playing poker for €712,000 in prize money creates a pressure-packed environment, but you wouldn't know it by watching David Peters, Patrik Antonius and Ole Schemion at the PokerStars and Monte-Carlo©Casino EPT Main Event final table.
All three of those seasoned pros, veterans of countless hours of high-stakes cash and/or tournaments, are right in their comfort zones. Watching Peters' calm, unmoving face while playing pots for tens of thousands of dollars in equity, one gets the sense that a mosquito bite would be of greater concern than the outcome of the hand.
But one man at the final table appears to be sweating those outcomes — literally and figuratively — far more than any of his opponents. Watching him, it's clear Krisztian Gyorgyi has more emotional investment than anyone else still left in the event.
Talking to the 26-year-old Hungarian quickly makes it clear why. While €712,000 represents a princely some for just about anyone short of, well, the prince of Monaco, it's a particularly heaping pile for a man who qualified for €5 on PokerStars.
Gyorgyi told PokerNews he started with a lowly €5 steps satellite and continued to work his way up the ladder. He made it to the $530 final and binked a seat into a prestigious €5,300 EPT Main Event about 500 miles from where he resides in Germany.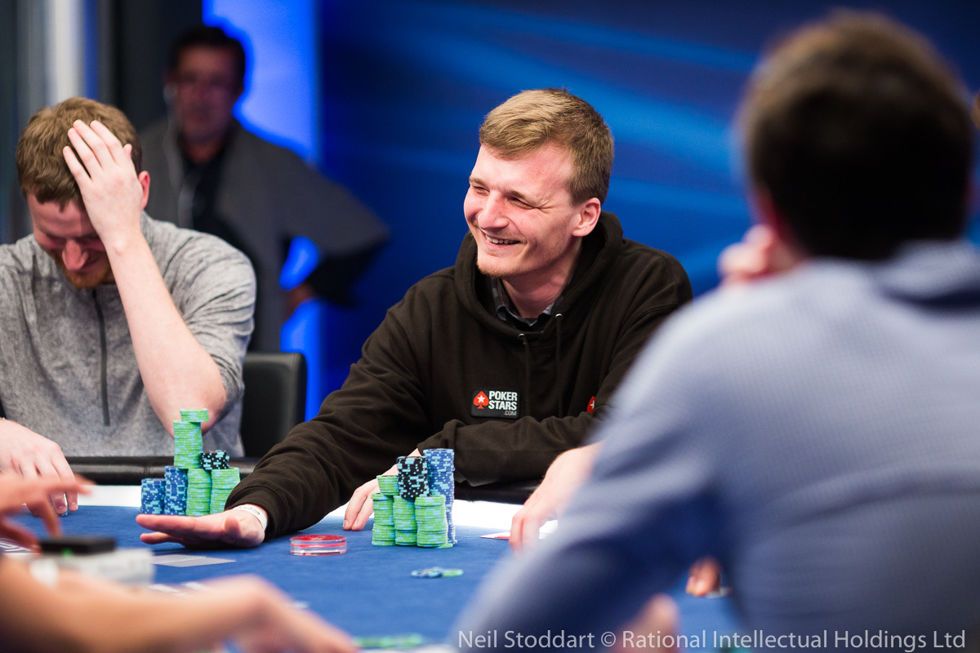 There, he makes his living as a metal worker and plays poker for fun both online at PokerStars and live at a casino in Stuttgart. He has no known live cashes before this one and said this is the first time he's attended a big live event.
Now, he's trying to become the first Hungarian to win an EPT Main Event, besting the second-place finishes of Denes Kalo (twice) and Marton Czuczor.
"This here is a dream," he said through a translator. "I won't say I will become a pro after this, but I am definitely interested to play more poker."
Usually, Gyorgyi plays tournaments on PokerStars, preferring knockouts and sit-n-gos. He wouldn't say what his usual stakes are, only that a tournament simply has to be "interesting" to entice him to play.
Given the way he's been reacting to some of the big hands here in Monte Carlo, it seems safe to say he's interested.
For instance, late on Day 4, with 21 players left, Gyorgyi flopped trip kings with king-four suited defending his big blind. He got a check-raise in, but Federico Petruzzelli turned a flush with his combo draw. Stacks went in with Gyorgyi's tournament life on the line, and stood, hands on hips, staring at the spot from which the river card was about to emerge.
It was a four.
Everyone in the room turned to look as Gyorgyi shouted in his native tongue, running down an aisle between tables to the barriers that ward off spectators from sweating final tables. Have a look:
In for $5, saved by the river — now he's (Krisztian Gyorgyi) on the final table of the #EPTMonteCarlo Main Event (v… https://t.co/BD30DvaYQ1

— PokerNews (@PokerNews)
Another Gyorgyi trademark is pounding on his own chest as he shouts after dragging a crucial pot. That's how he celebrated knocking out Josip Simunic on the final table bubble when jacks held against ace-jack blind versus blind.
He puts the incredible intensity on display for all to see, unafraid to show how much this run means to him. At the same time, he's quick to console a defeated opponent, as he did to Simunic after the river card fell. While some might be put off by the raucous reactions, Simunic seemed to understand the situation and graciously accepted an embrace from his Hungarian opponent.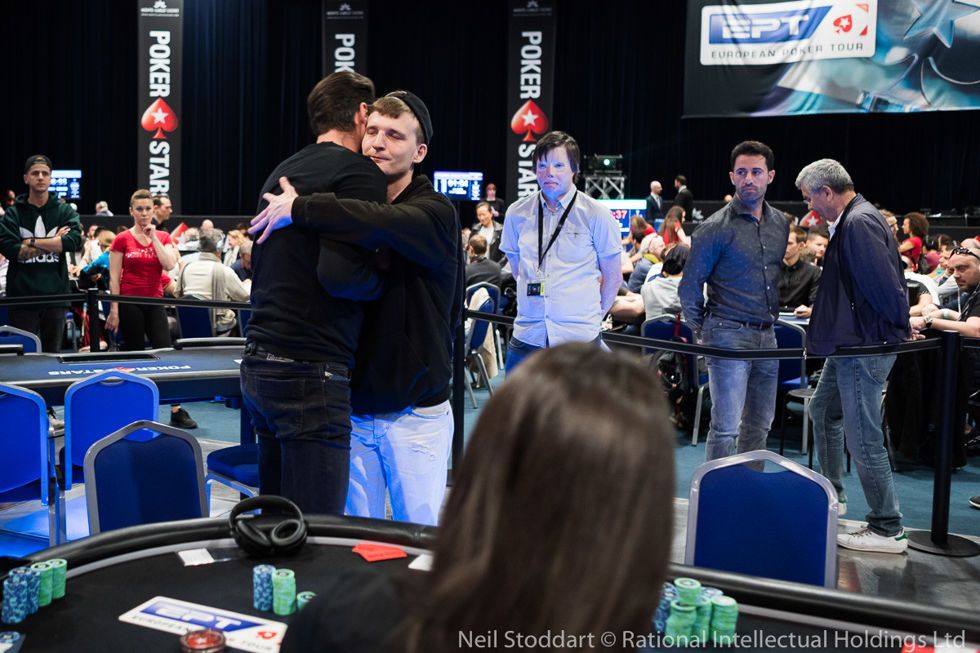 One big-name opponent down, but plenty more left. Facing off with the likes of Peters, Antonius and Schemion at the final table certainly could mean the end of the line is coming for an unknown $5 qualifier from Hungary.
However, he does see one small edge for himself.
"I think I have an advantage," said. "I know all the players because I always watched the EPT, but nobody knows me.
"Before the event, I told everyone that I will win it and everybody was laughing," he said. "Now we'll see what happens."
Reporting from Christian Zetzsche contributed to this piece.