Feature Coverage
Dias: 11
Feature Coverage
Dia 11 Terminado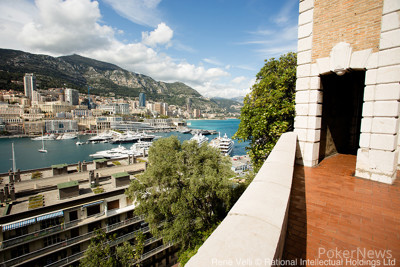 The 11-day 2018 PokerStars and Monte-Carlo©Casino EPT festival has come to an end. It's been a memorable trip with Patrik Antonius returning to the grandest stage in his hometown, Sam Greenwood continuing his dominance by winning the €100K Super High Roller, Justin Bonomo who won not one but two (!) 25K Single-Day High Rollers and Nicolas Dumont winning his first ever EPT title for €712,500.
Guillaume Diaz winning the €1,100 National and the Platinum Pass, bolstered by a wild French rail, was another highlight, as was Albert Daher and his dog. Last but not least, PokerStars qualifier Krisztian Gyorgyi, who made his first-ever recorded live cash for €184,000 in the Main Event after qualifying for $5 online — plus pulling off the boldest 72 bluff in EPT history.
As we draw the curtain on the 2018 EPT Monte Carlo, we asked around in the media room what stood out to them as the most memorable moment of the past 11 days.
Brad Willis
"This is the first big tournament we've had since we had a whole lot of Platinum Pass winners for the PSPC. And seeing several of those players come here, some of those who have never been to Monte Carlo or somebody that has never seen the inside of a major poker room, to come here and see their faces light up with some sort of childlike glee, reminds me a lot of being a part of PokerStars back in 2005 when you had all of these new qualifiers come in that have never played with the big dogs. That has been the coolest thing so far.
A poker player isn't just somebody that you'd see at every EPT. A poker player is a person that plays in the homegame or just somebody that has picked it up yesterday. Everybody is a poker player and that's why 320 of these people are going to be Platinum Pass winners. "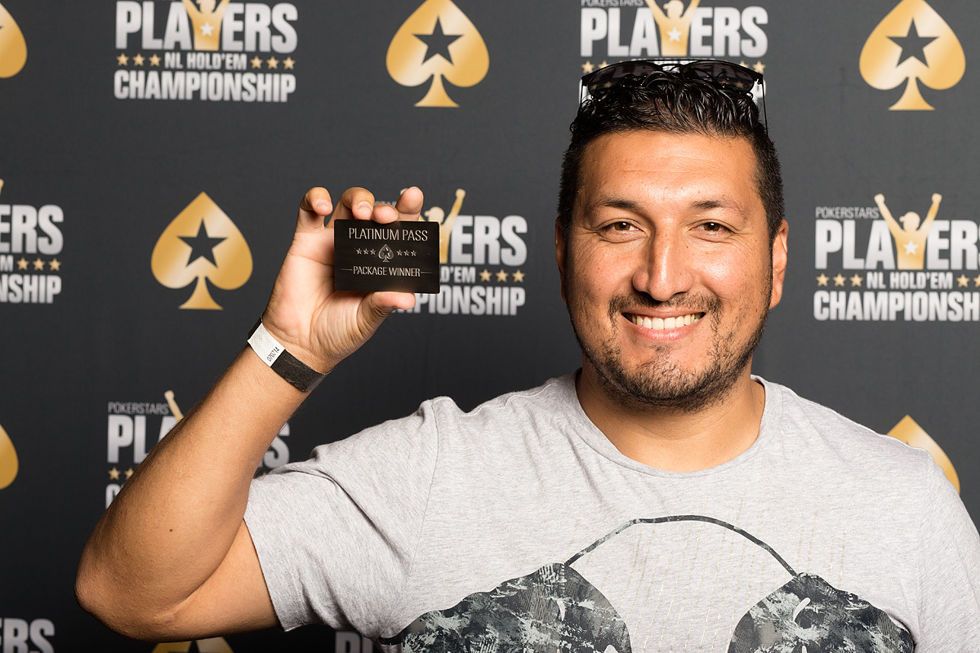 Christian Zetzsche
"I'd say it's got to be the 7-2 hand. Pretty sure that. Or his celebration when he jumped around running after the king-four double. Either that or the table chat from Patrik Antonius; pretty dry but with a big smile on his face."
Yori Epskamp
"Krisztian Gyorgyi's seven-deuce play will be on the highlight reel for every EPT event to come. The magnitude of the moment stood out for me. As I was watching it, I was like 'surely, he can't shove here', then he did it and Jozonis folded. It was amazing. The celebration was just icing on the cake; he basically forced Antonius of all people to high-five him.
When he went out in fifth, he was so emotional as well, he looked truly gutted. I love to see that passion. For me, Krisztian is the highlight of the series."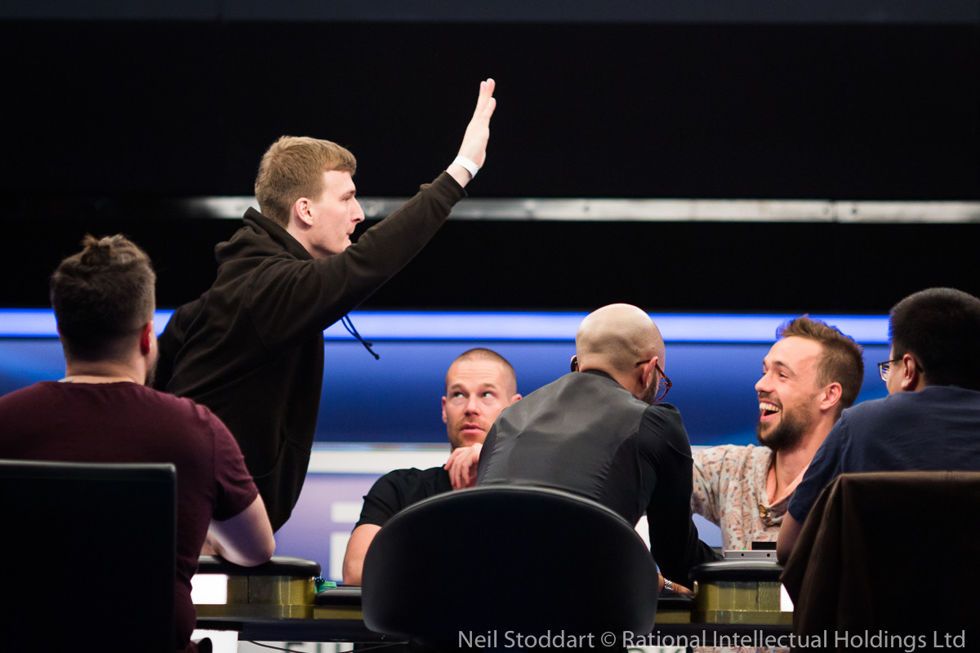 Will Shillibier
"With so many High Rollers on the schedule, it was incredible to see the world's best players together in the €25,000 High Roller at the end of the festival. Greenwood, O'Dwyer, Bonomo; and they're only the ones who had already won High Rollers here in Monte Carlo!"
Stephen Bartley
"The quality of the final tables, the last two tables really stood out for me. David Peters, Patrik Antonius, Ole Schemion. Patrik Antonius especially because he was around when I first started in season 2 of the EPT. So many of these players have been around for years, it's almost come full circle."
Jan Kores
"The standout for me is Patrik Antonius. He was a former nosebleeds guy that's been grinding back, that's the best thing that can happen I guess. You don't really see those guys anymore."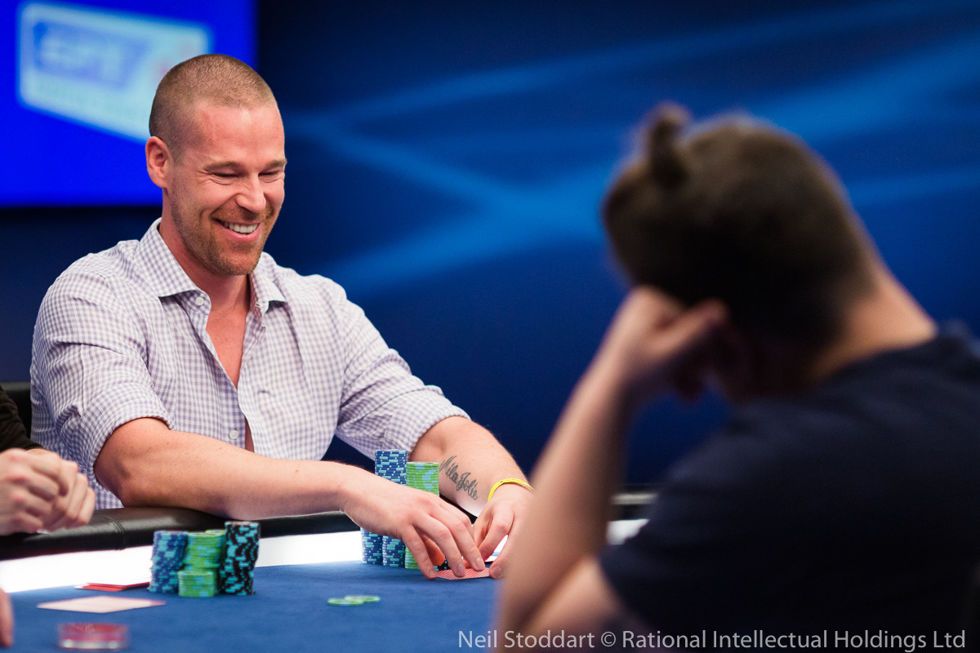 Alex Hernando
"Juan Pardo winning the opening 10k event!"
Suki
"The atmosphere! The atmosphere is always good here in Monaco!"
Jason Kirk
"Having never been here before, I would say it's the Salle des Etoiles(the main tournament room in Le Sporting). Just the setting alone, it's quite striking compared to all these American tournaments I did where it's just some sort of utilitarian setting. This is the kind of place you put on TV for a reason. So the Salle des Etoiles is definitely the most striking part.
Also, all the best players are here. All the GPI top players, they're all competing, playing their best. Patrik Antonius making a comeback was a big deal."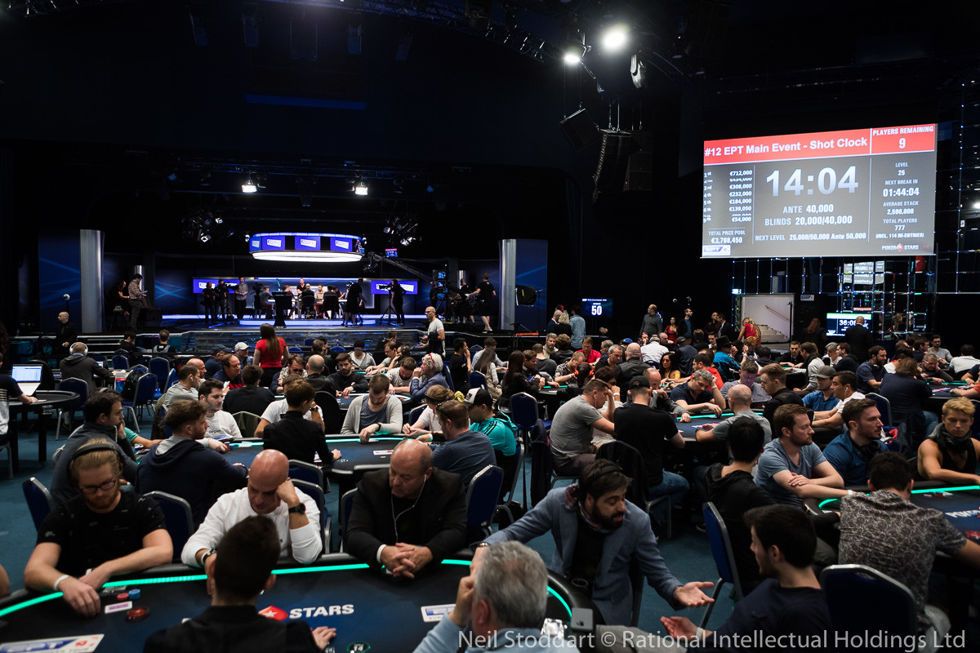 Martin Harris
"There were a lot of really great tournaments, a lot of fun to be around. It's always an exciting atmosphere surrounding the Monte Carlo events. I just watched the end of the high roller which ended with three players from three different countries making a deal. It just seemed like it was an appropriate end to a very friendly and agreeable final table and it made a lot of sense for them. It was just kind of fun to watch that happen. And Albert Daher and his girlfiend having their dog at the table made up for a fun atmosphere at the final table."
René Velli
"Albert Daher's dog! This is the first time I see pets next to poker tables and I hope it's going to be the next big thing. Like Guinea pigs!"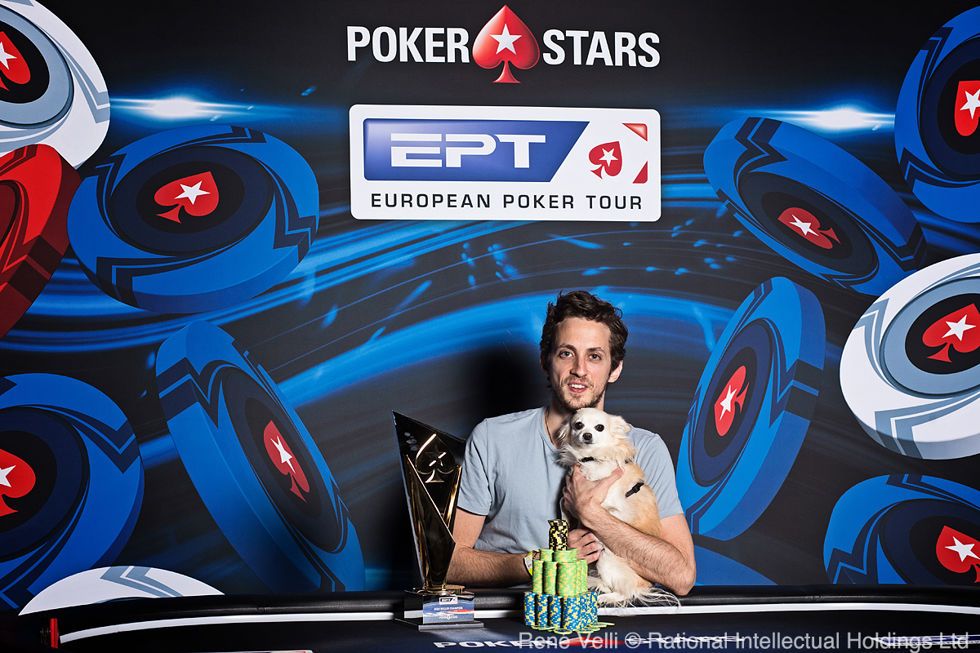 That concludes our 11-day continued coverage of the 2018 PokerStars and Monte-Carlo©Casino EPT on PokerNews. We'll be back in August when the EPT returns to Barcelona. Au revoir et à bientôt!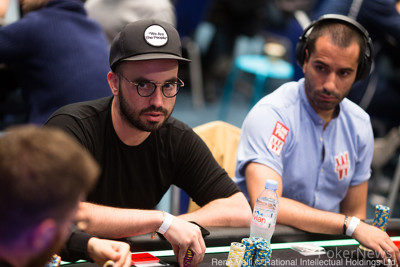 It was one of the last tournaments left to finish at the PokerStars and Monte-Carlo©Casino EPT, but Bryn Kenney took down the €10,200 High Roller for over €150,000.
The American had a commanding chip lead from around two tables left in the tournament and would hold onto it through the bubble and to the title.
Kenney had already cashed in two tournaments here in Monte Carlo, and now has a victory to set him ahead of a trip to Montenegro for the Triton High Roller Series, and then a shot at Super High Roller Bowl glory at the end of the month.
Here are the players who made the money:
| | | | | |
| --- | --- | --- | --- | --- |
| Position | Name | Country | Payout (€) | Payout ($) |
| 1 | Bryn Kenney | United States | €153,000 | $183,600 |
| 2 | Mustapha Kanit | Italy | €110,000 | $132,000 |
| 3 | Erik Seidel | United States | €70,300 | $84,360 |
| 4 | Nick Petrangelo | United States | €53,500 | $64,200 |
| 5 | Vladimir Troyanovskiy | Russian Federation | €41,200 | $49,440 |
| 6 | Ramin Hajiyev | Azerbaijan | €31,500 | $37,800 |
| 7 | Thomas Muehloecker | Austria | €25,500 | $30,600 |
"It's like a break-even trip," said Kenney shortly after his victory. "I'll take it. To brick the €100k and the €50k and break even is definitely pretty nice.
"I've been one of the more vocal people about adding more High Rollers. I think it's almost standard now to be able to come to a place and play a lot of HIgh Rollers. It's just what people want to play and I'm happy because otherwise I'd be chilling or playing 2k's!"
Event Recap
A total of 50 players including 10 re-entries came together for the final High Roller of the PokerStars and Monte-Carlo©Casino EPT, with the top seven players being in the money. By the time the bubble came around, it looked like one of two players was going to fall short - Erik Seidel or Paul Newey.
Seidel looked the likely candidate. With the players returning from break, Seidel was left with 40,000 or just over three big blinds after putting out his big blind and ante. Vladimir Troyanovskiy opened to 28,000 and Ramin Hajiyev called in the small blind Seidel moved all in from the big blind and both players called. The pair checked down a
board hoping to bust Seidel, but he showed
beating the
and
of Hajiyev and Troyanovskiy respectively.
A few hands later Bryn Kenney opened to 30,000, and Newey moved all in for around six big blinds. Kenney called with
but was behind to the
of Newey. A ten on the
runout changed all that, and the players were in the money.
Thomas Muehloecker would bust in seventh, with Kenney then busting Hajiyev
to
when a ten on the river handed him the knockout, leaving him with 1.6m of the 2.5m in play.
Troyanovksiy was next to go, moving all in with sixes against the
of Mustapha Kanit. A ten on the flop sent him to the rail, while Nick Petrangelo lost out to the rejuvenated Seidel when Seidel's jacks held against the ace-ten of his opponent.
However, Seidel was still short and would bubble the heads-up portion of the context, open-jamming with jack-ten into the pocket aces of Mustapha Kanit in the big blind. Seidel picked up a pair on the flop, but no further help and he was eliminated. Kenney held a slight chip lead heads-up.
Kanit wasn't in all-in or fold territory, but some well-timed shoves saw him claw back an advantage. In the end, he moved all in with ace-three and was called by Kenney holding king-queen. There was a queen on the flop which saw Kenney take down the title, and Kanit finish as runner-up.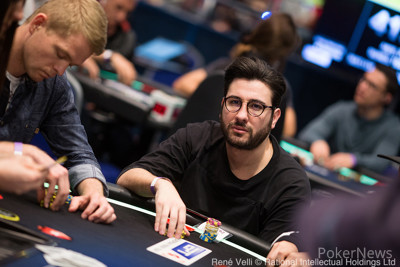 The PokerStars and Monte-Carlo©Casino EPT may be coming to an end, but Italian Dario Sammartino says he'll be looking forward to coming back here.
"Monte Carlo has been a lot of fun; it's one of my favorite stops. The atmosphere is good, the food is great. The city is really nice as well. It's cool."
Last summer Dario Sammartino recorded seven WSOP cashes, including a deep run in the Main Event, to finish eighth on the WSOP Player of the Year leaderboard, among heavyweight contenders such as Alex Foxen, John Monnette, and Mike Leah.
| Event | Position | Payout |
| --- | --- | --- |
| Event #15: $10,000 No-Limit Hold'em Heads-up Championship | 12th | $ 26,711 |
| Event #22: $10,000 No-Limit 2-7 Lowball Draw Championship | 9th | $ 19,187 |
| Event #36: $5,000 No-Limit Hold'em 6-Handed | 49th | $ 8,734 |
| Event #42: $10,000 No-Limit Hold'em 6-Handed Championship | 8th | $ 69,578 |
| Event #51: $10,000 Pot Limit Omaha Hi/Lo Championship | 21st | $ 16,675 |
| Event #67: $25,000 Pot Limit Omaha High Roller | 6th | $ 197,007 |
| Event #73: $10,000 Main Event Championship | 43rd | $ 176,399 |
Sammartino admits that for some of the games he played, it was his first time.
"It was really fun playing new games," he said. "I like to play games; when I don't know some games I like to learn and seeing how people better than me play is a really fun experience. I learn a lot. I was lucky, yes, but it's fun to learn new games."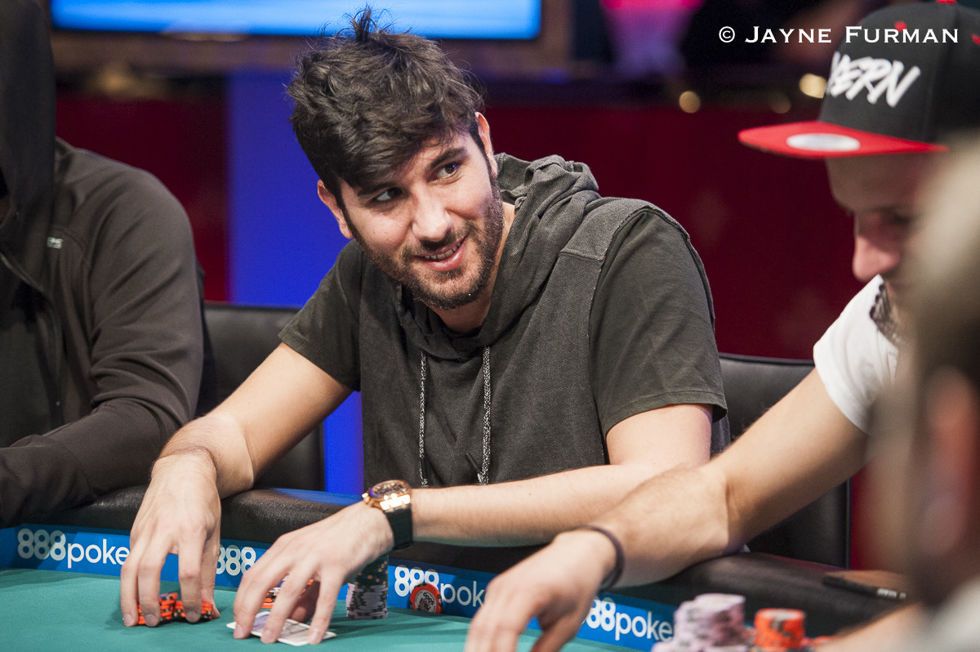 However, Sammartino admits that he has been taking a break from poker recently.
"Last year was my probably my best year since I started playing poker for a living; playing to make money. And now, I have some money! I like having the free time to do something different. I'm doing a lot of things; some business things, but also sport and yoga. Fun things!"
It sounds like Dario Sammartino has retired from poker, but when we asked him whether he was "doing a Fedor," he had a different answer.
"I'm in the middle," he laughed. "I'm not retired, I just don't play poker full-time. I play it part-time and when I want to; just to have fun."
According to Sammartino, the Italian still has poker goals, but it's no longer his priority.
"Before it was my first priority but now it's not really important. I still want to win a bracelet. I don't think it's tough if I continue to play for the next three or four years. This year I'm probably going to come for the first 15 days and then go back to Italy. Then I'll go back to Vegas for the Main Event."
We asked Sammartino who we should look out for, and it was two Italians who have had a pretty successful EPT Monte Carlo that he put forward.
"Probably Marko Iodice and Federico Petruzzelli. They're these new guys. Iodice won the €2,200 [for €151,500] and Petruzzelli finished runner-up in the National [for €143,000] and had a deep run in the EPT Main Event [18th for€ 27,900].
"They're new guys; they were cash game players and they've started to play tournaments now I hope they can win something!"
We'll certainly keep our eyes out for both Iodice and Petruzzelli, and for Sammartino who may well find he can't resist the lure of a potential bracelet this summer.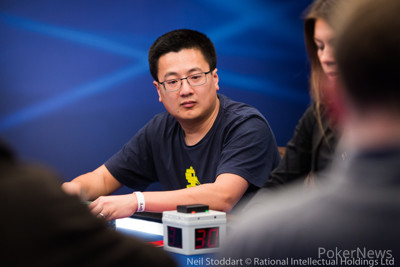 It all started one year ago when Sosia Jiang was visiting Macau and steamrolled through the final table of the 2017 PokerStars Championship HK$103,000 High Roller and claimed the top prize of HK$3,870,000 (approximately $503,100).
"She is an inspiration, winning the Macau High Roller," Honglin Jiang said.
Sosia chimed in: "The poker universe is striking right now, we are the yin and yang, and now I am getting all the run bad."
"Run good comes in streaks. After Barcelona I might as well keep that series true," Honglin replied.
In 2018, Sosia has had a few cruel hands in the main tournaments she played including the Aussie Millions (bottom set vs top two pair) and the Main Event here in Monte-Carlo, in which she busted two off the money when running with kings into aces.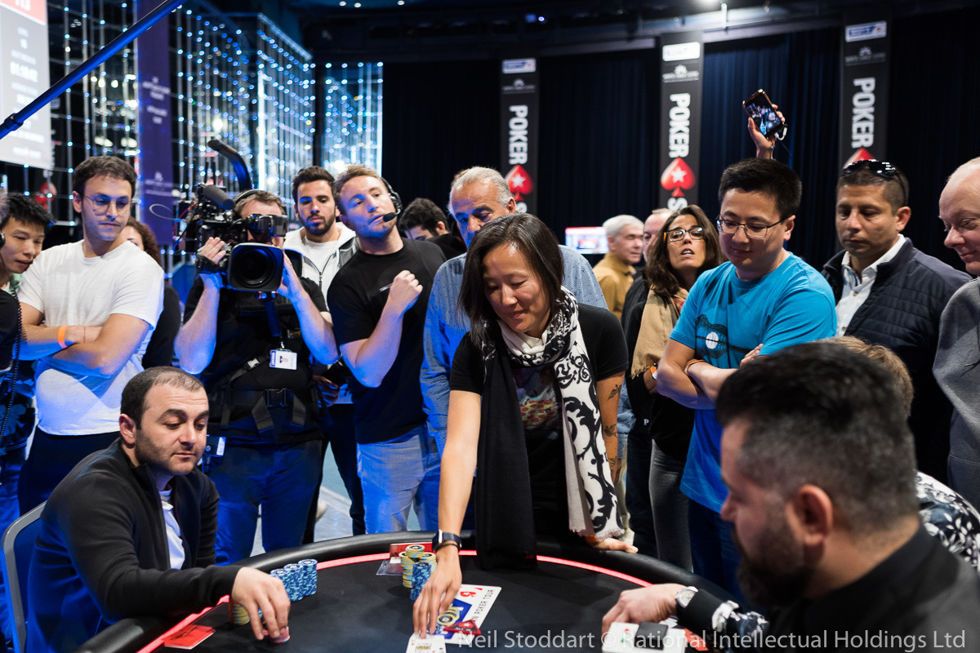 Before the action for the eight-handed final table got underway, Honglin was visibly excited in the interview with the TV crew.
"Just super pumped, super excited, just ready to do this. I just really want to get in there and get into the action. It's been a really stacked field from the last three tables in, in proportion with seasoned pros, and I put a little bit of work into my game in the last year or so. It is still kind of intimidating, but when you are in the moment, you just gotta make the plays you got to make and that's all that there is to it."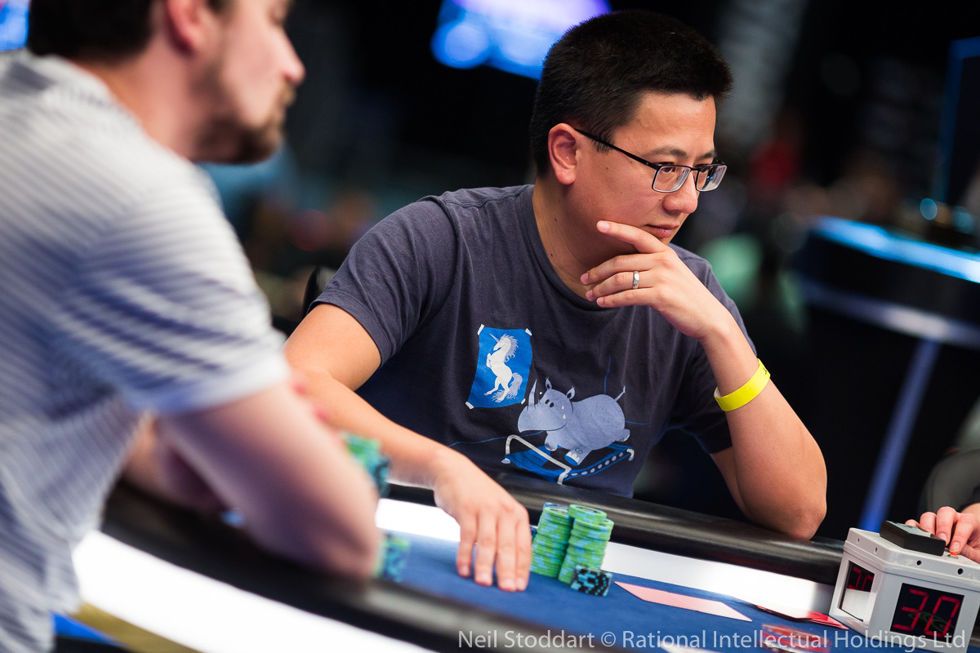 The Kiwi wasn't afraid to make some moves despite the big names he was facing during the late stages of the Main Event, which resulted in his stack going up and down very frequently.
"I spent the last five years in London, I have been working and studying there. I am actually on my way back to Australia and New Zealand, I am finishing up my time here in Europe and I resigned from my job a couple of weeks ago and this is the last blast for me. And it couldn't have been a better sendoff from Europe," Honglin said about his future plans.
Indeed, Honglin has been running quite well in the last few months, having rekindled interest in playing poker after the success of his sister. He ended up in 4th place for £20,800 at the Unibet Open in London in February 2018. A month ago, he added a big score of €150,000 in Barcelona after navigating his way through a monster field of 1,175 entries. eventually ending up in 9th place.
Both Jiang siblings made the trip to the Cote d'Azur and it turned out to be a golden decision for the Kiwi. Honglin min-cashed the EPT €1,100 National Championship earlier in the festival and went two for two with his deep run in the €5,300 Main Event.
"She is here with me and also played the Main Event. Unfortunately, she was the soft bubble knockout, but she has been a wonderful support and she is a much better player than I am. It's been fantastic talking strategy and talking hands with her, and getting that kind of advice."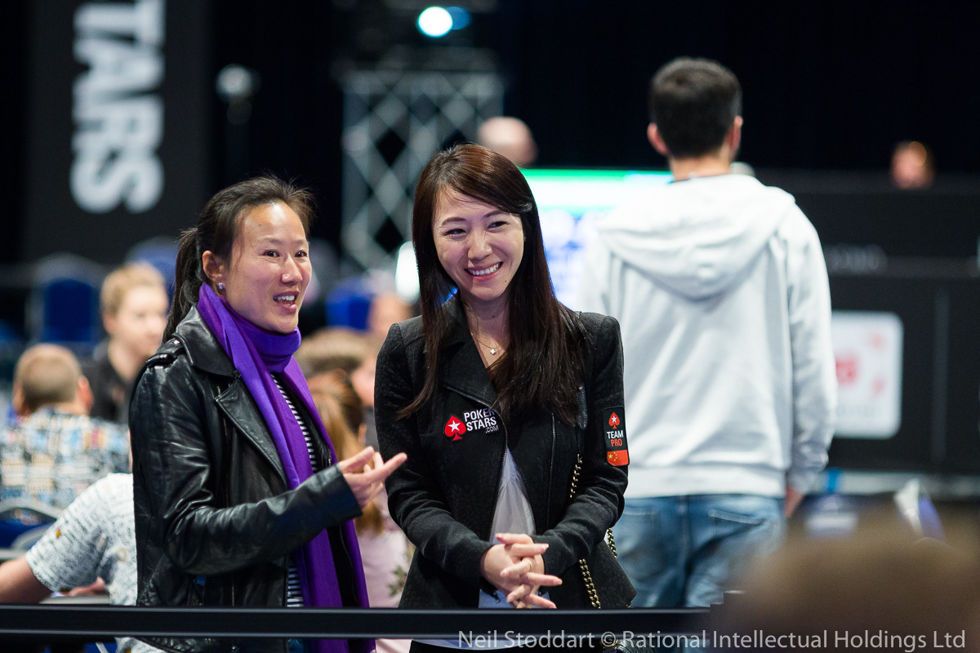 The advice part was seen on the live stream when Honglin was waiting for the heads-up to commence. Sosia was advising Honglin on how to approach the heads-up match up.
Honglin won't turn into a poker pro all of a sudden and puts his family first, moving back to Australia soon.
"This kind of money is undeniably a life-changing amount, I am not a professional and don't need to reinvest it into the bankroll and stuff. I don't want to jinx myself or anything, but that money will be put to good use."
"I have a wife and two young children, they are going to be first. We are basically in a transition period right now and I am moving back from Europe to Australia, looking for a new job there. These poker trips, going to Monte-Carlo and Barcelona, are much like a dream. To make it big, and no matter what happens now, it is just crazy."
After his deep run in Barcelona, Honglin has picked up a valuable lesson that has helped him on his way to yet another final table appearance. "The key lesson I learned? It is not a good idea to play when you are mentally exhausted. There were some plays that happened late in the day that I regretted because I was just so tired. I am in a completely different spot now here in Monte-Carlo, and I think the slow structure and more days added actually really helped my mental presence."
One particular hand headlined his rise to the top of the counts. Down to the last five players, Honglin faced a raise by online qualifier Krisztian Gyorgyi and a call by then chip leader Nicolas Dumont. The Kiwi moved all in with pocket fours and Gyorgyi called with ace-king to lose the flip.
"I assumed he had a strong range under the gun and the French player's range is capped. There was just so much money in the pot and I was really counting on a sizable fold equity. We had seen him before, folding the pocket eights and showing. It was telling that he burned two time bank chips, whereas other players would have just snap-folded in this very high ICM spot, and I wanted to put that pressure on with the fours. And as it happened, I was still happy I was flipping against two over cards.
That brought the field down to the last four and Honglin was among the chip leaders at the time of writing. Honglin eventually ended up in second place and won €434,000.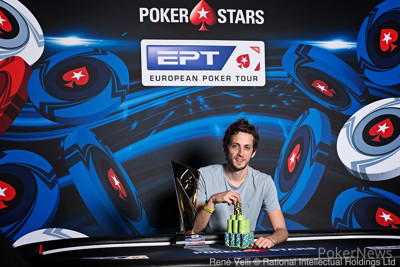 After a rollercoaster day in the PokerStars and Monte-Carlo©Casino EPT €25,000 High Roller, Albert Daher emerged victorious after a three-way ICM chop saw him take home almost €600,000.
Returning fourth chip counts with eight players remaining, Daher's stack at one point was down below eight big blinds, before two doubles in quick succession saw him move into the chip lead, only for him to slip once more. However, Daher would be responsible for two of the last three eliminations, meaning that as the last three looked at the numbers and agreed a deal, it would be him walking away with the lion's share of the spoils.
Here are the results after a three-way deal:
| Position | Name | Country | Payout (€) | Payout ($) |
| --- | --- | --- | --- | --- |
| 1 | Albert Daher | Lebanon | € 595,386* | $714,463* |
| 2 | Shyngis Satubayev | Kazakhstan | € 492,768* | $591,322* |
| 3 | Mark Teltscher | UK | € 416,845* | $500,214* |
| 4 | Oleksii Khoroshenin | Ukraine | € 259,000 | $310,800 |
| 5 | Joao Vieira | Portugal | € 208,700 | $250,440 |
| 6 | Julian Thomas | Germany | € 164,535 | $197,442 |
| 7 | Yan Shing Tsang | Hong Kong | € 126,000 | $151,200 |
| 8 | [Removed:414] | Netherlands | € 94,500 | $113,400 |
*results reflect three-handed deal
"It's pretty insane," said Daher after the deal was done handing him the title, "I guess I was fortunate enough to win some all-ins and flips when I was short-stacked. Then I started to play pretty aggressive, built up my stack into the chip lead after getting into some post-flop pots with Oleksii [Khoroshenin]; I guess I won most of these pots.
"I took another big hit in a flip against Mark [Teltscher]; It was a very swingy day but I'm happy."
Daher already has one title this week, which he picked up in the €1,100 Hyper-Turbo Freezeout, but will now take home an extra piece of silverware after taking down the €25,000.
"The Hyper-Turbo wasn't that huge of a tournament, but a win is a win. You always feel satisfied even if you win a small one because of the feeling of beating a field of over 100 people; maybe it's not big money but it gives you a boost of confidence in your game.
The Lebanese player admitted that after such an emotional and rollercoaster day, he was happy to secure an ICM deal with the other two players.
"I do like to play short-handed and heads-up, but it gets very flippy. After today, I'm tired; my stack just went up and down - from short stack to chip lead, to short stack to the chip-lead. I'm just happy to lock €600k"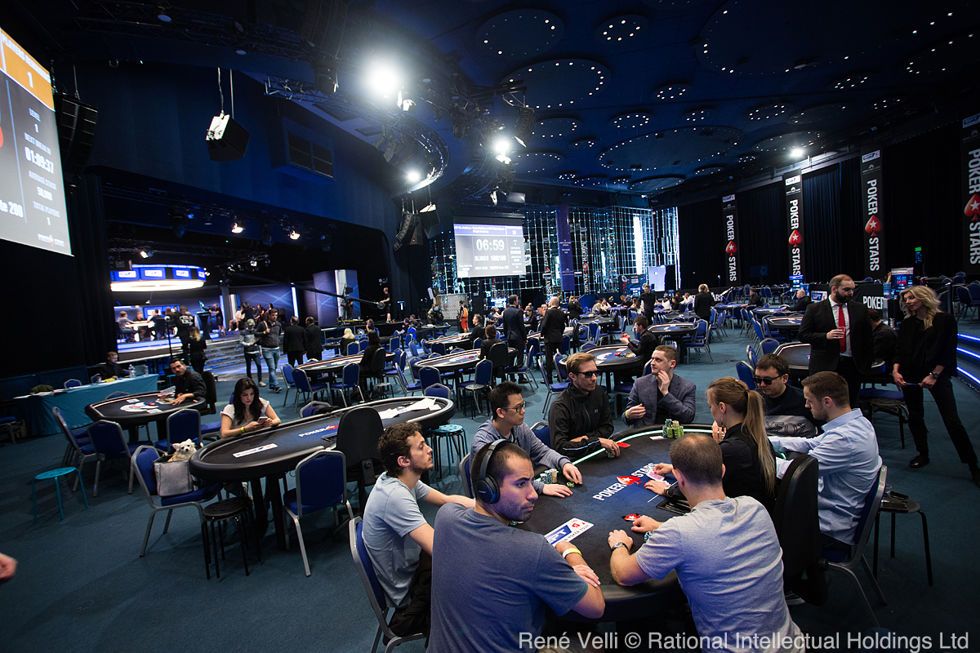 Final Day Recap
Oleksii Khoroshenin came into the final day as chip leader, but suffered an early setback after Shyngis Satubayev doubled through him within the first 15 minutes of play. [Removed:414] came into the day as the short stack, and with less than 15 big blinds he moved all in with ace-nine, and looked set to double through Satubayev who had king-queen. That was until the queen came on the turn and Beumers was eliminated.
Satubayev continued to close the gap to overnight chip leader Khoroshenin after his early double, and the Kazakh player eliminated another player when he flopped an ace holding ace-seven against the pocket queens of Yan Shing Tsang.
Albert Daher would double twice to move back into contention and would be second in chips by the first break. Mark Teltscher had been quiet so far, and he would double first through Satubayev, and then through Daher to put the Brit on top.
Six-handed was where the action really began. Daher shoved all in from the small blind into short-stacked Julian Thomas in the big blind, only for the German to wake up with jacks. Daher was in terrible shape with queen-jack, but flopped a queen to reduce the field to five.
Minutes later it would be Joao Vieira with the jacks, and a pre-flop raising war meant he got them in against Daher. This time, however, the Lebanese player was in much better shape holding pocket queens, and they would hold boosting him into the chip lead and eliminating Vieira.
Then, on the very next hand, Khoroshenin moved all in with ace-queen, only to be called by the ace-king of Satubayev. Satubayev flopped trip kings and they were down to three.
The last three players paused the clock to look at the numbers of a possible ICM deal, and they didn't take long to come to the following agreement:
| Name | Country | Chip Count | Big Blinds | Payout (€) | Payout ($) |
| --- | --- | --- | --- | --- | --- |
| Albert Daher | Lebanon | 3,415,000 | 85 | € 595,386 | $714,463 |
| Shyngis Satubayev | Kazakhstan | 1,625,000 | 41 | € 492,768 | $591,322 |
| Mark Teltscher | UK | 900,000 | 23 | € 416,845 | $500,214 |
The three agreed to the deal which would hand Daher the trophy, while simultaneously meaning that Satubayev moved into first place on the Kazakhstan all-time money list. For Teltscher, this is the former EPT champion's best result since a runner-up finish in an EPT Barcelona €25,000 High Roller three years ago.
Thanks for tuning into updates from the last big High Roller here in Monte Carlo. There's still a €10,000 Single Day High Roller going on in the Salle des Etoiles, and we'll be bringing you some updates from that when we can.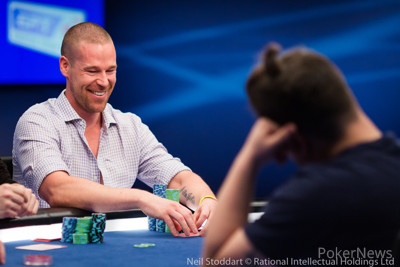 The poker world is digesting yesterday's play-of-the-day, or maybe even the play-of-the-year after Krisztian Gyorgyi's bluff-shove with seven-deuce. One player who got a front-row seat to the play, as well as a high-five at the end of it, was Patrik Antonius.
Today Antonius is playing at his third EPT final table, and in doing so has broken the record for longest period of time between a player's first and most-recent EPT final tables. The record was formerly held by Victoria Coren-Mitchell, with 3,492 days separating her two EPT triumphs, but with Antonius' first EPT final table coming way back in Season 2, the new record is 4,612 days.
Shortly before the start of play today he spoke about the atmosphere at the tables and the group of players that he has been playing against at this final table.
"When I play, I like to enjoy when I play," he said. "Yesterday we actually had a nice group of players. It only needs one or two players who want to be a little bit social and have a conversation or talk.
"It is good for the poker, it makes the game more fun, and it kind of loosens up all the other players."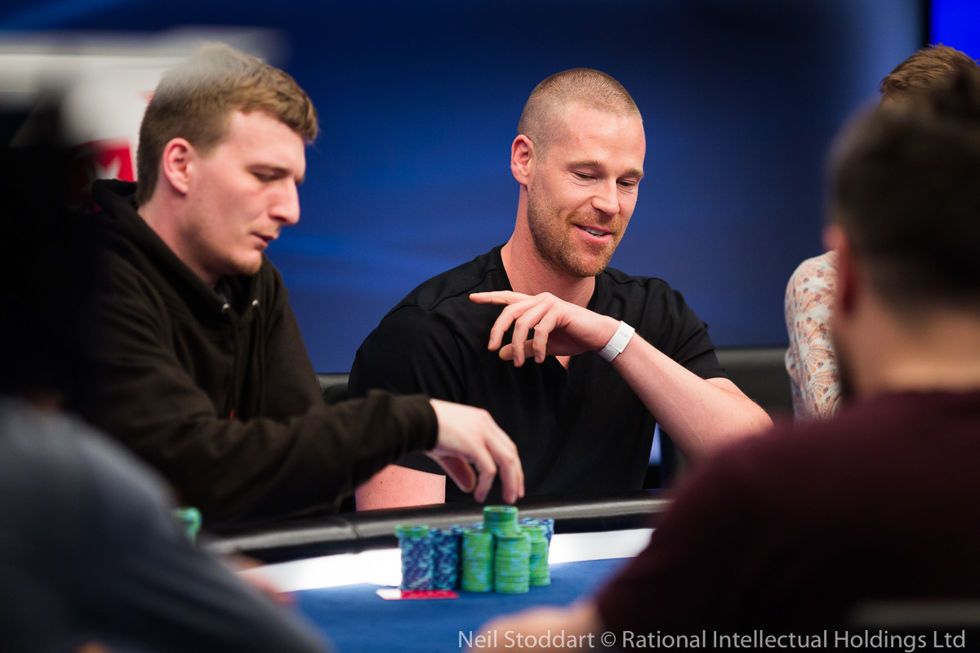 Antonius said that this sort of atmosphere does sometimes end up inducing crazy plays, but even a player with his experience, both live and online, could have predicted the hand that took place yesterday.
"We had a couple interesting plays at the table yesterday, but there was one hand I think everyone will remember for a long time. It was more than just a crazy bluff!
"We can have poker like this, or we can have poker where people don't say a word and they take a long time, and it is not really enjoyable to play and not entertaining to watch either. I prefer this type of poker."
Patrik Antonius EPT/PCA/PSC Results
| Event | Date | Position | Payout |
| --- | --- | --- | --- |
| PCA | January 2005 | 12th | $34,600 |
| EPT Barcelona | September 2005 | 3rd | €117,000 ($145,067) |
| EPT Baden | October 2005 | 1st | €288,180 ($343,365) |
| EPT Barcelona | August 2015 | 71st | €18,320 ($20,853) |
| PSC Monte Carlo | April 2017 | 79th | €9,540 ($10,390) |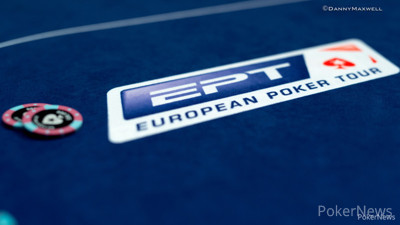 When one door opens, another door closes as they say. In this article we're going to let you know about the upcoming PokerStars events, including the European Poker Tour, the PokerStars Festival and the PokerStars MEGASTACK series.
There are two future EPT stops planned in 2018, and they're both absolute classis. The full schedule for EPT Barcelona (August 21-September 2) hasn't been published yet, but there are already some key event dates for you to put in your calendar.
This will be the first time the EPT will be back in Barcelona since Sebastian Malec stunning victory in 2016, where he took home €1,122,800 in prize money.
| Tournament | Date | Buyin |
| --- | --- | --- |
| EPT National | August 22-26 | €1,100 |
| EPT Super High Roller | August 25-26 | €50,000 |
| EPT Main Event | August 27-September 2 | €5,300 |
| EPT High Roller | August 31-September 2 | €10,300 |
Later on in 2018, the European Poker Tour heads back to its traditional December location - Prague. Jasper Meijer van Putten won the last EPT held there back in 2016, and again, while the full schedule hasn't been published here are the key events for you to start planning your trip.
| Tournament | Date | Buyin |
| --- | --- | --- |
| EPT National | December 07 - 11 | €1,100 |
| EPT Super High Roller | December 09 - 11 | €50,000 |
| EPT Main Event | December 11 –17 | €5,300 |
| EPT High Roller | December 15 – 17 | €10,300 |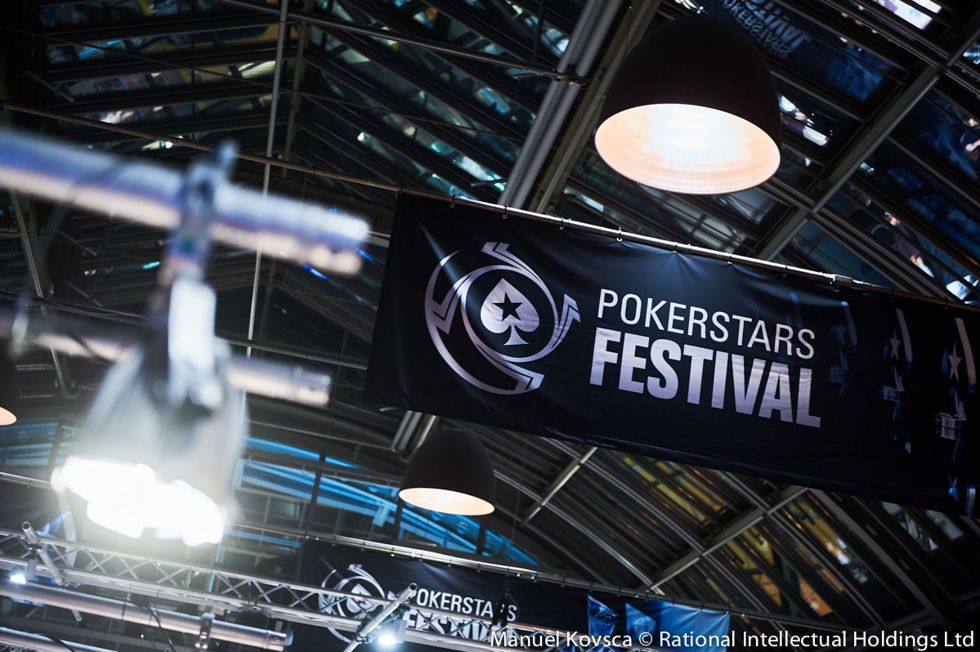 Away from the EPT, there are two PokerStars Festivals schedule in Marbella (June 4-10) and Lille (July 16-22). Both events will be awarding three Platinum Passes, either by winning the PSF Main Event, the Marbella/Lille Cup or by winning the Marbella/Lille Cup Day 2 Flip-Out Challenge. Here are the dates for the Festivals.
| Tournament | Date | Buyin |
| --- | --- | --- |
| PokerStars Festival Marbella Main Event | June 6-10, 2018 | €1,100 |
| PokerStars Festival Marbella High Roller | June 8-9, 2018 | €2,200 |
| Marbella Poker Cup | June 8-10, 2018 | €330 |
| | | |
| PokerStars Festival Lille Main Event | July 18-22, 2018 | €1,100 |
| PokerStars Festival Lille High Roller | July 20-22, 2018 | €2,200 |
| PokerStars Lille Cup | July 20-22, 2018 | €330 |
There will also be changes to win Platinum Passes for as little as €170/£170, with the following five PokerStars MEGASTACK events awarding a $30,000 package to the PokerStars No-Limit Hold'em Player's Championship (PSPC).
| Tournament | Location | Date | Buyin | Guarantee |
| --- | --- | --- | --- | --- |
| MEGASTACK London | Hippodrome Casino | June 1-3, 2018 | £170 | £40,000 |
| MEGASTACK Gujan-Mestras | Casino de Gujan-Mestras | June 27-July 1, 2018 | €170 |   |
| MEGASTACK Dublin | Bonnington Hotel | August 15-19, 2018 | €170 | €50,000 |
| MEGASTACK Namur | Casino Namur | September 24-30, 2018 | €170 | €100,000 |
| MEGASTACK Galway | Galway Bay Hotel | November 22-25, 2018 | €170 | €50,000 |
With so much choice throughout the rest of 2018, and with satellites to most events running on PokerStars.com, there's never been a better time to hit the live felt for some poker action!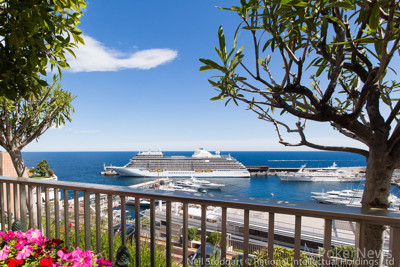 There have been more than a dozen champions crowned, a handful of Platinum Passes awarded and millions of euros awarded in prize money, but the final day of the PokerStars and Monte-Carlo©Casino EPT is here.
There are still two big titles still to be won; the Main Event and the €25,000 High Roller, both of which resumed with eight players.
We'll be bringing you feature coverage from the High Roller over the course of the day, as well as looking back at the festival which has such a great showcase of poker.
Here's how the final eight players in the High Roller stack up, with Oleksii Khoroshenin leading the way:
| Seat | Name | Country | Chip Count |
| --- | --- | --- | --- |
| 1 | Mark Teltscher | UK | 895,000 |
| 2 | Joao Vieira | Portugal | 907,000 |
| 3 | Albert Daher | Lebanon | 744,000 |
| 4 | Yan Shing Tsang | Hong Kong | 431,000 |
| 5 | Julian Thomas | Germany | 421,000 |
| 6 | Oleksii Khoroshenin | Ukraine | 1,848,000 |
| 7 | Shyngis Satubayev | Kazakhstan | 390,000 |
| 8 | [Removed:414] | Netherlands | 315,000 |
Here are the remaining payouts in the €25,000 High Roller.
| Position | Payout (€) | Payout ($) |
| --- | --- | --- |
| 1 | €711,500 | $853,800 |
| 2 | €481,000 | $577,200 |
| 3 | €312,500 | $375,000 |
| 4 | €259,000 | $310,800 |
| 5 | €208,700 | $250,440 |
| 6 | €164,535 | $197,442 |
| 7 | €126,000 | $151,200 |
| 8 | €94,500 | $113,400 |
Feature Coverage
Dia 11 Começado