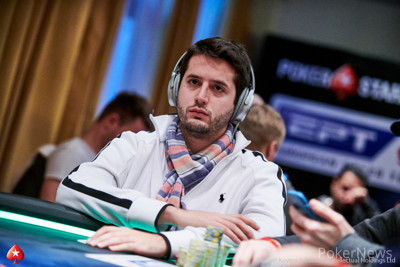 The action folded around to Juan Pardo in the cutoff and moved all in for 149,000. The final decision was on Tsugunari Toma in the big blind, and he asked for a count before going into thinking mode.
Toma separated his chips into two piles and would need to put half of his stack at risk if he was to call.
But as the time bank clock struck zero, he made the call and was relieved to see he was ahead.
Juan Pardo:

Tsugunari Toma:
Board:
Toma kept his lead on the flop and turn, although Pardo did pick up outs to the chop pot. But the river five of hearts was not one of them, despite Dietrich Fast joking it was a chop to a shocked Toma, who quickly realized and smiled.
Pardo departs in 9th and now just two more eliminations are needed until the final six are in the money.
| | | | | | |
| --- | --- | --- | --- | --- | --- |
| Tsugunari Toma | | | | 450,000 | 160,000 |
| Juan Pardo | | | | Eliminado | |