€5,300 Main Event
Dias: 5
€5,300 Main Event
Dia 5 Terminado

Nível 26 : 25,000/50,000, 5,000 ante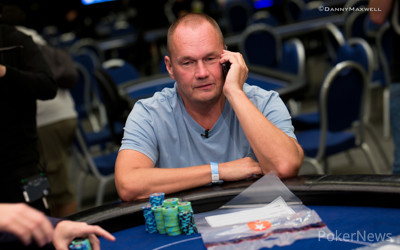 The curtain has been pulled up and the stage is set. The final six players of the 2016 PokerStars.com EPT Malta Main Event are known. They'll duke it out on Saturday in Casino Portomaso for one of the last chances to capture EPT glory and will play for a massive first prize of €355,700.
It took slightly more than three levels of play to get down from 14 to 6. Sweden's Mats Karlsson, who started the day as chipleader, kept ruling with an iron fist and extended his chiplead to a massive 3,795,000 (78 bb). Karlsson instantly got on the phone with loved ones to tell them the good news.
Behind Karlsson, Russia's Dmitry Yurasov sits in second place with 2,845,000 (58 bb). Among others, Yurasov eliminated 2014 PCA champion Dominik Panka on the penultimate day of the Main Event.
Britain's Peter Ockenden, who qualified via a $27 qualifier on PokerStars, rounds out the top three with 2,300,000 (46 bb) after a late day surge. Ockenden eliminated Xixiang Luo with pocket aces versus ace-king to take a big jump up the leaderboard.
Lebanon's Elie Saad is in fourth with 2,065,000 (41 bb). Saad survived a crucial coinflip with ace-king versus pocket jacks in the later stages to get to the final six. Britain's Tomas Macnamara has the fifth stack with 1,835,000 (37 bb). Macnamara tripled up in the final hand of the day, winning jack-eight suited versus ace-king and pocket sevens.
Aliaksei Boika of Belarus will return tomorrow as the short stack (960,000 - 19 bb). Boika held ace-king in the hand versus Macnamara, which dropped him to the bottom of the barrel. All six remaining players are guaranteed at least €76,790 for surviving five grueling days of play.
The day started off with 14 players, but the field was quickly whittled down to 10. Benjamin Pollak was the first one to go. The Frenchman was left crippled when he doubled up Xixiang Luo in the first hand of the day. Pollak's pocket eights failed to hold against Luo's ace-king. The next hand, he lost his last chips with king-seven against Luo's ace-ten.
Start-of-the-day short stack Ole Schemion found his much-needed double up in the second hand of the day, when he rivered a flush with ace-four against Boika's pocket nines. The German got it in again moments later, this time against Karlsson. The Swede, who earned the moniker Schemion Slayer on the live stream, finished what he began yesterday and eliminated the German with king-ten versus ace-king when he rivered a straight.
Daniele Colautti moved all in with pocket nines and was up against Dmitry Yurasov's pocket sixes. The Russian flopped a set and Colautti hit the rail in 12th place. Shortly after, Marco Bartolini followed the same route. He ran his tens into Luo's queens and became the 11th place finisher.
The second level of the day had just one player hit the rail. It was the level of the short stacks surviving with the worst of it, with both Macnamara and Ockenden surviving all-in situations. Someone had to go eventually. It was Germany's Louis Cartarius who fell in 10th place. Cartarius shoved pocket sevens into Boika's pocket aces and couldn't catch up.
With nine players left, the unofficial final table was set. One more player needed to go before the final table was official, and it was 2014 PCA winner and EPT11 Malta finalist Dominik Panka who finished in the dreaded 9th place. Panka reshoved pocket sixes all in after Yurasov had opened. Yurasov called with pocket kings and held up to send Panka to the rail. With Panka gone, the last remaining EPT winner was out of the field.
In the last hand of the third level of the day, Xixiang Luo ran his ace-king into Peter Ockenden's pocket aces. It was a cooler for the Chinese pro and he failed to improve, sending him packing in 8th place.
Directly after the break, short stack Bastian Dohler got involved in a three-way all in. Dohler held pocket sevens against Boika's ace-king and Macnamara's jack-eight suited. The sevens weren't lucky for Dohler, as Macnamara found both a jack and an eight to send the German €10 Spin & Go qualifier to the rail in 7th place.
With one hour and twenty minutes left in the level 25,000 / 50,000 with a 5,000-chip ante, play was suspended for the day. Saturday at 1 P.M. local time, the six remaining players will resume their quest to capture the EPT gold. The final table will be streamed with hole cards and will be on an hour delay. Follow hand-for-hand coverage live on PokerNews.com as we play down to a winner.
Seating and Chip Counts Final Table
| Seat | Player | Country | Chip Count | BB |
| --- | --- | --- | --- | --- |
| 1 | Aliaksei Boika | Belarus | 960,000 | 19 |
| 2 | Mats Karlsson | Sweden | 3,795,000 | 78 |
| 3 | Peter Ockenden | United Kingdom | 2,300,000 | 46 |
| 4 | Dmitry Yurasov | Russia | 2,890,000 | 58 |
| 5 | Elie Saad | Lebanon | 2,065,000 | 41 |
| 6 | Tomas Macnamara | United Kingdom | 1,835,000 | 37 |

Nível 26 : 25,000/50,000, 5,000 ante
Jogador
Fichas
Progresso

Mats Karlsson

3,795,000

-265,000

Dmitry Yurasov

2,845,000

-5,000

Peter Ockenden

2,300,000

-60,000

Elie Saad

2,065,000

-5,000

Tomas Macnamara

1,835,000

Aliaksei Boika

960,000

Nível 26 : 25,000/50,000, 5,000 ante
With the elimination of Bastian Dohler in 7th place, play has been suspended. The six remaining finalists will return tomorrow to play for the EPT13 Malta title and €355,700.
An extensive recap and chip counts will follow.
Nível 26 : 25,000/50,000, 5,000 ante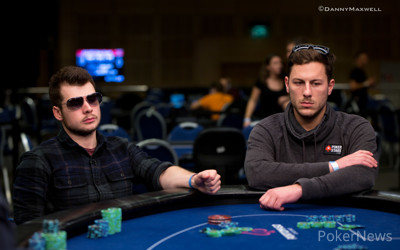 Hand 29: Right after Elie Saad's double up, there was another all-in-situation. It was folded to Tomas Macnamara on the button and he pushed for 660,000 in chips.
Next to him, Bastian Dohler moved all in as well. His shove was for 480,000 in chips. From the big blind Aliaksei Boika called and it was a three-way all in with two players at risk.
Tomas Macnamara:

Bastian Dohler:

Aliaksei Boika:
Dohler's sevens had to hold against for overcards, or his tournament would end here. Macnamara was in trouble as well, Boika had him covered and had the better hand.
The
flop was exactly what Macnamara hoped for. He flopped two pair and was way ahead now. The
fell on the turn and Dohler was looking for a seven on the river to survive.
The river was the
and the PokerStars.com €10 Spin & Go qualifier just missed out on reaching the final day here at the EPT Malta Main Event.
Macnamara scooped huge pot while Boika took a fairly severe hit, leaving him with a little less than 20 big blinds when play resumes tomorrow.
Although Bohler didn't make it to the final six he scored a big payday. He did spin his €10 up to a payout of €56,510.

Nível 26 : 25,000/50,000, 5,000 ante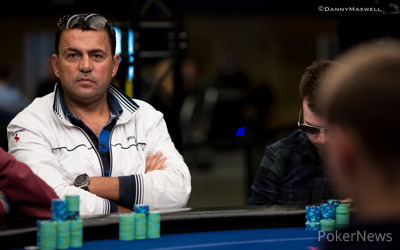 Hand #28: Mats Karlsson raised to 110,000 in early position and Dmitry Yurasov called from the cutoff. Elie Saad wasted no time and shoved for 925,000 on the button.
Karlsson went in the tank, as he had to take Yurasov into account as well. He appeared to have a serious decision and took around two minutes before folding. Yurasov, however, immediately called to put Saad at risk.
Elie Saad:

Dmitry Yurasov:
It was a classic race, which was won by Saad:
. The Lebanese moved out of the red zone with the double up.
Nível 26 : 25,000/50,000, 5,000 ante
Hand #27: From early position, Aliaksei Boika opened to 100,000 in chips. His raise was enough to win the blinds and antes.
Nível: 26
Blinds: 25,000/50,000
Ante: 5,000
Nível 25 : 20,000/40,000, 5,000 ante
Malta-resident Mats Karlsson analyzed the big hand that made him chipleader of this EPT Malta Main Event.

Nível 25 : 20,000/40,000, 5,000 ante
Jogador
Fichas
Progresso

Mats Karlsson

4,060,000

140,000

Dmitry Yurasov

3,785,000

435,000

Peter Ockenden

2,360,000

980,000

Aliaksei Boika

1,525,000

-125,000

Elie Saad

960,000

-70,000

Tomas Macnamara

750,000

-490,000

Bastian Dohler

545,000

-25,000