Another day at the Aussie Millions is in the books and once again it was all about Mustapha Kanit. The Italian all-time money leader crushed the opposition and didn't seem to be able to lose a hand. He ended the day with a massive 2.3 million, far more than any of the other 35 remaining players.
Fedor Holz (539,000), Jennifer Tilly (700,400) and several other notables are also still left in the field, making the Aussie Millions once again a tournament to follow for anyone even remotely interested in poker.
| Player | Country | Chip Count |
| --- | --- | --- |
| Mustapha Kanit | Italy | 2,318,000 |
| Marc Macdonnell | Ireland | 1,078,000 |
| Luke Roberts | Australia | 1,073,000 |
| Michael Weiss | Australia | 1,000,000 |
| Jeff Rossiter | Australia | 995,000 |
Day 3 of the 2017 Aussie Millions started with exactly 150 players, and 70 would go home empty-handed as only 80 would cash. While 70 players might sound like a lot, they were dropping like flies early on although play tightened up as the bubble loomed.
Before the tournament went hand for hand, Australian poker legend Billy "The Croc" Argyros played a pot that got people from the entire poker room rushing to see what was going on. While Argyros, a member of the Australian Poker Hall of Fame, must have played thousands and thousands of hands in his long and illustrious poker career, we're sure he won't forget this one anytime soon. He got it in for quite a bit of chips with a set of deuces against a set of queens. The river, you guessed it, was a deuce and Argyros knocked out his opponent with a pure one-outer.
Despite winning that pot, Argyros would not make it into the money as he busted just before the AUD$15,000 min cash cheques were getting handed out.
The last player to share that fate was Alek Givotovsk. The first hand of hand for hand play, he lost ace-queen suited to ace-king suited and that was it, the 80 remaining 2017 Aussie Millions Main Event players were in the money.
One player was particularly happy about that; WSOP APAC champion Scott Davies survived the bubble with just a single big blind and one ante. He didn't make the great comeback he hoped for, but still seemed happy just cashing.
While Mustapha Kanit already had the chiplead at that time, post-bubble would only be more of the same as Kanit kept sending people to the rail and collecting chips. He hit a set of fives against Felix Schulze who had top-two with ace-king, and busted Richard Ashby on the last hand of the day to finish play with that huge stack.
Kanit is joined by several other notables, some of them fellow high rollers. Koray Aldemir, Fedor Holz and Jeff Rossiter are just some of the players who'll we be seeing on Day 4 of the Main Event. They're joined by Jennifer Tilly who crushed in her own way. Starting out as chipleader, she slowly but steadily chipped up. One failed bluff set her back a little, but she recovered soon enough and ended the day with 700,000 - well above average.
Day 4 of the Main Event is the day the livestream starts so on top of live updates from the PokerNews team, you'll be able to follow the feature table with the soft voice of Jason Somerville guiding you through the action and tactics.
Play will resume at 12:30 p.m. local time, with 43 minutes and 4 seconds left in the level 5,000/10,000 with 1,000 ante. The tournament, from here on out six-handed, will play down to a final table on Day 4.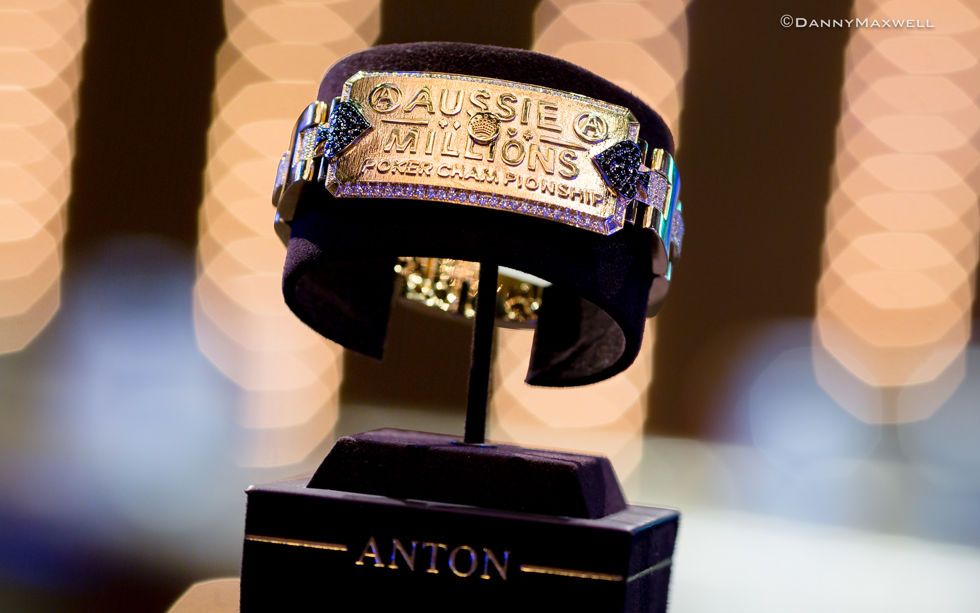 | Table | Seat | Player | Chip Count |
| --- | --- | --- | --- |
| 7 | 1 | Seth Davies | 460,000 |
| 7 | 2 | Nino Marotta | 742,000 |
| 7 | 3 | Shurane Vijayaram | 745,000 |
| 7 | 4 | Luke Roberts | 1,073,000 |
| 7 | 5 | Steven Swalling | 424,000 |
| 7 | 6 | Frank Pezzaniti | 892,000 |
| | | | |
| 8 | 1 | Nicholas Dixon | 497,000 |
| 8 | 2 | Robert Lieu | 517,000 |
| 8 | 3 | Haoran Zhang | 743,000 |
| 8 | 4 | Fedor Holz | 539,000 |
| 8 | 5 | Scott Eskenazi | 112,000 |
| 8 | 6 | Brian Altman | 54,000 |
| | | | |
| 9 | 1 | Michael Weiss | 1,000,000 |
| 9 | 2 | Jennifer Tilly | 704,000 |
| 9 | 3 | Artur Koren | 459,000 |
| 9 | 4 | Patrick Crivell | 264,000 |
| 9 | 5 | Daniel Laidlaw | 445,000 |
| 9 | 6 | Tobias Hausen | 554,000 |
| | | | |
| 10 | 1 | Ryan Pignatelli | 261,000 |
| 10 | 2 | Nicholas Wright | 252,000 |
| 10 | 3 | Christian Nilles | 459,000 |
| 10 | 4 | Daniel Neilson | 360,000 |
| 10 | 5 | William Haughey | 402,000 |
| 10 | 6 | David Olson | 836,000 |
| | | | |
| 28 | 1 | Mustapha Kanit | 2,318,000 |
| 28 | 2 | Sam Ruha | 225,000 |
| 28 | 3 | Jeremy Joseph | 440,000 |
| 28 | 4 | Stephen Bantick | 880,000 |
| 28 | 5 | Benjamin Heath | 353,000 |
| 28 | 6 | Petros Aristidou | 638,000 |
| | | | |
| 31 | 1 | Matthew Wakeman | 398,000 |
| 31 | 2 | Koray Aldemir | 579,000 |
| 31 | 3 | Jeff Rossiter | 995,000 |
| 31 | 4 | Nick Georgoulas | 701,000 |
| 31 | 5 | Ruzman Hussan | 314,000 |
| 31 | 6 | Marc Macdonnell | 1,078,000 |