Event #3: $1,150 Shot Clock Shootout
Dias: 2
Event #3: $1,150 Shot Clock Shootout
Dia 2 Terminado
Nível 8 : 500-1,000, 100 ante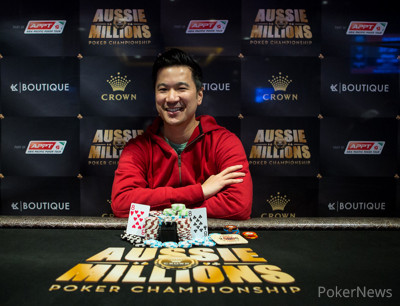 The A$1,150 Shot Clock Shootout Event #3 of the 2016 Aussie Millions Poker Championship saw the 14 winners of their shootout table of the previous day return to the poker room of the Crown Entertainment Complex in Melbourne. They were drawn on two seven-handed tables and once the final four on each were reached, the field was combined to the final table of the last eight.
Among those to bust before the final table but taking a share of the prize pool were Kyle White (12th, $3,230) as well as [Removed:172] and Ari Engel (10th respectively 9th for $3,875 each). Local player Nam Le started the hunt for the LK Boutique winner ring with a dominating chip lead whereas Henrik Tollefsen and Dietrich Fast were among the short stacks.
It was Chance Kornuth who was sent to the rail first after flopping a pair of jacks only to see Le look him up with a pair of kings. Tollefsen was next to fall when his ace-queen found no help against the ace-king of Adam Jarvis. Simon Thwaites followed in sixth place, his ace-four was beaten by fellow Aussie Jarvis with the jack-eight of hearts that turned into a straight.
2015 World Series of Poker Europe bracelet winner Fast flopped an open-ended straight flush draw with nine-ten of diamonds and Le looked him up with king-seven of diamonds for the higher flush draw. Neither player improved and king-high scooped the pot. Jarvis then fell in fourth place, his ace-five stood no chance against the pocket kings of Mooney.
The remaining three players agreed to an ICM deal and left A$3,000 as well as the LK Boutique winner ring up for grabs. Roope Salminen was sent to the rail in third place shortly after, the Finn lost a raise with pocket sixes against the ace-eight of Mooney as an eight fell on the turn. Heads-up play took one hour before Le flopped a set of eights and turned a full house, Mooney's all in with a pair of jacks found no help anymore.
Shortly after the winner pictures were taken, Le headed straight to the registration desk in order to sign up for the $1,160 Mix Max Event #5. Below are the results for the Shot Clock Shootout event, the full payouts can be found here.
Final Table Results
| Place | Player | Country | Prize |
| --- | --- | --- | --- |
| 1 | Nam Le | Australia | $30,215 |
| 2 | Geoffrey Mooney | Australia | $24,524 |
| 3 | Roope Salminen | Finland | $19,520 |
| 4 | Adam Jarvis | Australia | $11,625 |
| 5 | Dietrich Fast | Germany | $8,400 |
| 6 | Simon Thwaites | Australia | $5,810 |
| 7 | Henrik Tollefsen | Norway | $5,165 |
| 8 | Chance Kornuth | USA | $4,520 |
Nível 8 : 500-1,000, 100 ante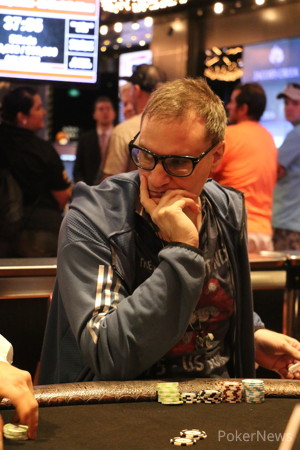 On the flop
, Geoffrey Mooney bet 3,000 and Nam Le flat-called before the
fell on the turn. Mooney fired another bet worth 6,000 and Le then squeezed to 15,000. Mooney checked his stack and then announced all in to see his opponent snap-call.
Mooney:

Le:
Only a jack could keep Mooney in the tournament, as Le had already hit a full house. However, it was the blank
river that sent him to the rail in 2nd place and crowned Le as champion.
Nível 8 : 500-1,000, 100 ante
Nam Le and Geoffrey Mooney have been trading small pots back and forth without an advantage of either player. The latest hand saw Mooney defend and call a raise to 2,500 before leading the
turn for 2,000. Le folded and was shown the
.
In between the hands, they were guessing how much the exclusive LK Boutique ring was worth but didn't come to a conclusion.
Nível 8 : 500-1,000, 100 ante
Nam Le raised to 2,500, Geoffrey Mooney clicked it to 6,500 and Le then four-bet to 11,000. Mooney just flat-called and checked the flop
. Le checked behind and did so on the
turn and
river as well, flashing
for a pair of kings. Mooney took down the pot with the
.
Nível: 8
Blinds: 500/1,000
Ante: 100
Nível 7 : 400-800, 100 ante
Nam Le raised to 2,000 and Geoffrey Mooney three-bet to 5,800, which Le called. On the flop
, Mooney continued for 5,000 and was called before checking the
turn. Le bet 8,000 and that won the biggest pot in heads-up so far.
Nível 7 : 400-800, 100 ante
"I throw in the occasional limp," Nam Le grinned. Besides that, both players have their standard opening bet sizes. Le makes it 2,000 to go, Geoffrey Mooney typically raises to 2,400. There was no big pot yet, Mooney once three-bet to 6,800 and found no call.
The standard continuation bet of Mooney is 3,000, and he just did so twice to scoop the pots. The overall chip count has barely changed, though.
Nível 7 : 400-800, 100 ante
Geoffrey Mooney raised to 2,400 and Nam Le called. They checked down the board
and Mooney's
ended up second-best to the
of Le.
One hand later, Le raised to 2,000 and Mooney called before check-folding the
turn to a delayed continuation bet of 2,000.
Mooney's next raise to 2,400 was called by Le, who then check-called the flop
for 2,000. On the
turn, Le checked and Mooney's bet of 4,000 took down the pot.
Nível 7 : 400-800, 100 ante
On the flop
, Nam Le and Geoffrey Mooney checked. The same applied for the 5d] turn and then le bet the
river for 2,300. Mooney called and mucked when he was shown the
.
One hand later, Le bet 1,000 on the flop
and Mooney check-called. The
came on the turn and Mooney check-called a bet of 1,300 before they again checked through the
river. Le's
won the pot, he lost 2,000 the hand after though when he raised and Mooney three-bet to 5,500.