Event #10: $1,650 No-Limit Hold'em Bounty
Dias: 2
Event #10: $1,650 No-Limit Hold'em Bounty
Dia 2 Terminado

Nível 26 : 40,000-80,000, 0 ante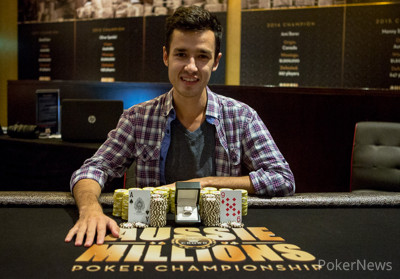 Aussie Brendon Rubie captured the 2016 Aussie Millions Event #10: $1,650 No-Limit Hold'em Bounty title inside the Crown Poker Room early Monday morning.
Rubie won $116,680 in prize money and an exclusive LK Boutique Aussie Millions championship ring getting the best of a 349-player field over the course of two days.
A total of 32 players returned in the money Sunday, competing at four shootout tables with the final two at each advancing to the eight-handed final.
The final table then began just after 5 p.m. with China's Xixiang Luo holding a slight lead over Rubie.
Short stack Brian Payne was soon eliminated in eighth when Rubie turned a dominated ace into a pair against him. Rubie took the lead when Luo tried to bluff him off a pot and failed before Stephen Woodhead bowed out seventh and Joris Ruijs said goodbye sixth.
The final $1,000 bounty on the head of Dennis Huntly was collected by Shivan Abdine, sending him home fifth, before the final table devolved into a series of all-in pots between Luo and Michael Dix.
The two kept doubling each other up until Lou finally jammed the
and Dix woke up with two aces. With Lou out fourth, Abdine was the next to go, getting his hopes and dreams flushed by Rubie, who then took a healthy lead into heads-up play.
The final heads-up match was a back and forth affair that saw each player take a stranglehold at different points over the course of two hours until Rubie took the lead for good in the third, finally getting it in with ace-high versus king-high and holding on to capture his second Aussie Millions title.
Nível 26 : 40,000-80,000, 0 ante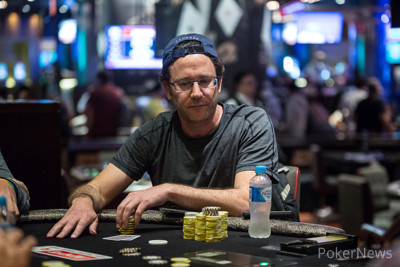 Shortly after having his
paid off for 240,000 on the
river, Brendon Rubie faced the all in of Michael Dix for what looked like 1,200,000 in the very next hand. The bet was called and this time Rubie had his opponent at risk of elimination with the better hand.
Dix:

Rubie:
The board ran out
and the straight for Rubie scooped the pot and exclusive LK Boutique championship ring whereas Dix had to settle for a payday of A$79,440.
Nível 26 : 40,000-80,000, 0 ante
Brendon Rubie won a min-raised pot against Michael Dix after betting the
flop for 150,000.
Dix then open-shoved for 1,265,000 and Rubie tank-folded after getting an exact count from the dealer. Rubie limped in the next hand and Dix checked, The
flop was check-raised by Dix and Rubie let go when facing the second all in in a row.
Nível 26 : 40,000-80,000, 0 ante
After two successful limped pots, Brendon Rubie faced the limp of Michael Dix and raised to 125,000 more on top. Dix called and also paid the 185,000 continuation bet on the flop
. The
on the turn was checked through and then, Dix folded to a bet worth 275,000 on the
river.
Nível 26 : 40,000-80,000, 0 ante
After the break, Michael Dix has shoved twice. Once preflop to an open-raise of 160,000 by Brendon Rubie and the other time post flop on
when check-raising the 160,000-continuation bet of his opponent. In both cases, Rubie folded rather quickly but kept the lead approximately the same by picking up most small pots.
Nível: 26
Blinds: 40,000/80,000
Ante: 0
Nível 25 : 30,000-60,000, 0 ante
The remaining two players headed into a quick 10-minute break.
Nível 25 : 30,000-60,000, 0 ante
Brendon Rubie raised to 125,000 and Michael Dix squeezed to 325,000 with his fellow Aussie coming along. Both players checked the flop
, then the
fell on the turn. Dix fired a bet of 350,000 and was called before checking the
river. Rubie's bet worth 370,000 did the trick, as Dix mucked.
Nível 25 : 30,000-60,000, 0 ante
Both players are almost back to even stacks and the small swings continue with Brendon Rubie taking the lead after winning four hands in a row.
Michael Dix raised to 130,000 and Rubie called. On the
flop and
turn both players checked, Rubie's bet on the
river won the pot.
Rubie raised to 125,000 and was called. On the
flop, Dix check-folded to a continuation bet. Two hands later, he check-called after the very same scenario for 125,000 on the flop
before check-folding the
turn when Rubie made it 250,000 to go.